Living the Bond Lifestyle in a $70 million house in LA
20 December, 2014
If you own a TASCHEN James Bond Archives book and have a large Sean Connery poster in your house, you have at least two things in common with Minecraft founder Notch, who just bought the most extreme home in Los Angeles for $70 million.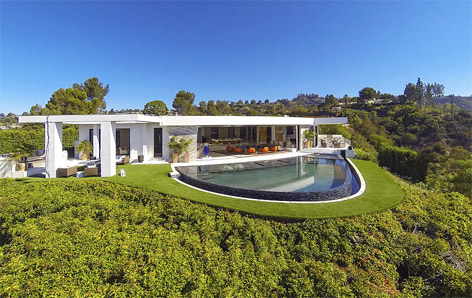 It was announced this week that 35-year-old Markus Persson, a Swedish game developer who sold his company Mojang to Microsoft for $2.5 billion, now has the distinction of having paid the highest price ever for a home in Beverly Hills. He was reportedly the winner of a bidding war with Jay-Z and Beyoncé for the house.
In photos and the promotional video of the mansion we can see that James Bond has a prominent place in one of the bars of the house. A large image of Sean Connery as James Bond is mounted on the wall.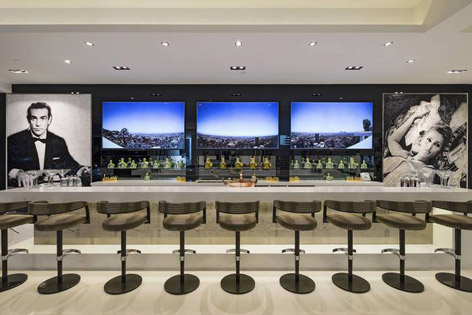 The Bond image is mounted next to three large tv-screens on which the view of Los Angeles from the top of the house is shown.
In the same room we can see a car turntable, ideal to display your James Bond cars which can then rotate on a plate, like an immense record player.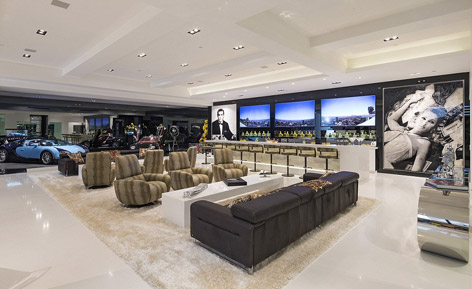 On another photo we can see an unopened James Bond Archives by TASCHEN book (read more about this book here), positioned in the same room as the bar (see above image all the way on the right) and next to the exercise room.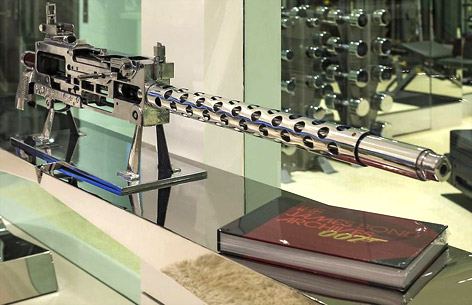 Hovering over the James Bond book is a chrome-plated .50-caliber machine gun that once sat atop a World War II tank.
The eight-bedroom, 15-bathroom house sits on 23,000 square feet and includes a 16-car garage. Markus Persson reportedly bought everything that came with the house, which includes a $200,000 "candy wall", a replica of James Dean's motorcycle, an $85,000 carved stone bathtub and custom glass billiard and foosball tables.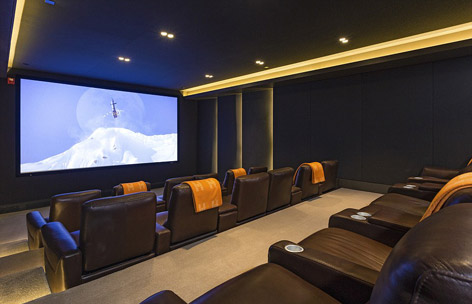 Of course there is a cinema where you can watch Bond movies in style.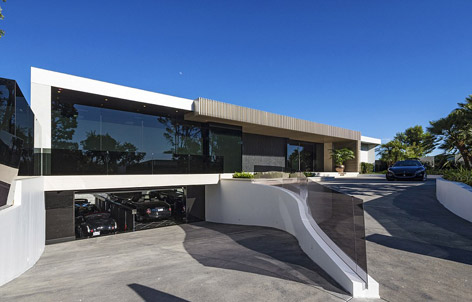 In the the 16 car garage should be enough room for your Bond car collection.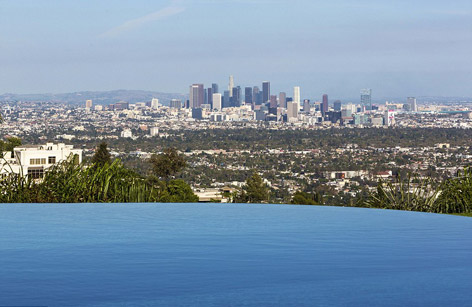 This sure beats the Willard Whyte's pool in Diamonds Are Forever.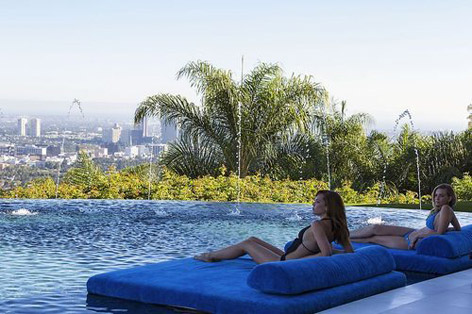 Watch a video tour of the house below:
Markus posted a picture on Twitter yesterday of him sitting in the house:
December 18, 2014
Subscribe to the Bond Lifestyle EYES ONLY newsletter