George Lazenby guest of honour at James Bond In Oslo Gala
06 July, 2016
George Lazenby - who played Ian Fleming's James Bond 007 in On Her Majesty's Secret Service (1969) - is to visit Oslo on September 1st, 2016, exclusively for the event James Bond in Oslo.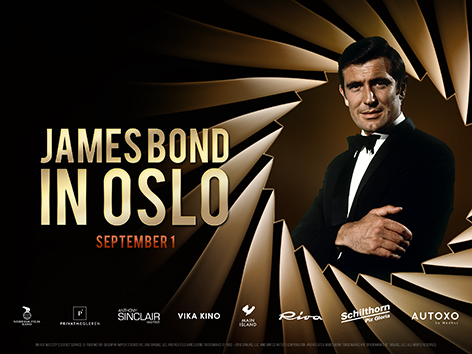 Poster James Bond In Oslo gala - Artwork by Marcos Kontze
Lazenby will attend the Red Carpet Gala of the newly restored Bond classic On Her Majesty's Secret Service, showing in digital 4K. Lazenby will talk about his remarkable life, and present the new documentary This Never Happened to the Other Fella (to be released this year), detailing his experience filming On Her Majesty's Secret Service.
See this clip from the 2012 documentary Everything Or Nothing: The Untold Story Of 007, where Lazenby tells the extraordinary story of how he secured the Bond role.
After Bond, Lazenby went on to utilize his impressive martial arts skills (Lazenby was a student of the legendary Bruce Lee) in The Man from Hong Kong (1975). Later in his career, Lazenby took several roles that played on his Bond persona, including his turn in The Return of the Man from U.N.C.L.E. (1983), where he played a character named JB, driving a gadget-laden Aston Martin. To this day, Lazenby remains active as actor.
The visit to Oslo in September marks Lazenby's first trip to Norway.
"I'm looking forward to visiting Norway for this very special event. I worked with Norwegian actress Julie Ege on the film, and it will be interesting to present this restored version of 'On Her Majesty's Secret Service' to a Norwegian audience," said George Lazenby in a statement.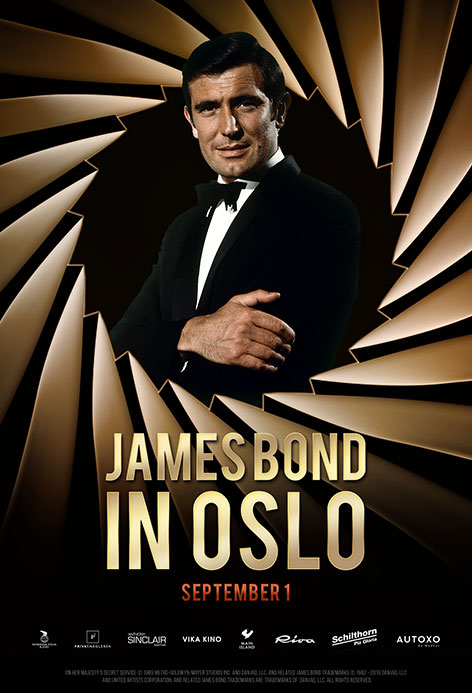 Poster James Bond In Oslo gala - Artwork by Marcos Kontze
The event is organised by Norwegian Bond fan Morten Steingrimsen along with partners Odd Kalsnes and Øyvind Asbjørnsen. The organisers promise an exclusive and extraordinary celebration. "With the Red Carpet Gala on September 1st, we wish to honor George Lazenby and On Her Majesty's Secret Service," says Steingrimsen.
"Several special guests and iconic Bond girls will attend the Gala - we will announce the names shortly. We have also managed to arrange for classic British tailor Anthony Sinclair (a suit of whose helped win Lazenby the role) to tailor a bespoke dinner jacket for George Lazenby. Additionally, acclaimed Norwegian DJ Marianne Jemtegård, will provide the music at the event, in true Bond style. The event is truly international; Bond fans from Brasil, Sweden, the UK, the US, and many other countries, are traveling to Norway to attend the celebration," concludes Steingrimsen.
This spectacular Red Carpet Gala will take place at Vika Kino, Ruseløkkveien 14, 0251 Oslo on September 1, 2016.
The event organisers Morten Stiengrimsen, Odd Kalsnes, and Øyvind Asbjørnsen, would like to stress that this is a non-profit event and is made possible thanks to its partners, including PrivatMegleren, Autoxo, Dreamline and Schilthorn Cableway.
Program
18.00 Doors open, finger food and champagne
19.00 Showing of On Her Majesty's Secret Service (newly restored in 4K)
21.15 Q & A with George Lazenby
21.45 Casino and after party with DJ Marianne Jemtegård
Tickets for the event are available for 1995 NOK (approx. £185 / €215 / $240), click here to order tickets (site in Norwegian).
Subscribe to the Bond Lifestyle EYES ONLY newsletter