Eases the Tensions - Molly Peters obituary
01 June, 2017
Molly Peters who played Shrublands Health Clinic nurse Patricia Fearing in Thunderball (1965) opposite Sean Connery as James Bond 007 died on 30 May 2017. The cause of death is unknown. A statement on the official James Bond Twitter page confirming the sad news, read: "We are sad to hear that Molly Peters has passed away at the age of 75. Our thoughts are with her family."
*Note sources close to the family state she was 78.
We are sad to hear that Molly Peters has passed away at the age of 75. Our thoughts are with her family. pic.twitter.com/6k3Ifs2gpY

— James Bond (@007) May 30, 2017
The character was drawn from author Ian Fleming's real life soujourn at a health farm in Surrey. In the the novel, the desirable nurse is caught up in a game of sexual and physical cat-and-mouse between Bond with SPECTRE agent, Count Lippe.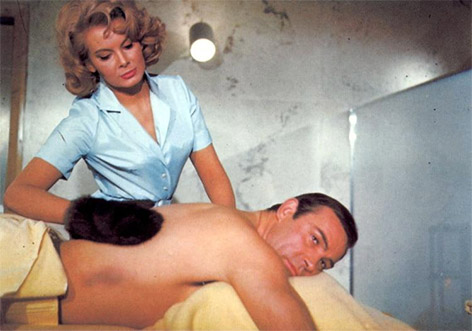 Molly Peters, as nurse Patricia Fearing,
easing Bond's tension with a Mink Glove
Director Terence Young remembered the girl he'd given a "cough and a spit" part to in his previous picture, The Amorous Adventures of Moll Flanders (1965). In 2015, Molly Peters described getting the role to the authors of Some Kind of Hero: The Remarkable Story of the James Bond Films, "I was there because I looked good. I remember going down to the studios. I was nervous as anybody could be. I went in with a naivety about the whole thing. I do remember after I had completed the scene there was a spontaneous applause. I don't know if they did that for everybody. I didn't really realise the importance of that film and how many people were testing. All I knew was that Sean Connery was in it. After the test I realised this was something bigger than I had contemplated. McClory and Broccoli asked me if I would go blonde for the part. I was brunette. I said I would go green, pink whatever they wanted." She had previously told noted Bond historian, John Cork, "It was exciting for me and I was very nervous since I'd never actually been on a soundstage before. In another corner of the studio I saw this very tall handsome man and I remember Terence Young said to me 'Darling of course you know Sean don't you?' Well I'd never met Sean in my life."
She went on to describe to Cork her memories of working with Connery, "He was becoming very well known anyway and had already completed three Bond films. For me he was a very honest, straightforward man and he didn't suffer fools gladly. He would seemingly get things done. I had had some personal problem and we were just about to do the bed scene. I was crying and he thought someone had upset me on the film set. He came up and put his arm around me. He was very protective of me and very kind. I do value that. The whole atmosphere to me was new, exciting.
In the scene where Fearing is seduced by Bond as a form of blackmail for not reporting his "accident" at the hands of Lippe on the traction machine, the couple were to make love in a steam room. This scenes has now entered history as the first time a Bond girl actress appeared "nude" in the series. Peters was nervous "I remember fluffing my lines really badly 'Go in to the shower it will shrink you back to size' and I all kept coming out with was 'It will stretch you back to size' We cleared the set for this because I appear to be naked in the shower – Sean kept fooling around in those scenes – it was quite funny. [He'd came out] of the shower and walked as Groucho Marx used to walk." Peters later recalled the proud Scot after an England vs. Scotland football match which explained a famous publicity still showing her in bed with Connery wearing a tartan hat and Terence Young sipping tea in front of them.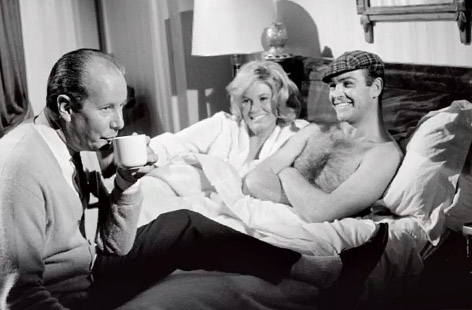 Director Terence Young, Molly Peters and Sean Connery
Peters was fond of her director, "Terence Young a very sophisticated man, a very knowledgable man, a delightful man. I think he was probably more James Bond than anyone else. He would try to teach you perhaps some etiquette that you didn't have or that sort of thing. Teach you the ways of the world, particularly cinematically. I was sad when he died. I went to the memorial service and there were lots of people there including Sean Connery."
She enjoyed her time on set meeting some behind-the-scenes 007 legends such as Eon's Mr Fixit, Colonel Charles Russhon who appeared in the film, "He was with us most of the time in full uniform. He had a great sense of humour." Guy Doleman played Count Lippe, Bond's rival rival for Fearing's affections. Exteriors of Shrublands were shot in Chalfont St Giles, not far from Pinewood.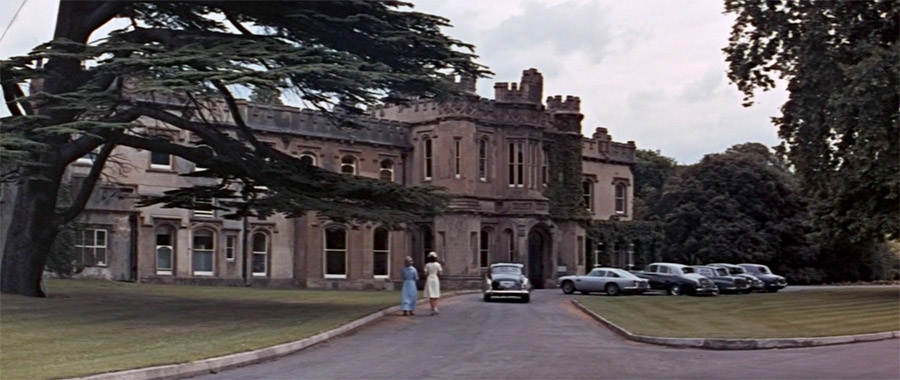 Chalfont Park House (Shrublands) in Thunderball
Her scenes bidding Bond goodbye contain two in-jokes: firstly co-presenter Albert R. Broccoli's Rolls-Royce numberplated CUB 1 can be seen in the background and then Bond kisses Fearing off with a line referencing Connery's 1958 movie with Lana Turner, Another Time Another Place.
After her role was complete, Peters was involved with the promotion of the picture: "[Having] been in a Bond film and being English and also the scene in the shower room had quite an impact. I met Tom Jones. I went to about 16 premieres. [I] got a bit of press."
Peters was actually born Vivien Mollie Humphrey but took her stage name from her brother, Peter. In Thunderball, she is billed as "Molly". Peters later married and lived with her husband in Ipswich, Suffolk. She and her husband had a son Aaron, who tragically pre-deceased her whilst serving in the Royal Marines. Peters had a career as a figure model doing glamour shoots before moving into films however her career was cut short due to a contractual dispute with her agent.
By Ajay Chowdhury
SOME KIND OF HERO: The Remarkable Story of the James Bond Films by Matthew Field & Ajay Chowdhury, updated to include a detailed account of the making of SPECTRE, is due out in paperback in July 2017 published by The History Press.
Filmography
1964 Peter Studies Form - (as Mollie Peters)
1965 The Amorous Adventures Of Moll Flanders - uncredited
1965 Thunderball - Patricia Fearing
1966 Target for Killing (Das Geheimnis der gelben Mönche) - Vera
1967 The Naked World of Harrison Marks - Herself
1968 Don't Raise the Bridge, Lower the River - Heath's Secretary
TV
1966 Das Experiment - Young Girl
1967 Armchair Theatre - Waitress
1967 Baker's Half-Dozen - The Girl
As a Figure Model
Playboy
Modern Man
Calvalcade
Beau
Ace
Parade
Best for Men
Dapper
Escapade
Subscribe to the Bond Lifestyle EYES ONLY newsletter