Atelier Jalaper wristwatch with a piece of an authentic Aston Martin DB5 bonnet
29 June, 2020
Atelier Jalaper, a new watch brand, released a watch collection with a piece of an authentic Aston Martin DB5 bonnet as part of the dial.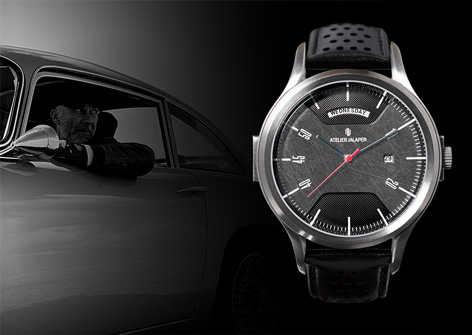 The Aston Martin DB5 has been James Bond's trusted vehicle in multiple films, starting in Goldfinger and then Thunderball, GoldenEye, Tomorrow Never Dies, Casino Royale, Skyfall and SPECTRE and will be featured once more in No Time To Die. Sometimes gadget-heavy with revolving license plates and ejector seats, sometimes simply featuring an ever-elegant champagne compartment, it is always the car that catches the audience's eye.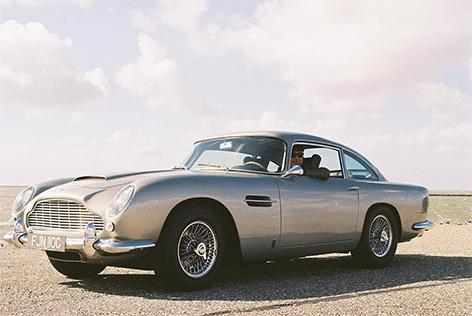 An Aston Martin DB5 during a photoshoot for the Atelier Jalaper watch at the Dutch coast
In a refreshing and entirely new way to immortalise this iconic Bond car, two young entrepreneurs have launched a stunning line of watches that are created from the bonnet of an Aston Martin DB5.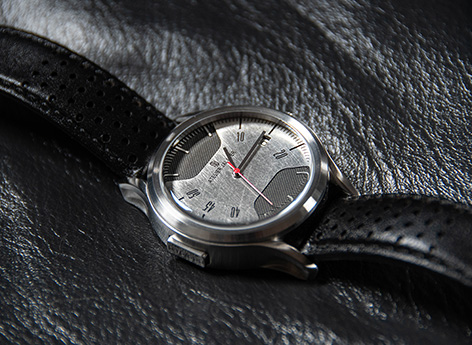 The Atelier Jalaper watch is available online in 4 different variations: The Atelier Jalaper AJ001-S (steel case, €800) and AJ001-B (black case, €880) feature the Automatic Miyota 821A movement with date window, while the AJ002-S (€1,080) and AJ002-B (€1,150) feature the Automatic Miyota 8285 movement with Date and Day window on the top of the dial.
Special offer
Use code "Bondlifestyle" during checkout at the Atelier Jalaper website to receive a free travel pouch (value €85) with your purchase.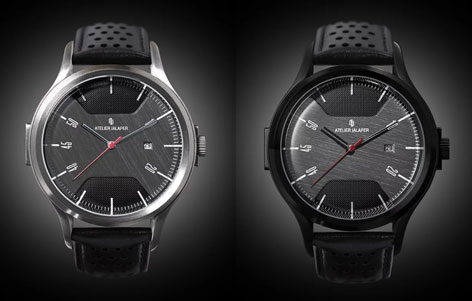 Atelier Jalaper AJ001-S and AJ001-B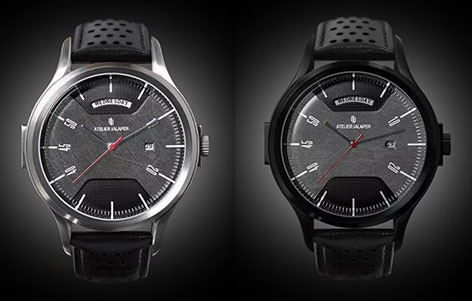 Atelier Jalaper AJ002-S and AJ002-B with day and date window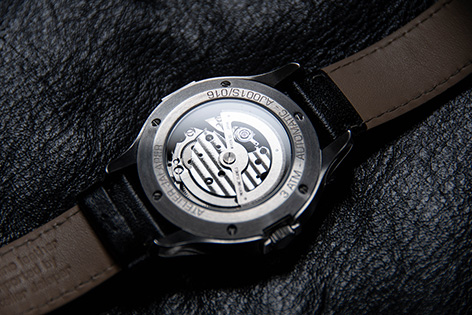 The automatic Miyota movement can be seen through the case back.
The Atelier Jalaper watch dial not only has its upper part made from an authentic DB5 bonnet, but it also takes its design cues from the famous Aston Martin DB5 car. The shape of the cut outs on the dial are reminiscent of the shape of the Aston Martin grille. A dark guilloché revealed under the steel dial makes the DB5 metal stand out even more.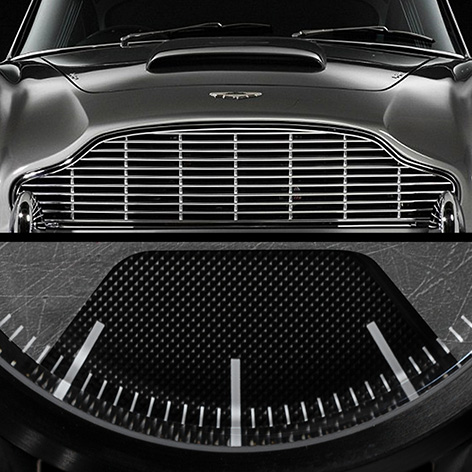 Shapes inspired by the DB5
Another nice design element is the font of the numbers on the dial (10, 20, 40, 45, 50) in a similar font as the DB5 speedometer.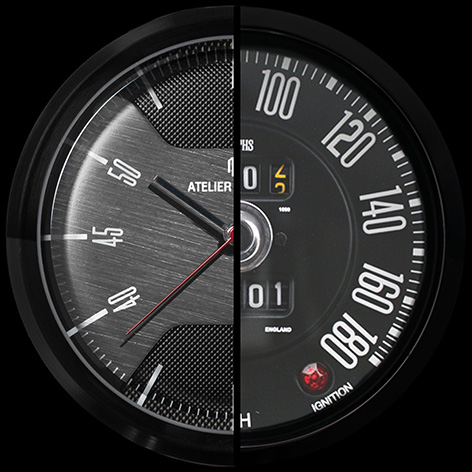 The dial font is inspired by the DB5's speedometer
About Atelier Jalaper
Louis Jalaber and Simon Szleper, the founders of Atelier Jalaper, met at university and bonded immediately over their passion for watchmaking and beautiful oldtimer automobiles.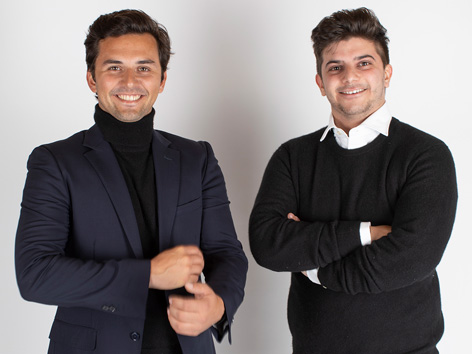 Louis (left) and Simon, the founders of Atelier Jalaper
Based in Belgium, Simon is since his young age passionate about the complexity of a watch mechanism. Louis comes from a family deeply entrenched in the oldtimer industry, with an uncle who owns a worldwide known garage in Paris. With so much in common, their partnership was born.
Creating a unique watch
Both entrepreneurs knew they wanted to create a beautiful new product that united the two universes of oldtimers and watches in an unprecedented way. Nothing like this had ever been done before and their product would also be the first of its kind. Their journey to create the watch was challenging but it birthed outstanding results.
First, they had to choose which oldtimer to pay homage to with their first production of watches. James Bond's sleek and powerful ride was top of their list straight away; they were immediately captivated by the Aston Martin DB5. With its eye-catching smooth lines, elegantly sweeping platform chassis and deep history within British and Bond culture, this was the perfect car to immortalise in a beautifully designed watch.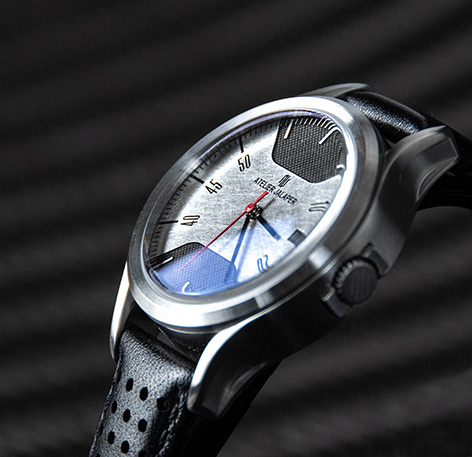 They trawled through countless locations trying to find the exact right Aston Martin DB5 bonnet. They finally found one in a specialist garage in London. From there, they had to officially authenticate the piece with Aston Martin Works itself. It was a success.
The next stage was an intense two-year period of research and development, creating a beautiful and well-functioning watch that was also embedded with James Bond automobile history. 
This process is now complete and Atelier Jalaper's high-quality product enables fans to own a piece of James Bond history; the well-loved DB5, aesthetically integrated into a watch on their wrists. Not only do these watches hold a piece of a DB5 within them, they also pay tribute to the car with their design.
The Atelier Jalaper watch comes in a nice, branded box with warranty card and serial number
You can check out the range of watches that Atelier Jalaper offer on www.atelierjalaper.com.
And don't forget to use code "Bondlifestyle" during checkout at the Atelier Jalaper website to receive a free travel pouch (value €85) with your purchase.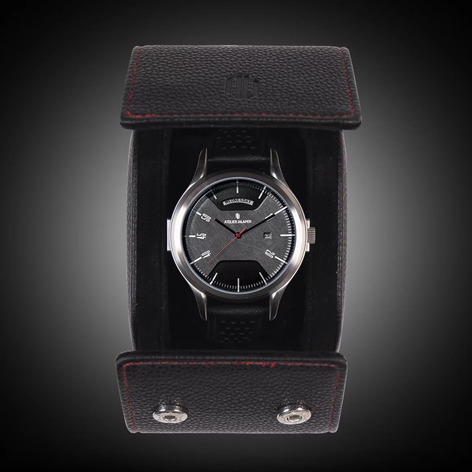 UPDATE NOV/DEC 2020: Watch the Bond Lifestyle videos:
Unboxing the Atelier Jalaper AJ001-S watch with Aston Martin DB5 dial
Atelier Jalaper interview - First ever watch with Aston Martin DB5 dial
Subscribe to the Bond Lifestyle EYES ONLY newsletter