007 Legends game trailer #2: On Her Majesty's Secret Service
03 July, 2012
The second of six Bond movie-inspired missions to be featured in this year's upcoming 007™ Legends video game has been revealed as On Her Majesty's Secret Service. A first-of-its-kind Bond video game, 007 Legends features an original, overarching storyline tying together five classic Bond movie-inspired missions plus a sixth mission based on this year's highly-anticipated movie – SkyFall – which will be available post launch as a free DLC, to offer the most diverse Bond gaming experience yet! Planned to launch on October 16, 2012, from Activision Publishing, Inc., a wholly owned subsidiary of Activision Blizzard Inc., 007 Legends equips players with state-of-the-art spy gadgets, an arsenal of weapons and sleek vehicles as they jet off to exotic locations and utilize Bond's quick wits, class and style to take down notorious villains and their brutal henchmen while performing impressive stunts.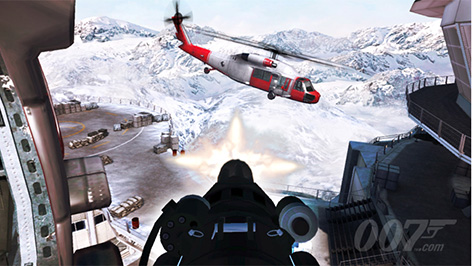 True love is hard to find but James Bond has finally found his equal in the beautiful Tracy di Vicenzo, the daughter of European crime syndicate head Marc-Ange Draco – Bond's key contact for tracking down criminal mastermind Ernst Stavro Blofeld. After wooing Tracy and their ensuing whirlwind romance, they jet set off to the Swiss Alps as Bond pursues Blofeld. It's here, in a picturesque Alpine setting, that gamers encounter an avalanche of action. Blofeld is aware of Bond's undercover ruse and kidnaps Tracy, luring Bond into a rescue mission involving a fast-paced downhill ski chase and a confrontation in a high-flying cable car, which also uncovers Blofeld's master plan to release a deadly virus in five of the world's largest cities. With the help of Tracy's father, players must infiltrate Blofeld's private research facility in the Swiss Alps, thwart the release of the virus and save Tracy before it's too late.
For more intel about 007 Legends and to unlock exclusive content, visit the game's official Web site – www.007Legends.com – and Facebook page – www.facebook.com/007LegendsGame.

Pre-order 007 Legends now on Amazon.com to get it first!

PlayStation 3: $59.99
Xbox 360: $59.99
Subscribe to the Bond Lifestyle EYES ONLY newsletter