Seiko G757 5020 Sports 100
The Seiko G757 Sports 100 watch is used by Bond (Roger Moore) in Octopussy. The Seiko is equipped with a tracking device to locate the Fabergé egg, and is clearly visible several times in the movie: first in Q's lab (Bond is already wearing the watch before Q explains what it can actually do), and later it is used to track the Fabergé egg.
This watch is very sought after and rare. Beware of sellers on eBay offering similar Seiko models, claiming it to be the Bond watch, but there is only one, and that is the one pictured here, the Seiko G757 5020. Look for the version with black 'horseshoe' (the shape around the digital screen) and metal band.
Buyers should watch out for the wording SPORTS 100 on the black bezel. There is a model G 757-5000 available with Silverwave wording on the black bezel. The shape is all the same, except the Silverwave wording and a slightly different LCD display.
The Seiko G757 Sports 100 is currently quite expensive if you do find it on eBay (with many similar G757 models being much cheaper), but there are usually a few correct ones available.
You can also contact Bond Lifestyle if you're looking for a Seiko G757 Bond watch, so I can put you in touch with a reliable source.
Affordable alternative suggestion
It's worth looking at affordable alternatives for this watch. If you want a Seiko, look for other vintage Seiko G757 models on eBay and you'll find similar watches, without the black 'horseshoe', at reasonable prices.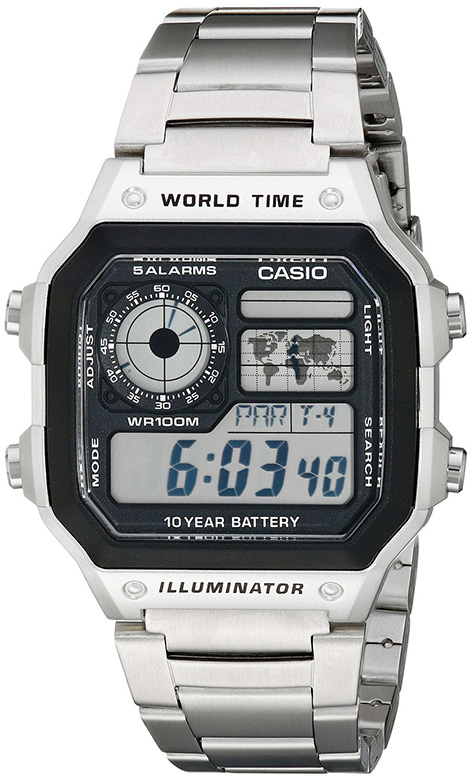 Casio currently sells a similar looking digital watch, the Casio AE1200WHD-1A, with silver coloured case and stainless steel band. The watch doesn't have a Fabergé egg tracking option, but does feature World Time, Stop Watch, Alarm, LED Light with Afterglow. Available on Amazon for only $22 (US), Amazon.co.uk (£29.99 UK), or Amazon.de or Christ.de for €39 (Germany).
Seiko and James Bond
Roger Moore as James Bond wore many other Seiko watches, see them here.
---