Blades at Hush Mayfair, London
22 June, 2016
For Bond fans, the name Blades is famous for being M's private member's club in some of the Ian Fleming James Bond novels. Now it is also an exclusive dining destination and cocktail bar part of Hush Mayfair, a restaurant co-founded by Sir Roger Moore. Bond Lifestyle was invited to wine and dine at this stylish establishment.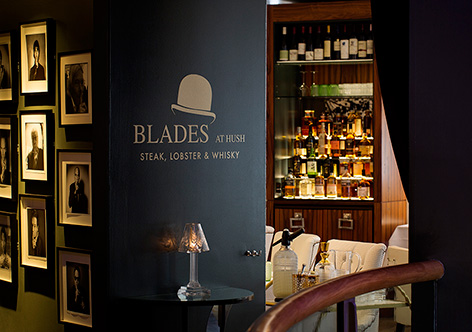 Blades at Hush, dining and cocktail space
Before exploring the new Blades, let's look at the history of the original, fictional Blades invented by Ian Fleming.
Blades in Ian Fleming novels
Blades is a fictional London gentlemen's club appearing in Ian Fleming's James Bond novels Moonraker, The Man With The Golden Gun and Goldfinger.
Fleming describes the club in great detail in the third James Bond novel Moonraker, in which the club plays a big part. We learn that Blades was founded in the late 1770s, on Park Street, "a quiet backwater off St James's". The membership, Fleming writes, "is restricted to two hundred and each candidate must have two qualifications for election; he must behave like a gentleman and he must be able to 'show' £100,000 in cash or gilt-edged securities" (a fortune at the time that the novel was written).
"Membership of Blades, in return for the £106 entrance fee and the £50 a year subscription, provides the standard of luxury of the Victorian age together with the opportunity to win or lose, in great comfort, anything up to £20,000 a year." (Ian Fleming, Moonraker).
In the novel Goldfinger, Blades is mentioned briefly, when M says that he saw Auric Goldfinger once or twice at Blades.
In novel The Man With The Golden Gun, M has lunch at Blades (chapter 3), and James Bond thinks about the yearly "… dinner for the Old Boys - the fraternity of ex-Secret Service men that went under the name of The Twin Snakes Club. A grisly reunion held in the banqueting hall at Blades, …" (Ian Fleming, The Man With The Golden Gun, final chapter).
Recommended: If you have not done so, read the Ian Fleming books and get an inside look at Bond's thoughts and more details about Bond's life in London.
Blades in James Bond films
The name Blades is also used in the 20th James Bond film Die Another Day (2002). That film is full of references to Ian Fleming novels and the first 19 Bond films. In the film, Blades is the name of the fencing club where Gustav Graves and James Bond (Pierce Brosnan) engage in a fencing match which ends in a sword fight. The scene was partly filmed at the Reform Club, a famous club in the heart of London's clubland.
Blades at Hush Mayfair
Now back to reality, where you can enjoy your own evening at Blades, a new dining space within the Hush Mayfair restaurant.
Hush was founded in 1999 by Jamie Barber. Barber trained as an entertainment lawyer at media law firm where he acted for a clients including Sir Roger Moore. In 1999 he worked with Sir Roger Moore's son, Geoffrey, to create a new venue, Hush, with founding shareholders including Evgeny Lebedev (owner of the Evening Standard and Independent newspapers), and Sir Roger Moore.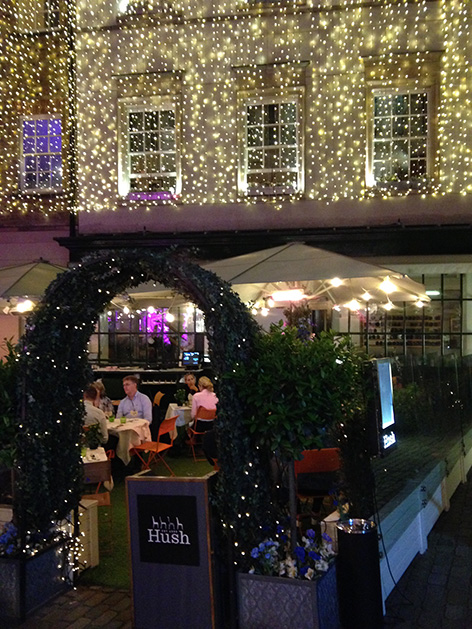 Hush with its courtyard terrace, located at No.8 Lancashire Court
Hush is located in Mayfair, tucked away in a small courtyard off Brook Street and New Bond Street.
Right next to the restaurant is the house in which 18th century composer Handel and 1960s rock star Jimi Hendrix once lived, currently a museum with Jimi Hendrix's flat in original layout, also worth a visit (find out more here). Just across the street on Brook Street you can find the John Smedley boutique, where you can pick up your Bobby SkyFall v-neck sweater.
In March 2016, Hush introduced a new dining space on the first floor, the new Blades restaurant. The room was formerly known as the Silver Room, but is now completely transformed into a new exclusive dining and cocktail space.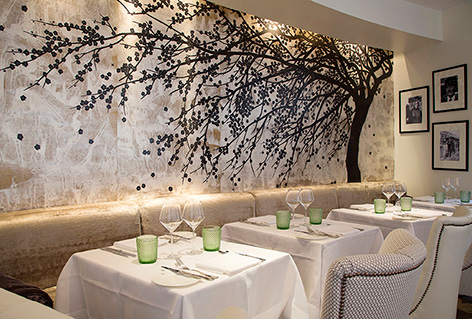 Dine in style at Blades
Inspired by the Mayfair of a bygone era, Blades harks back to the 1960's, when Mayfair was "the place to go".
The name Blades was an obvious choice for founder Jamie Barber, who shares his initials with the famous secret agent. "I have always referred to Hush as a private member's club you don't have to be a member of, and Blades is the ultimate expression of that," Barber says. "Hush has a natural '60's connection: our windows look into Jimi Hendrix's apartment, and iconic 60's photography lines our walls, so this (plus our natural affiliation with Bond) was a fantastic opportunity for us to rediscover the glamour of the era."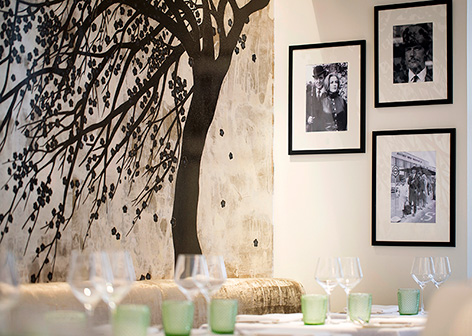 Photos with 1960s British stars from Geoffrey Moore's personal collection
Blades' walls showcase a candid selection of photographs from co-founder Geoffrey Moore's personal collection, mostly photos of his father, Sir Roger, but also other film stars.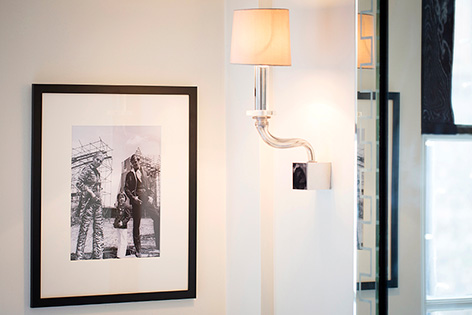 Photo of Sir Roger Moore (right) and his son Geoffrey Moore (middle)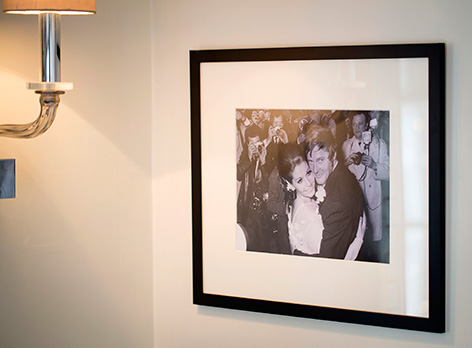 Photos of Sir Roger Moore adorn the walls of Blades at Hush
Blades Menu
Blades specialises in steak, lobster and whisky, but on the menu are other options like Whole Cornish Lobster either Grilled, Tempura or Thermidor, or pair a Half Lobster with Rib-Eye, Fillet or Sirloin. Add a little home-made Bloody Mary Ketchup, Club Stilton Butter or Blades Blend Whisky Glaze. Other distinctly British dishes include whisky-cured smoked salmon carved at diners' tables, lobster beignets and rabbit.
Whiskies and Bourbons can be sipped neat, sampled or enjoyed in a Blades Tipple mix.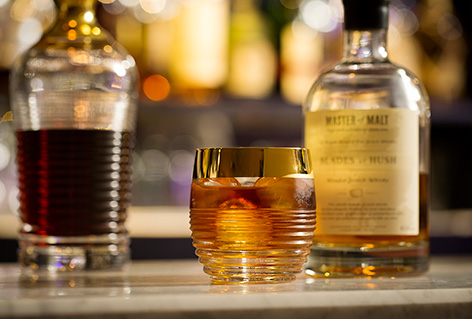 The Bowler, by Blades at Hush
Another tempting option is the signature cocktail The Bowler, a blended whisky, mixed table-side on a golden drinks trolley.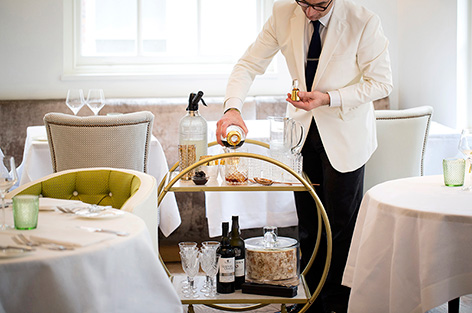 Mixing The Bowler, table-side
A few weeks ago, I had the chance to dine at Blades with my Bond GIrl, and taste some of the staple courses.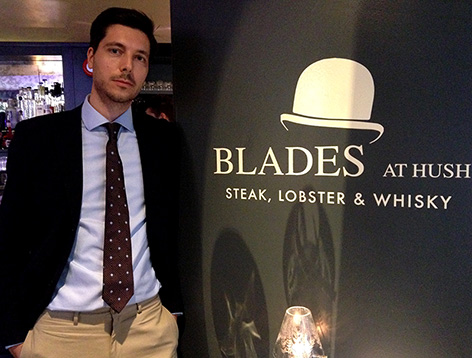 Wearing a 'Tomorrow Never Dies' Turnbull & Asser tie is not required
To start this culinary feast, we ordered the Lobster Salad with horseradish potato, chives and crispy pancetta, a small but very tasty appetizer, and a champagne cocktail to celebrate the evening.
For the main course, in honour of Fleming, I opted for M's choice: the Grilled Dover Sole and a glass of white wine.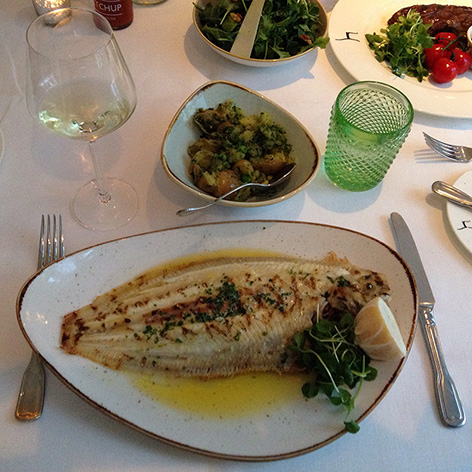 Grilled Dover Sole, M's choice
"At Blades, M. ate his usual meagre luncheon - a grilled Dover sole followed by the ripest spoonful he could gouge from the club Stilton." (Ian Fleming, The Man With The Golden Gun, chapter 3)
The fish is presented on an oversized plate and on my request deboned by the waiter, who is extremely helpful and gives us excellent service throughout evening.
I also tasted the USDA Steak, with Blades Own Blend Whisky Glaze, which was truly made to perfection and would be my recommendation if you dine here.
A side order of Cornish New Potatoes with Pea Pesto and Baby Kale Salad completed the main course.
For afters, I again looked at M for inspiration. I ordered a "Scoop of Club Stilton with a Glass of Port", in homage to M's penchant for "the ripest spoonful he could gouge from the club Stilton" in The Man with the Golden Gun.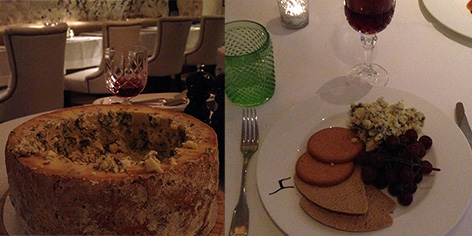 More than a spoonful from the club Stilton
I'm not disappointed and receive a very generous scoop of the very strong tasting cheese, scooped straight from the large Stilton cheese, served with crackers and grapes. The cheese is not infused with port (the way it is sometimes served), but the port comes in a glass on the side. An exquisite combination of flavours.
The Stilton is a proper desert to end the quintessentially British experience at a modern interpretation of a private club.
For more details about the prices of the courses, or to plan your own dinner at Hush, take a look at the à la carte menu on the Blades at Hush website.
To book your own Bond evening or luncheon at Blades, call +44 20 7659 1500 or visit hush.co.uk
Blades at Hush
Lancashire Court
8 Brook St
London
W1S 1EY
United Kingdom
Follow Hush on Facebook
With many thanks to everyone at Blades at Hush for a wonderful dining experience.
All copyrights for products, logos, images etc are held by their respective owners. Bond Lifestyle is not responsible for these articles, please take any queries up with the author.
Subscribe to the Bond Lifestyle EYES ONLY newsletter