Sphere Cat Tower with Scratch pole in Q's home
Sphere Cat Tower with Scratch pole in Q's home
photo © Danjaq LLC, MGM, United Artists
Similar but NOT the same: the Sauder Natural Sphere Cat Tower
photo © Sauder
In No Time To Die (2021) we get a good look at Q's home, including his two hairless cats.
In the background of the scene, a round cat tower with three legs and wicket basket and scratch rope can be seen.
The exact model is not yet identified. It's possible that the cat tower was made just for the film.
The closest cat tower is the Sauder Natural Sphere Cat Tower (see it on Amazon or on eBay), which has the wooden legs, a wicker sphere with two access holes (front and top). But this wicker top looks different from Q's model, which has a lower and bigger entrance for the cat. The wooden part also looks slightly different although it also has the scratch rope around one leg.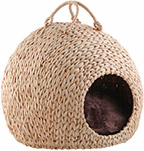 It could also have been custom made, using something like a Bunty Wicker Cat Bed (see on Amazon).
If you know the exact model, please send a message.
For more items seen in Q's home, and the address of the house in London, click here.
---