Penfold Heart Golf Ball
A new 2020 Penfold Hearts Golf Ball
photo © Penfold
A vintage Penfold Hearts golf ball (left), as it was probably used by James Bond in Goldfinger, and a new Penfold Hearts golf ball (right)
photos © Jeremy Freeman / Penfold
Collector's set of Penfold Heart Golf Balls made to celebrate the Ian Fleming Centenary in 2008
photo © Penfold
Deluxe Golfer's Gift Set from 2010
photo © Penfold
2020 Penfold Hearts packaging in a more vintage look
photo © Penfold
Compare the 2008 Penfold ball (left) and the 2020 Penfold ball (right)
photo © Bond Lifestyle
The new 2020 ball features a line for easier alignment.
photo © Penfold
New 2020 Penfold Hearts packaging in a more vintage look.
photo © Bond Lifestyle
Famed for the playing card suits stamped on the golf balls, a Penfold ball became the most famous golfing ball in cinematic history when used in the 1964 Bond film Goldfinger. James Bond (Sean Connery) played a Penfold Heart golf ball when defeating Auric Goldfinger in a golf match against the Bond villain.
The film took its cues from the novel, in which Ian Fleming also mentions that James Bond uses a Penfold Hearts while Goldfinger uses a Dunlop 65 Number One, in the golf match. The Penfold Hearts is mentioned twice in the Goldfinger novel. The first time it's mentioned in chapter 8:
"Goldfinger took out his driver and unpeeled a new ball. He said, 'Dunlop 65. Number One. Always use the same ball. What's yours?'
Penfold. Hearts."
The second mention, in chapter 9:
'He looked sharply at Goldfinger. 'You play a Number One Dunlop, don't you?'
'Yes, of course.' A sixth sense of disaster wiped the triumph off Goldfinger's face. 'What is it? What's the matter?'
'Well,' said Bond apologetically.' "Fraid you've been playing with the wrong ball. Here's my Penfold Hearts and this is a Number Seven Dunlop"
The game in the film is played at Stoke Park Golf Club, Stoke Poges.
If the 1960s Bond movies made the young Sean Connery a star, they also shot the Penfold Heart to fame. Never before was a golf ball in such demand. Orders for Penfold Hearts sky-rocketed as golfers competed to be seen with the uber-cool golf ball after James Bond's line: "Mine's the Penfold Heart!"
Since 2008 a new version of the ball was available, and in October 2020, another new version of the ball was released, still with the Hearts design.
2008 version
In 2008, Penfold released a new version of their Heart Golf Ball. The original golf ball from the 60s used in the movie probably had the old Penfold logo (pictured on the left) on it, which is different from the current script font logo.
The original golf balls are sometimes available on Ebay, fetching high prices. The 2008 version comes in different sets:
Collector's set of Penfold Heart Golf Balls made to celebrate the Ian Fleming Centenary 2008
A limited collector's set of one dozen Penfold Hearts has been specially produced to celebrate the anniversary of Ian Fleming's birth. Only 500 sets were produced. Each set of 12 balls comes with a card of authenticity and a commemorative slipcase. These collector's sets are only available via the Penfold Golf website (see link below). These sets will appreciate in value - we have already seen demand for the old Penfold golf balls, with single balls being snapped up at auction. Be the first to own the premier batch of relaunched Penfold Heart golf balls. Each limited edition set is being offered at £50 including VAT and postage within the UK. A collectable gift for Bond fans, golfers and investors.
A similar set was still available on Penfoldgolf.com, but without the Ian Fleming references.
Deluxe Golfer's Gift Set
A gift set with three Penfold Hearts golf balls, a selection of Red Logo Penfold Golf Tees, a Pitch Repairer and Ball Marker was available on Penfoldgolf.com for £20 but this seems to be sold out now.
2020 version
On 16 October 2020, a new version of the Penfold Hearts golf ball was released, featuring a darker color Hearts and the script logo. The packaging prominently features the numbers 1927, the year Penfold was founded.
The new Penfold Heart ball is now available in a set of four dozen balls on the Penfold Golf USA website ($28) or UK/EU website (£25).
2021 Penfold x Uncrate set
In 2021, Penfold partnered up with online men's store Uncrate to offer a set of dozen Penfold Hearts golf balls and Uncrate Spade golf balls.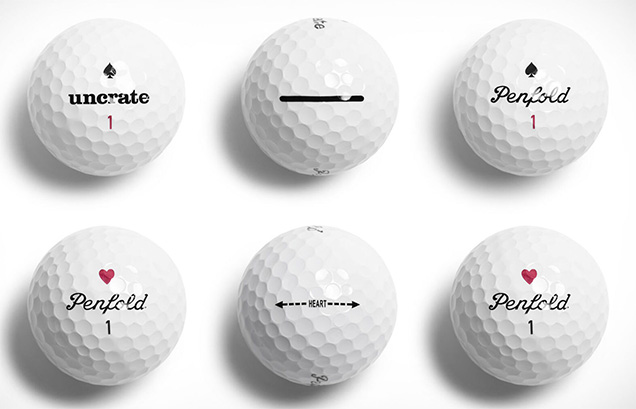 Get the Penfold x Uncrate set at Uncrate.com
2022 Goldfinger Gift Set
This 007 x Penfold Goldfinger Golf Gift Set includes three sleeves of Penfold Hearts golf balls - the modern-day version of the ball Bond plays in the film - as well as a 007-branded golf towel, 50 black 007 tees, a stainless 007 ball marker, and two custom, collectible postcards. The set arrives in a custom 007 box with 007 tissue paper.
Available at UNCRATE ($90)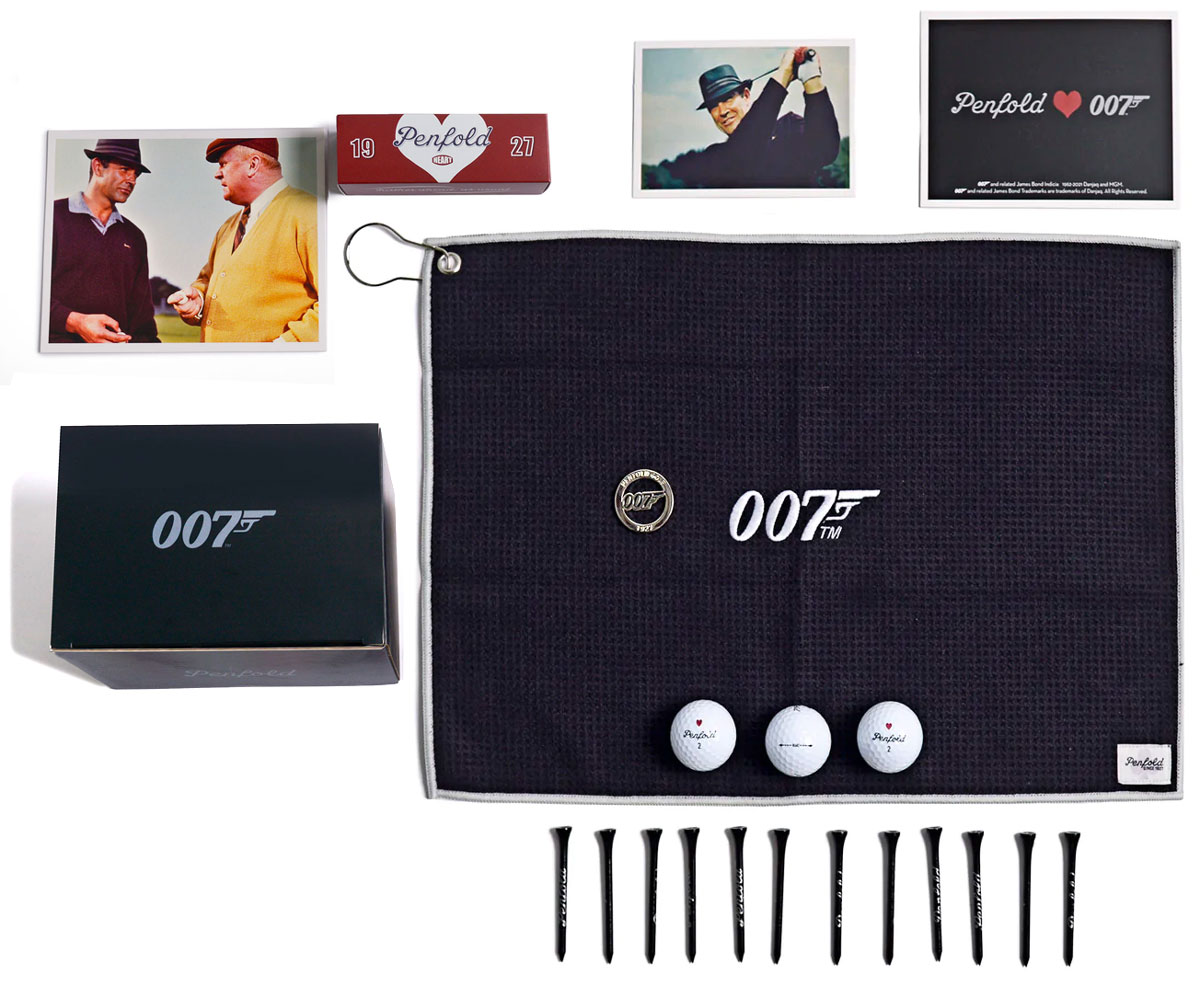 Complete the look
As part of his golf outfit, Sean Connery as 007 wears a Slazenger sweater which is still available.
---
Subscribe to the Bond Lifestyle EYES ONLY newsletter