Clevo P151SM1
One of the actual Clevo laptops used by Q in the film which will be auctioned by Christie's
photo © Christie's Images LTD. 2016
One of the actual Clevo laptops used by Q in the film
photo © Christie's Images LTD. 2016
Q and the movie Clevo laptop, and a 'clean' normal Clevo laptop below.
photo © MGM, Danjaq, LLC and Columbia Pictures
A Clevo laptop, model P151SM1, is used by Q (Ben Whishaw) in SPECTRE (2015). The laptop is dressed with stickers and tape to refect Q's character. Q uses this Clevo computer in his underground London lab and takes it to Sölden, Austria where he uses it to discover the link between Mr. White and the Spectre organisation.
One of three laptops used in filming, preloaded with film graphics, was auctioned at an online SPECTRE sale of Christie's in February 2016. The laptop on auction is in working order with an extra battery pack, laptop AC adapter, battery charger, power supply with power cord and soft case. The estimate was £4,000–6,000 / $5,700–8,500 / €5,200–7,800 and it eventually sold online for £7,500.
The laptop measures: 10 x 14 ¾ in. (25.4 x 37.5 cm), and has a 15.6" (39.62cm) screen.
The Clevo P151SM1 is often used as a gaming laptop. The model is now discontinued but in 2015 you could still buy this laptop online, configured to your exact specifications, starting from around $1150. Note that the Sager NP8235 is the same laptop.
Since July 2019, the official 007 Store offers a set of stickers similar to the ones used on the original movie laptop. The set contains twenty permanent stickers of various sizes on four sheets.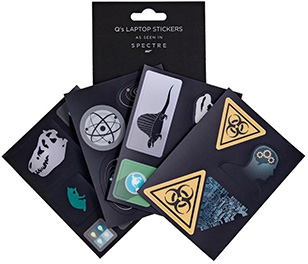 Thanks to Christie's and Thomas for the ID
---