Cartier Vendome Santos sunglasses
Cartier Vendome Santos sunglasses, the billionaires' choice
photo © 1stdibs.com
Cartier Vendome Santos sunglasses, large
photo © Vintage-Sunglasses-Shop.com
Max Zorin (Christopher Walken) wearing Cartier Vendome Santos sunglasses and eyeglasses in A View To A Kill
photo © United Artists, Danjaq LLC
Cartier Vendome Santos eyeglasses
photo © Vintage-Sunglasses-Shop.com
Zorin's wallet is also by Cartier
photo © United Artists, Danjaq LLC
In the movie A View To A Kill (1985), Max Zorin (played by Christopher Walken) wears a pair of gold Cartier Vendome Santos sunglasses and eyeglasses. The sunglasses are worn by Zorin when he meets James Bond (Roger Moore) at Château de Chantilly. The eyeglasses can be seen in the last scene when the Zorin tries to kill Bond with his Zeppelin and the Golden Gate Bridge.
Zorin's Cartier Vendome sunglasses have a gold frame and very lightly tinted lenses. The details in the nose bridge and hinges are silver with gold 'screws'. This is the "Santos" model of the Vendome. Other color variations were available, with different names: the "Laque" (a solid color), the "Santos Swarovski" (chrystals instead of the screws) and the "Louis Cartier" (silver and gold lines). The model is also available in three different sizes: small, medium and large.
The Cartier Vendome eyeglasses worn in the last scene have a gold frame and clear lenses. The frame seems to be the same as the sunglasses frame, with the Santos details.
You can still find a selection of these high end sunglasses on eBay (where they go between $500 - $2000).

The Vendome glasses were launched by Cartier in 1983 and only producted in the 1980s. Famous appearances include Gordon Gekko wearing them in the movie Wall Street (1987) and rapper Jay-Z sported a pair in his 2003 music video for the single Bonnie and Clyde.
Zorin's check book wallet, the one that Bond picks up to make a copy of a check, is also by Cartier, as the words Cartier Paris can just be spotted on the inside.
Cartier is one of the brands mentioned in the end credits of A View To A Kill, so there are probably quite a few more Cartier products used in the film.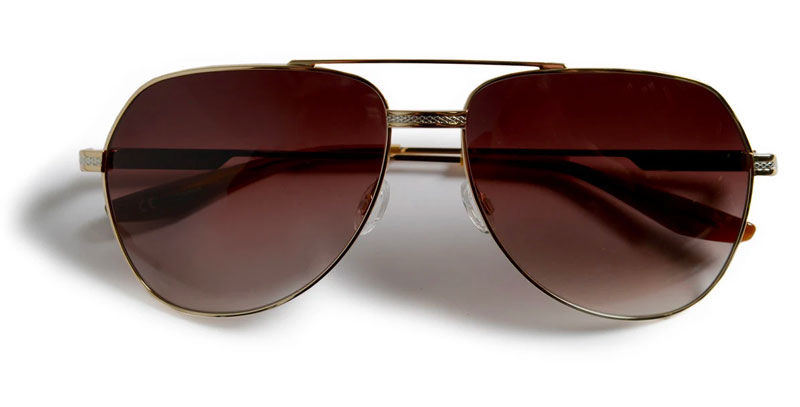 2021 Barton Perreira 007 AVTAK sunglasses
In 2021, Barton Perreira released AVTAK 007 sunglasses inspired by the Cartier worn by Zorin. The glasses are part of Barton Perreira's 007 Legacy Collection and can be found on Uncrate for $600.
Thanks to Vintage-Sunglasses-Shop.com and 1stdibs.com for the photos
---