Trigger Mortis launch at Waterstones with Anthony Horowitz
09 September, 2015
On Monday 7 September, author Anthony Horowitz presented his James Bond novel Trigger Mortis at Waterstones Piccadilly in London. The new book, with original material by Ian Fleming, is now available in stores in the UK (& Commonwealth), USA, France and Germany.
Anthony Horowitz arrived in a vintage convertible Bentley at the book store in the centre of London. He was then interviewed by BBC presenter Mishal Husain for a small group of fans and media.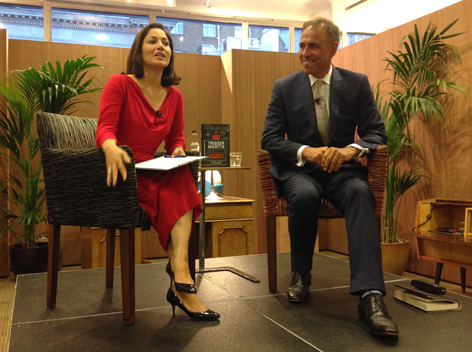 Horowitz told the audience how he was very excited to write a Bond novel as he was a big Bond fan himself. Trigger Mortis is set in the 1950s, only two weeks after the end of Ian Fleming's book Goldfinger, which is Anthony's favourite Bond novel. Having to work with known characters as Pussy Galore, Moneypenny and M was not limiting but only expanding the options for the story, according to Horowitz.
Parts of the novel are based on unpublished material by Ian Fleming, seemlessly integrated in the new story.
As a novelty, the UK edition of the book has a special book jacket which can be made into a rocket.
How badly do you want your own #TriggerMortis rocket? We've got all the instructions here http://t.co/xdzgPCybxp https://t.co/zphLTak7kG

— Orion Publishing (@orionbooks) September 8, 2015
After reading a short passage from the book, Horowitz answered a few questions from the audience, followed by a book signing session.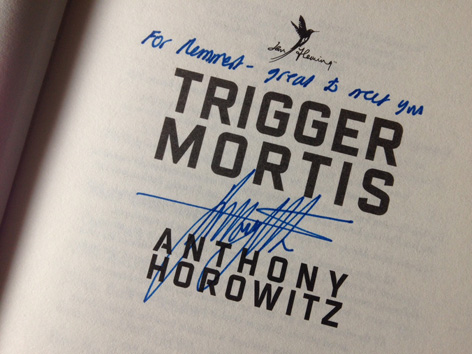 Reviews for the latest Bond novel have been very positive, some fans claiming it's the best Bond novel since Colonel Sun (1968, written by Kingsley Amis/Robert Markham). A selection of reviews:
"The heart of any good thriller is the plot, and…Horowitz doesn't disappoint. The action moves with high velocity…. Also stays true to the Bond of Fleming's books."
(New York Times Book Review)
"Horowitz…delivers the tersely precise prose that makes Bond so compelling, but more than that, he also supplies touches of Fleming's cruel poetry…. A brisk and effective ride."
(The Guardian)
"Trigger Mortis is a very worthy inclusion into the Bond series and it leaves the reader hoping that Mr. Horowitz will be asked back to do more."
(Ben Williams / MI6-HQ)
Trigger Mortis is now available in bookstores worldwide. There are currently several different covers: the black Waterstones edition, the light grey UK edition (published by Orion) and the blue American edition (published by Harper).
Order Trigger Mortis Waterstones Exclusive Edition £13.99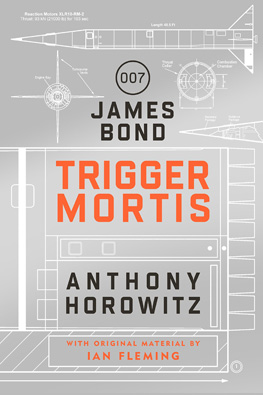 Order Trigger Mortis on Amazon.co.uk (€12.00)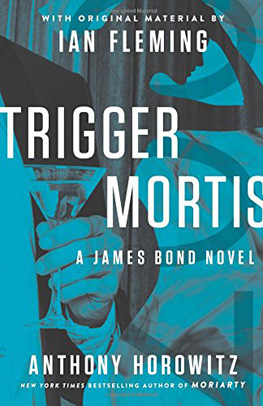 Order Trigger Mortis on Amazon.com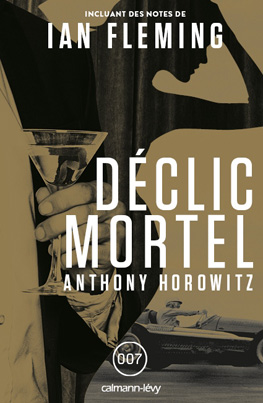 Order French version "Déclic Mortel" on Amazon.fr
Anthony Horowitz Tour Dates
You can still catch Anthony Horowitz on the following locations and at the Radio Times Festival.
Wednesday, 9th September, 7pm - 9pm - Manchester Festival, Central Library
Thursday, 10th September, 7pm - 9.30pm - The Roxy, Edinburgh
Friday, 11th September, 8pm - 10pm - DLR Lexicon Library, Dun Laoghaire, Ireland
Order Trigger Mortis Waterstones Exclusive Edition £13.99
Order Trigger Mortis on Amazon.co.uk £12,00
Order Trigger Mortis on Amazon.com $15.00
Subscribe to the Bond Lifestyle EYES ONLY newsletter