Taking a closer look at the N.Peal sweater worn in SkyFall
24 October, 2014
With autumn well underway, now is probably a good time to take a closer look at the sweaters of James Bond. In the 2012 movie SkyFall, Bond wears a blue N.Peal jumper under the now famous and very popular Barbour X To Ki To Jacket. This cashmere sweater is currently still available on the N.Peal website.
Bond Lifestyle catches up with Adam Holdsworth, Managing Director of N.Peal and takes a closer look at the model, fabric and stylish packaging.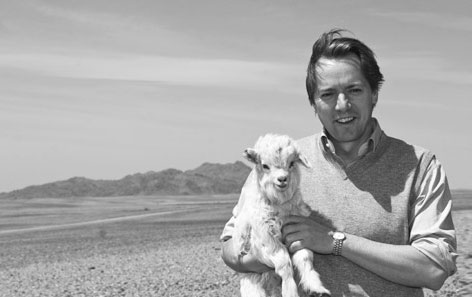 Adam Holdsworth, Managing Director of N.Peal
Holdsworth recounts how N.Peal got to be seen in the movie SkyFall. 
"Interestingly we knew very little about our involvement until the film came out! Our Burlington Arcade store was visited by the James Bond stylist who only introduced himself as a 'film stylist'. He was interested in 25 Single ply round necks made in Blue wave. We get many similar requests throughout the year as we run a 'bespoke' service where you can order any style in any colour and have it made especially for yourself. So our Burlington Arcade manager saw nothing unusual and the 25 sweaters were provided. It was only when I watched the film premier in Leicester Square, London with my children that we realised Bond was indeed wearing an N.Peal sweater during the entire scene in Scotland. Bond is being shot at, blown up and nearly drowned in the lake - it would have taken several takes and damage to what he was wearing, so it is clear why 25 were needed."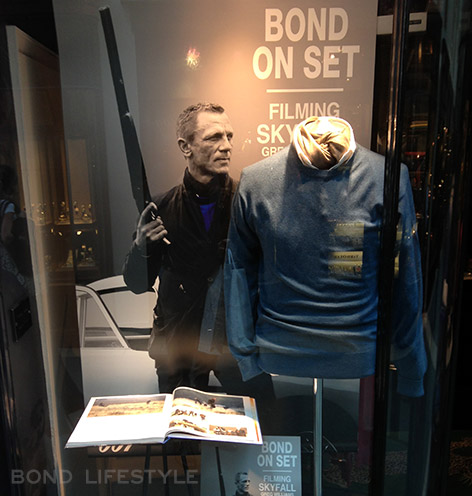 The Burlington Arcade boutique was decorated in Bond style in 2012
photo © Bond Lifestyle
What can you tell us about the model of this jumper and the material?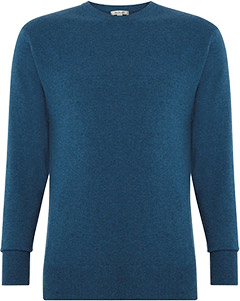 "The style chosen for use by Bond was out contemporary single ply round neck. It is a timeless style but the shape of the sweater has been cut to suit modern tastes. The beauty of all our garments though is the quality of our cashmere. Clearly Mr Bond is not going to settle for anything less than 100% Mongolian Cashmere, but he also needs a great quality. N.Peal has supplied cashmere sweaters to everyone from Marilyn Monroe, Cary Grant, Elizabeth Taylor to Princess Diana, Naomi Campbell and Kate Moss. N.Peal has been a cashmere specialist since 1936 and is widely recognised to provide the best quality available. Cashmere is in fact the only fibre that N.Peal sells so as you can imagine the quality is exceptionally good."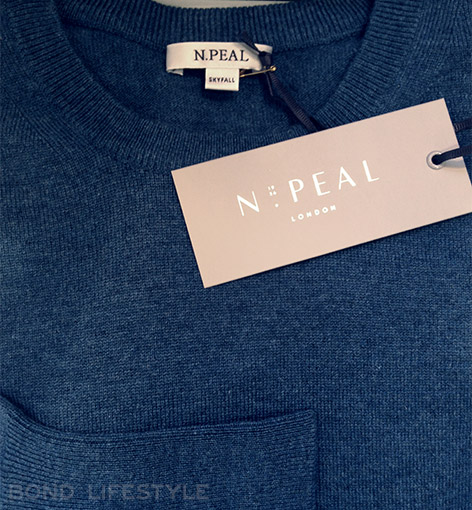 About the colour
"For the 2012 season we developed a colour named 'Blue wave'. It was one of a series of colours that was intended to evoke the spirit of the Scottish Highlands – vibrant colours but in muted tones that reflect the harshness and beauty of both the landscape and weather of a Scottish winter. They were to be modern variations of traditional heather shades in grey, green, brown, and blue. The shade eventually chosen for Bond was among the range we developed. In the end only a few of the shades made it into final production but Blue wave was one of those. The 'Blue wave' was not therefore designed specifically for Bond – but its conception and intention fitted perfectly with both the 'Blue' theme of SkyFall and the Scotland Highlands where the sweater was to be worn. By sheer chance we have designed and developed a shade that was perfect for the movie."
You mentioned earlier the possibility to customise a sweater. I remember in 2012 I got my N.Peal sweater with extra long sleeves. Can you tell me more about the customisation possibilities?
"Via our Bespoke service we can adjust the width and length of a piece, or add contrasting color panel, at no extra cost. It takes about 4-6 weeks to have any style custom made."
Where to get it
The same N.Peal sweater as seen in the film is currently still available on the official N.Peal website, for £219 (approx. $350 or €275). N.Peal offers free shipping within the UK for this sweater. International shipping is available (international customers get free shipping for orders over £350).
For bespoke pieces, contact the Burlington Arcade boutique at +44 (0) 207 499 6485, Sloane Street boutique at +44 (0) 207 730 6891 or email enquiries@npeal.com.
The packaging
If you order the N.Peal sweater online, or buy the N.Peal sweater in the store it is packaged in a beautiful box, worthy of the valuable contents.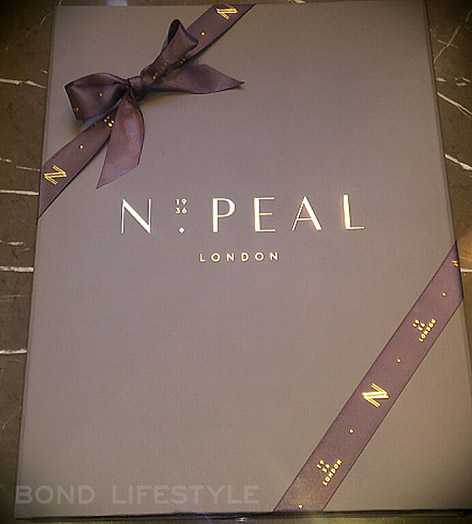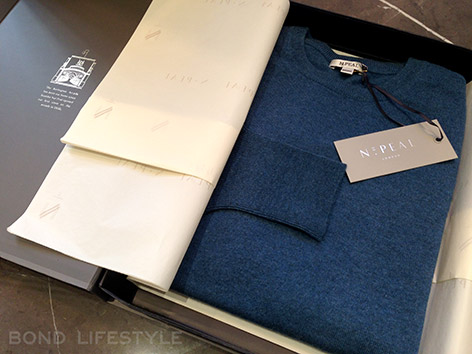 Available at the official N.Peal website.
Free shipping within the UK. International shipping is available (international customers get free shipping for orders over £350).

Complete the look
With the N.Peal sweater, Bond wears the olive green Barbour X To Ki To jacket (currently only available as Barbour Commander), dark All Saints Iggy pants, a white All Saints long sleeve undershirt, brown Crockett & Jones Islay boots, an Omega Seamaster Aqua Terra with blue dial and a brown Tom Ford scarf.
Subscribe to the Bond Lifestyle EYES ONLY newsletter