Sunspel x GoldenEye Resort Launch Exclusive Polo Shirt
05 November, 2015
Sunspel and the luxurious GoldenEye Resort have collaborated on a unique poloshirt celebrating their ties to the 007 franchise.
Made from 100% Egyptian cotton, the lightweight jersey polo includes GoldenEye's logo and comes in the resort's signature blue hue. Available for both men and women, the polo is the epitome of laid-back sophistication, ideal for any resort vacation. The polo retails for £70 / $110 / €90 and is available from Sunspel.com.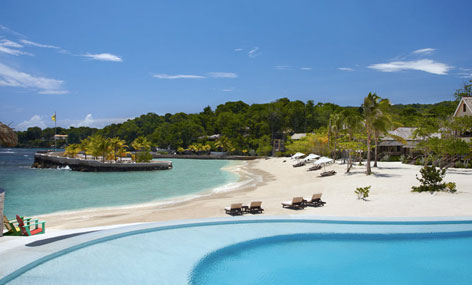 GoldenEye resort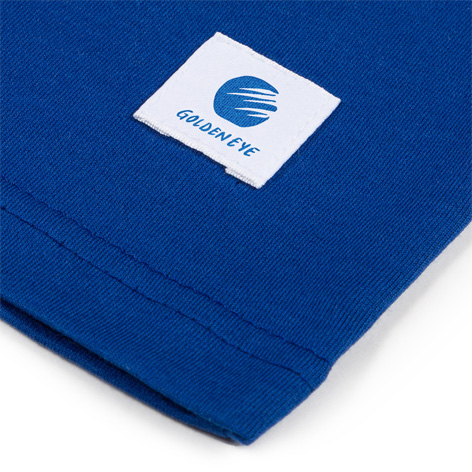 The Sunspel polo shirt with GoldenEye label
The Sunspel GoldenEye polo shirt tags
GoldenEye and Ian Fleming
GoldenEye is the name of Ian Fleming's beloved Jamaican home where he wrote 14 of his 007 novels. What Fleming loved most about GoldenEye was the out of doors, nature, the sounds and colors, the peace and drama of living by the sea. He delighted in "the blazing sunshine, natural beauty and the most healthy life I could live."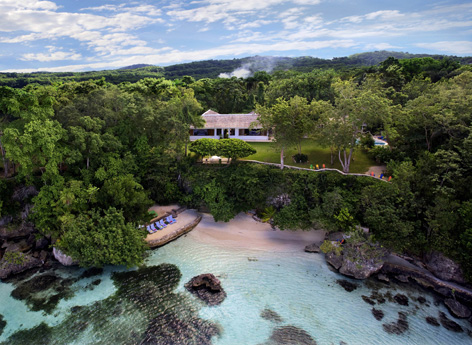 The Fleming Villa on GoldenEye
Chris Blackwell, Founder of Island Records, purchased the Fleming estate in 1976. Once just Fleming's villa, GoldenEye is now a world class resort and boasts 52 acres.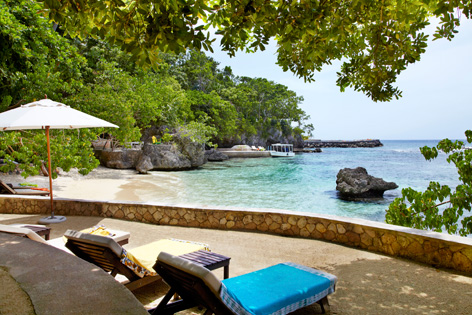 Beach view from the Fleming villa
Read more about GoldenEye and Ian Fleming in Matthew Parker's book Goldeneye - where Bond was Born: Ian Fleming's Jamaica.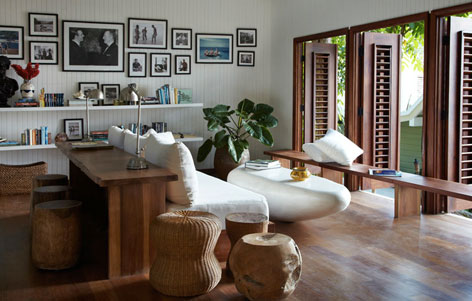 Find out more about the current GoldenEye resort on Goldeneye.com.
Sunspel and Bond
Sunspel has a long standing relationship with the James Bond franchise dating back to Ian Fleming himself. The author was a big fan of the brand's Sea Island Cotton Collection, a crop that is still cultivated in Jamaica today. Years later, Sunspel was approached and commissioned to create key looks for Daniel Craig in Casino Royale. Costume designer Lindy Hemming collaborated with Sunspel to create the now popular Riviera Polo Shirt, whose pattern is still based on the block used for Daniel Craig. In 2012, Hemming approached Sunspel once more for the exhibition Designing 007 - Fifty Years of Bond Style. The brand recreated the swim shorts worn by Sean Connery in some of his 1960s movies, which were such a success that Sunspel launched their first line of swimwear following the exhibition. In 2015, Sunspel provided the underwear worn by James Bond in the latest Bond film SPECTRE.
Read more about the Riviera shirts in Casino Royale, or check out the Sunspel GoldenEye Polo on Sunspel.
Subscribe to the Bond Lifestyle EYES ONLY newsletter