Prop Store Cinema Poster Live Auction offers rare James Bond posters and Feref Archive concepts
23 March, 2021
Over 490 rare, sought-after posters and artworks will be sold during Prop Store's cinema poster auction on Thursday 22nd April 2021 from 12:00pm GMT.
Prop Store has partnered with award-winning creative agency Feref, to offer over 200 posters and poster design transparencies & one-off proof prints from James Bond, Star Wars and The Beatles' Yellow Submarine and many more.
Stephen Lane, Prop Store CEO, commented on the upcoming auction: "Prop Store is back with another incredible collection of posters going under the hammer on 22nd April. We're particularly excited to bring over 200 posters and transparencies from the Feref Archive to market, including some amazing one-of-a-kind prints from Star Wars, Top Gun, Get Carter and many more!"
Founded in 1968, Feref is an award-winning fully integrated creative agency based in Soho, London. The company creates international campaigns for some of the world's biggest entertainment brands and are behind some of the world's best-loved advertising and PR launches for movies like Star Wars, Deadpool, James Bond, Frozen, Marvel's Avengers and La La Land.
ENTER THE CONTEST: Bond Lifestyle is giving away a Licence to Kill poster
210. JAMES BOND: FROM RUSSIA WITH LOVE (1963)
One for the true Bond collectors and those who appreciate movie posters as an art form. An original 1963 country of origin British poster design for 007's second screen adventure From Russia With Love.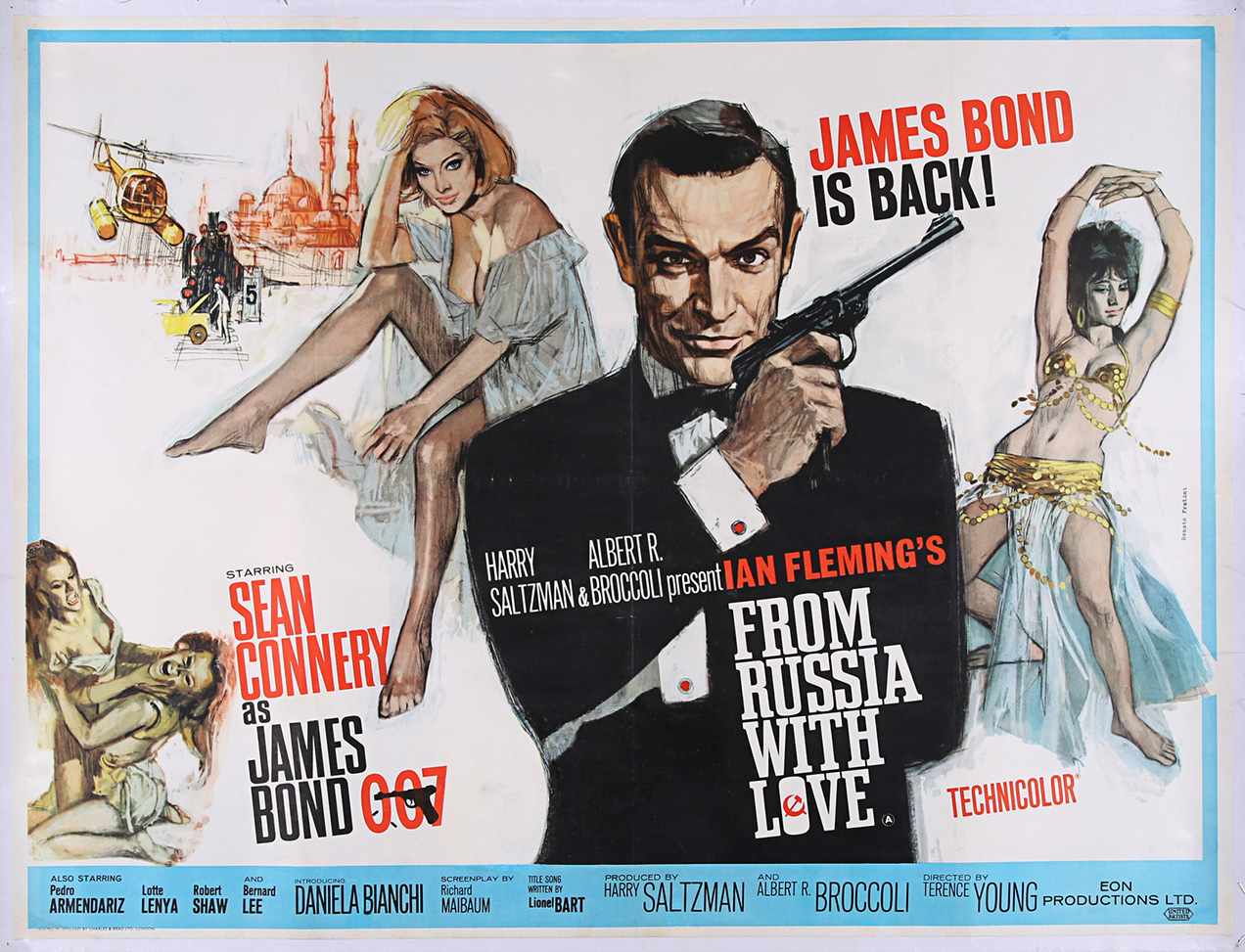 Eddie Paul, Eric Pulford and Renato Fratini perhaps produced the most beautiful Bond imagery ever with Pulford's now famous Sean Connery, Bond pose used on every marketing campaign since. Connery (as Bond) is surrounded by key characters from the movie including a beautiful illustration of actress Daniela Bianchi (Tatiana Romanova).
Size: 30" x 40" (76 x 102 cm)
Estimate: £5,000 - 6,000
211. JAMES BOND: FROM RUSSIA WITH LOVE (1963)
A country-of-origin British Double-Crown for Sean Connery's return as Agent 007, James Bond in From Russia With Love.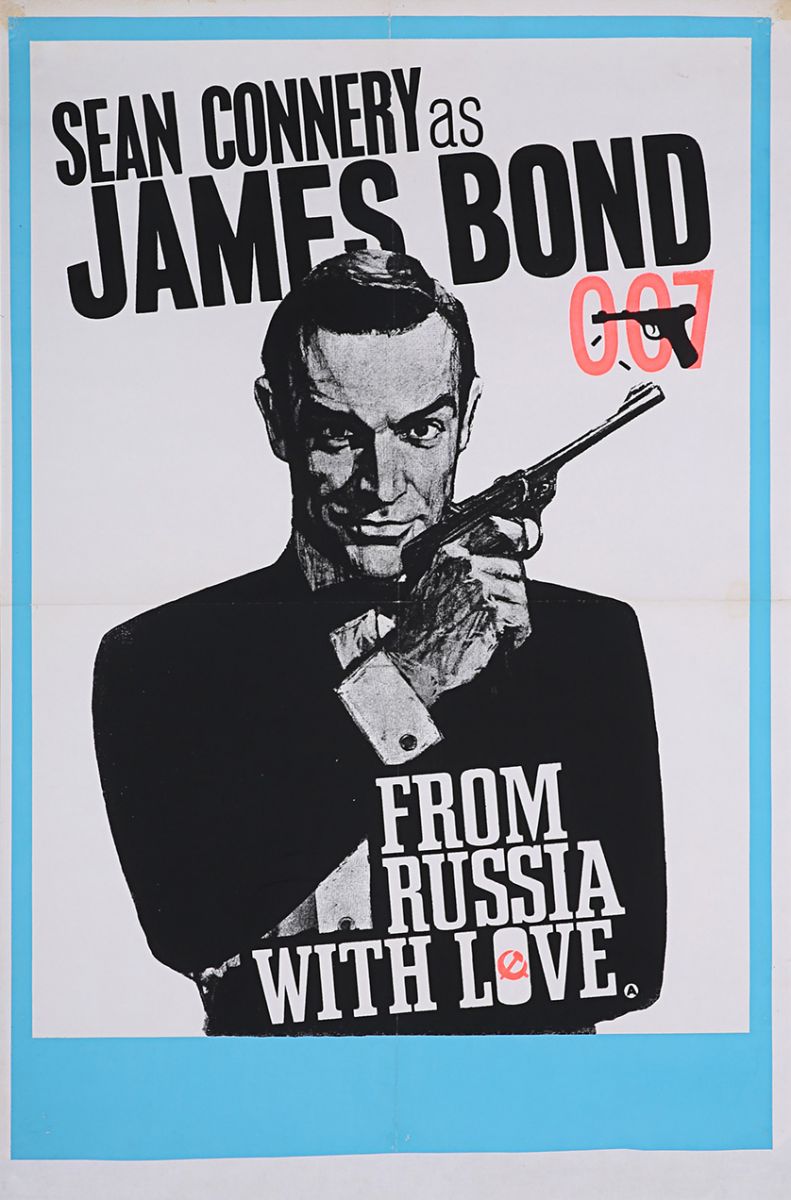 This scarce poster features artwork of Connery in the iconic 007 Bond pose by Eric Pulford and Joseph Caroff, with dayglo highlights found in the "007" at the top, and the hammer and sickle at the bottom.
20" x 30" (51 x 76 cm)
Estimate: £2,000 - 3,000
235. JAMES BOND: A VIEW TO A KILL (1985)
With artwork by Daniel Goozee, this original US One-Sheet for A View to a Kill has been hand-signed by 25 actors and actresses associated with the James Bond series over the years including George Lazenby, Richard Kiel, Caroline Munro, Honor Blackman, Carole Ashby, Deborah Moore, Maryam D'Abo, Eunice Gayson, Tania Mallet, Madeline Smith, Jesper Christensen, Sylvana Henriques, Martine Beswick, Jenny Hanley, Richard LeParmentier, Jack Klaff, John Glenn and others.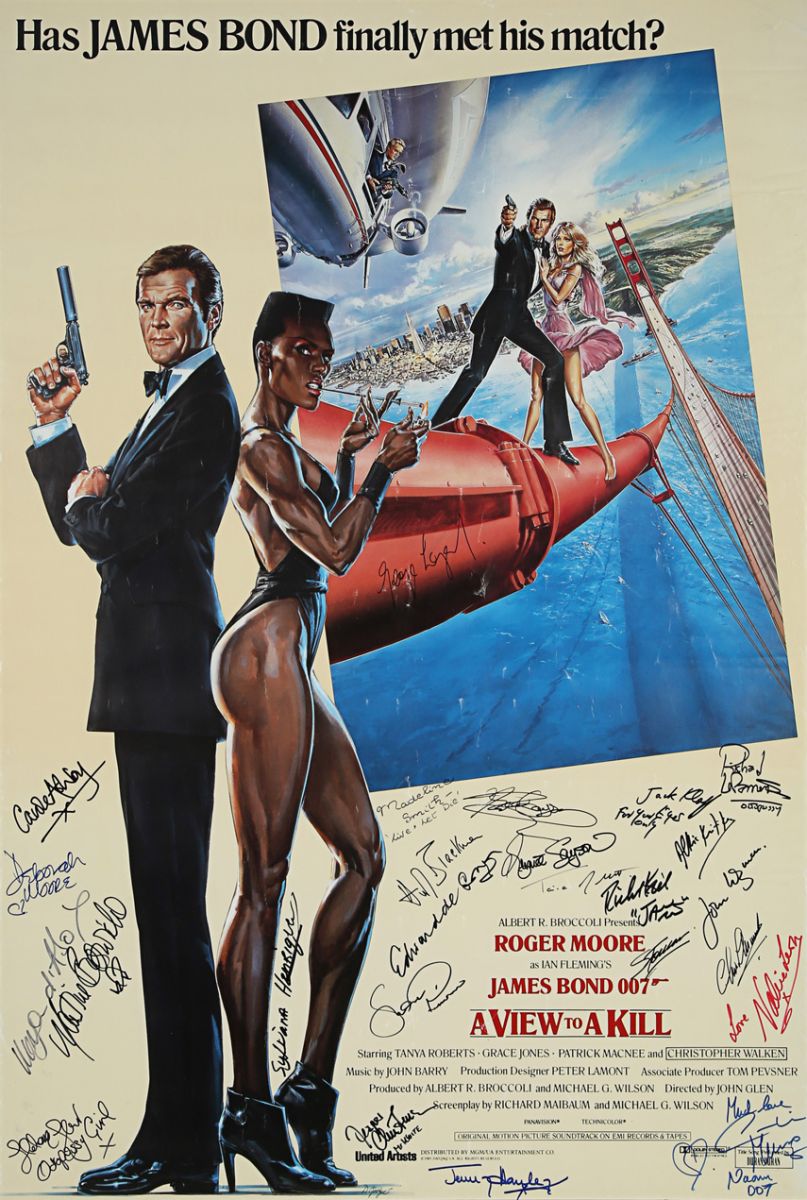 30.25" x 43" (77 x 109 cm)
Estimate: £1,000 - 2,000
JAMES BOND: HILDESHEIM MUSEUM EXHIBITION POSTERS, 1998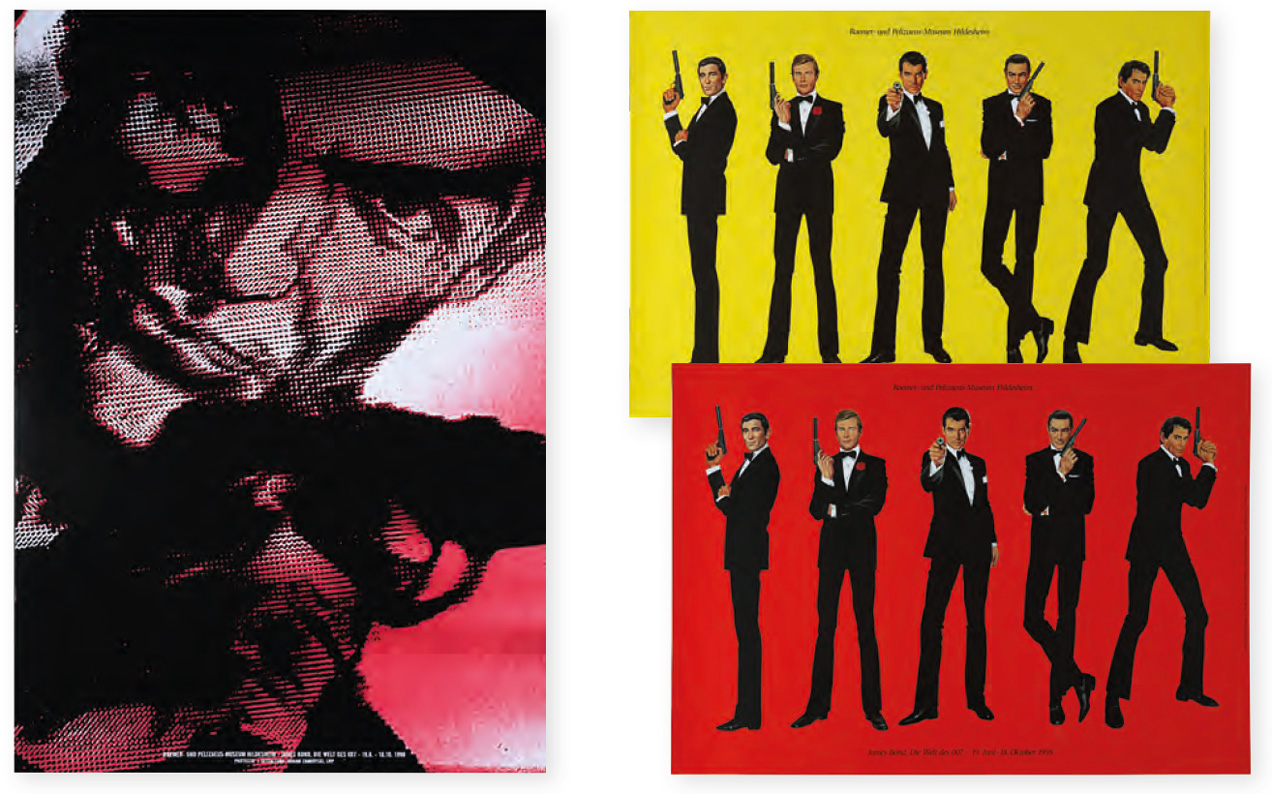 The posters and artwork in the Prop Store Cinema Poster Live Auction are expected to fetch in excess of £175,000.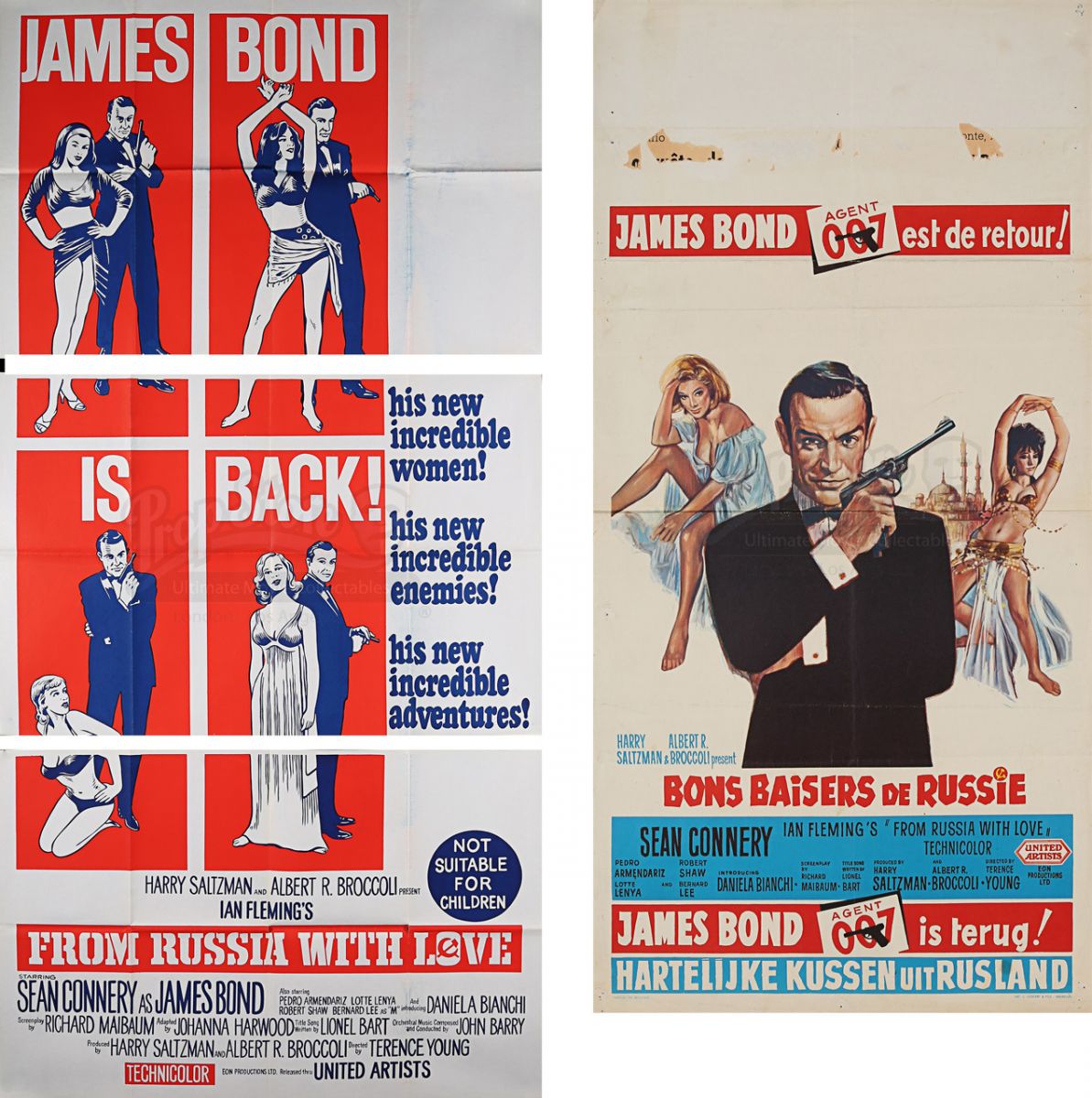 The auction will be live streamed online for fans to track the action and participate in bidding.
Prop Store's cinema poster auction wil take place on Thursday 22nd April 2021 from 12:00pm GMT. The auction is suitable for fans with a variety of budgets and is now open for registration via: www.propstore.com/posterauction.
WIN
And don't forget to enter the latest Bond Lifestyle contest for your chance to win a Licence To Kill poster.
Subscribe to the Bond Lifestyle EYES ONLY newsletter