Original Walther LP53 and Acrostar Jet on auction
10 July, 2013
James Bond's Walther LP53 gun, used by Sean Connery in publicity shots for From Russia With Love and the N70CF Acrostar BD-5J Micro Jet used in the opening sequence of Octopussy will go up for auction at the Profiles in History Hollywood auction on July 29th, 2013.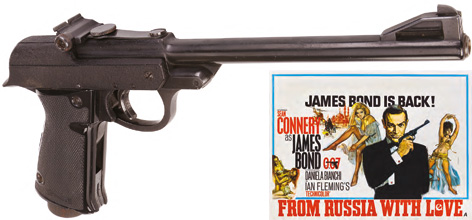 The Walther air pistol, model LP53, serial number 054159, was first used by Sean Connery for the promotion of his second "James Bond" film, From Russia with Love.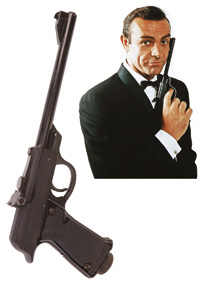 Publicist Tom Carlile arranged a series of poses with photographer David Hurn to shoot an iconic portrait of Connery as "James Bond 007" with this Walther pistol which was to be used as the primary image for the film's poster art and advertising/marketing campaign.
What became of this shoot was one of the most iconic photographic images of the 20th century. The picture of Sean Connery holding the long-barreled gun across his chest or alongside his face became the most famous of all Bond images.
The gun comes with its original close-fitted Walther presentation case as well as a signed letter of provenance from photographer David Hurn. auction estimate $ 200,000-$300,000.
This gun had previously sold at Christie's London in 2010 for a world record $437,000 (£277,250), read more here.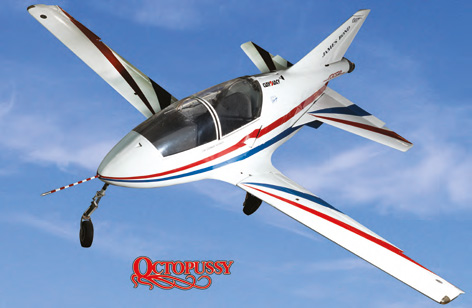 Also on auction the original N70CF Acrostar BD-5J Micro Jet used in all of the flying sequences from Octopussy. In the opening sequence, Roger Moore backs a small jet out of a horse trailer, takes of from the road, flies over military troops, under a bridge, rolls in canyons and flies through an airplane hangar. This is the jet that was used in all the aerial sequences of the film.
The BD-5J has a 17 ft. wingspan and a small, streamlined fuselage holding its semi-reclined pilot under a large canopy. It holds the record for the world's lightest jet aircraft, weighing only 358.8 lbs. (162.7 kg) and was capable of reaching 300 mph (480 km/h). The jet is so compact that it can fit in a rental truck with a 12 ft. cargo area with the wings detached.
The Octopussy flying sequences were performed by stunt pilot John W. "Corkey" Fornof. In addition to its most famous use in Octopussy, Fornof flew this jet in scores of television programs and commercials, such as "The Spectacular World of Guinness Records" (world's smallest jet), "Good Morning America", "25 Years of James Bond 007", "That's Incredible", "ABCs Wide World of Sports" and countless airshows. In addition, this jet has appeared in virtually every aviation publication in the free world.
BD-5J's were popular at air shows throughout the 1980s and many were involved in crashes due to the demanding high performance nature of the plane. The engine has been removed for exhibition purposes and the aircraft's current air-worthiness is untested. Comes with signed letter of provenance by Corkey Fornof who has owned the jet since it was built. The estimated price is $200,000 - $300,000.
More information on the Profiles in History website and Invaluable.com.
Update:
The Walther LP53 was sold for $250,000. There is no mention of the Acrostar sale price, and the Acrostar is up for auction again on 5 December 2014.
Thanks to Michael Delaney for the alert
Subscribe to the Bond Lifestyle EYES ONLY newsletter