Official James Bond Golf Day at Stoke Park
05 June, 2013
On Friday 28th June 2013, Stoke Park will play host to the official James Bond Golf Day.

As the setting for arguably the most iconic golf battle in cinematic history between Sean Connery's James Bond, and Gert Fröbe's Goldfinger, and not forgetting Oddjob's flying hat, Stoke Park has partnered with EON Productions to host the official James Bond Golf Day, with profits from the day donated to the charity Spinal Research.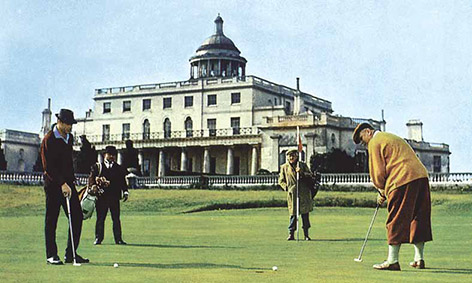 Like Bond and Goldfinger, golfers will have the opportunity to compete on Stoke Park's legendary 1908 Championship golf course, indulge on award -winning Head Chef Chris Wheeler's exquisite cuisine, and dance into the night with live music.
Says Stuart Collier, Director of Golf at Stoke Park: 'Next year will be 50 years since Goldfinger was released in the cinemas, and at Stoke Park, we are very proud of our Bond heritage. We have had two Bond films shot here and in 1997 scenes from Tomorrow Never Dies were also filmed in our Ballroom. The idea behind the golf day was to celebrate that heritage, and to create something truly unique and authentic.'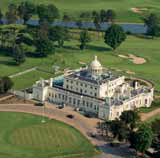 'Spinal Research is the UK's leading and most influential spinal cord repair charity. We're here to give hope to the 50,000 people living with a spinal cord injury in the UK and Ireland by supporting research around the world to develop reliable treatments for paralysis caused by a broken neck or back.
Over the last few years we have taken significant steps forward and now stand on the brink of clinical trials involving paralysed volunteers. We're only able to progress this vital work thanks to the fundraising efforts of our supporters and are immensely grateful to Stoke Park for hosting the James Bond Golf Day.' Jonathan Miall, Chief Executive, Spinal Research.
Whilst the 25 teams compete on the golf course, non-competitors will be able to enjoy Stoke Park's award winning spa, gym, tennis clinics, golf clinics, Ride and Drives in Aston Martin's or even award winning afternoon tea, before changing into Black Tie attire for the evening's entertainment.
007 Package: £2,500
Team of four playing in the golf competition
Gift on arrival for each golfer
Breakfast
18 Holes
BBQ lunch and drinks mid-round
Additional six guests at the Champagne reception
Table for ten at the gala dinner (inc. of all food and drinks)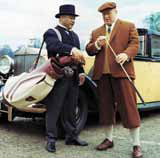 Party Table: £1,500
Ten people at the Champagne reception
Table for ten at the gala dinner (inc. of all food and drinks)
The event has been supported by Aston Martin, Virgin Atlantic and Champagne Bollinger.
Visit the Stoke Park website, and to enter please call 01753 71 71 71 or email events@stokepark.com
For more info on James Bond and Stoke Park, click here.
Subscribe to the Bond Lifestyle EYES ONLY newsletter