No Time To Die IMAX poster released featuring James Bond on the Triumph motorcyle in Matera
20 February, 2020
Today an official and stunning No Time To Die IMAX poster was released, featuring Daniel Craig as James Bond on the Triumph motorcycle in Matera, during the intense chase scene.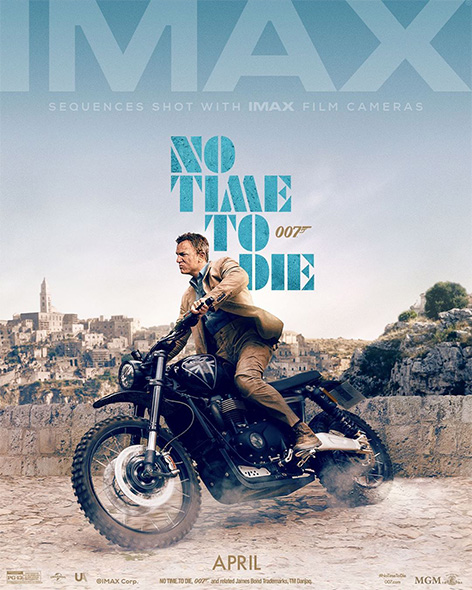 The amazing poster design features a large word IMAX on top, and "sequences shot with IMAX film camera" below and then the No Time To Die logo in the blue color based on the Cuba building exterior seen in earlier promo photos. 
Although it's not the first James Bond film to be shown in IMAX theatres (that was SkyFall in 2012), No Time To Die is first Bond film to have select sequences filmed using IMAX cameras.
In the IMAX poster James Bond wears his Matera Chase outfit, that includes the Massimo Alba suit and Albert Thurston Braces.
But there seems to be one difference: the boots on the IMAX poster are NOT the Drake's Moc Toe boots that Bond wears during the chase.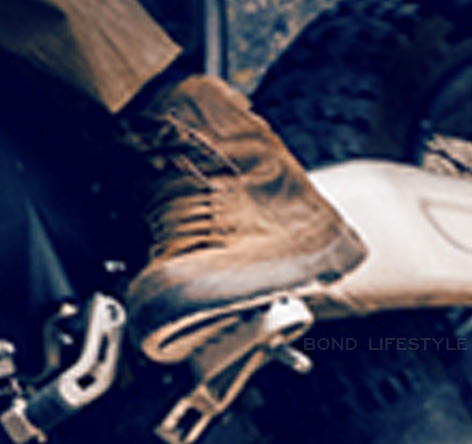 The boots in the poster are probably the boots worn by the stuntman doing the motorcycle stunts in Matera. So this might be a small error, with the stunt driver's body (and outfit) being used for the poster with Craig's head photoshopped into the picture. 
The brown combat boots are more rugged and higher boots with thick black rubber soles.
The boots in the poster are not yet identified, but are probably not seen in the film although we can't be sure until we see the final film. And in one way they WILL be seen in shots where we see the stunt man drive the motorcycle.
If you have identified the shoes, send a message!
Subscribe to the Bond Lifestyle EYES ONLY newsletter