MI6 Confidential 2015 Season Pre-Order
29 December, 2014
Fan magazine MI6 Confidential has launched the 2015 season preorder package. You can sign up now to receive all five issues to be released next year (2015) in one simple payment - and save.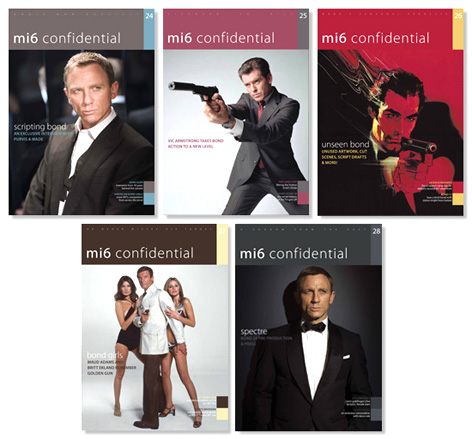 Pictured above: MI6 Confidential issues 2014
MI6 Confidential's 2015 season preorder package offer:
Receive five magazines as they are released throughout 2015 (issues #29, #30, #31, #32 & #33);
Pay the cover price of just four issues;
Get priority shipping on all five magazines as they are released;
Never miss an issue, many sell out and are now out of print;
Amongst a smorgasbord of 007 movie and literary features, 2015 will continue to celebrate the Bond phenomenon. The magazine will also be building toward the release of SPECTRE in October 2015 with coverage of the newest James Bond adventure.
All subscribers will also receive a specially commissioned 'Thunderball' 50th anniversary postcard confirming your 2015 order. The first 500 subscribers (to renew or enrol) will also receive an original 1979 'Moonraker' promotional sticker.
For more information and to order online, visit www.mi6confidential.com
If you subscribed to 2013 or 2014, you can renew with your existing information by following the directions on this page.
Issues 27 & 28
Released concurrently in December 2014, the last two issues round out MI6 Confidential's coverage for the year with a bang. Included in issue 28 is full coverage of the SPECTRE press event, with first impressions from the cast and crew, plus a tribute to Goldfinger, as the ever-popular third adventure celebrates 50 years. Issue 27 takes a rare look back at the making of Harry Saltzman's last 007 picture, The Man With The Golden Gun. Often overlooked by Bond scholars, Golden Gun boasts a series of entertaining anecdotes from cast and crew. We caught up with them to learn how the ninth adventure came about.
Issue 28 is already sold out but read more on mi6confidential.com
Subscribe to the Bond Lifestyle EYES ONLY newsletter