MI6 Confidential #20: Art of Bond special
28 March, 2013
Thanks to the overwhelming response to the first 'Art of Bond' special, MI6 Confidential opened the archives again for more rarely seen art, photography, covers and concept work from the films, books and games. Issues of this kind capture the work of a variety artists and contributors to the Bond canon, many of whom do not normally receive the praise and attention they deserve.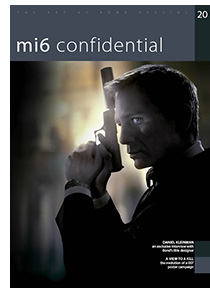 In addition, MI6 Confidential landed an exclusive interview with title sequence designer Daniel Kleinman who lifts the lid on his creative process for the dreamlike SkyFall opening credits, showcase 007 related artwork from around the world, and hear from the team behind the stunning visual effects of SkyFall.
In this issue:
Respectful Iconoclasm - Title designer Daniel Kleinman talks exclusively about the progression of the industry and reflects on SkyFall
What a View... - Rare artwork charting the development of the A View To A Kill poster campaign
Cunning Linguists - The story behind the striking Croatian covers for Fleming's novels
Here Be Dragons - SkyFall VFX supervisor shares his work on the Komodo dragon sequence
Buon Giorno Mr Bond - When an illustrated 007 appeared in the Italian Sunday paper 'La Domenica del Corriere'
From Russia With Love - A look back at the art and style of EA's homage to the sixties
Everything Or Nothing - Stevan Riley speaks about the engaging documentary
The Bond Connection - Examines the work and life of Spy-Fi poster artist Bob Peak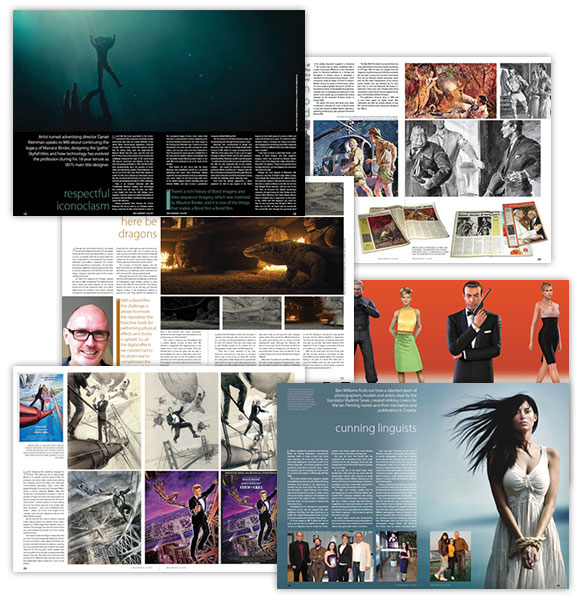 Issue #20 is now shipping around the world. To order online, visit www.mi6confidential.com. You can now also pre-order all issues for the coming year!
Subscribe to the Bond Lifestyle EYES ONLY newsletter