Land Rover Defender SVX SPECTRE edition at RM Sotheby's in Essen
09 April, 2019
A 2015 Land Rover Defender used in the James Bond film SPECTRE (2015) is being offered for sale on the RM Sotheby's Auction in Essen, Germany on Thursday 11 April 2019. The car is one of just 10 originals built, of which eight are currently in private ownership. This particular Land Rover was damaged during filming for the Austrian mountaintop chase scene.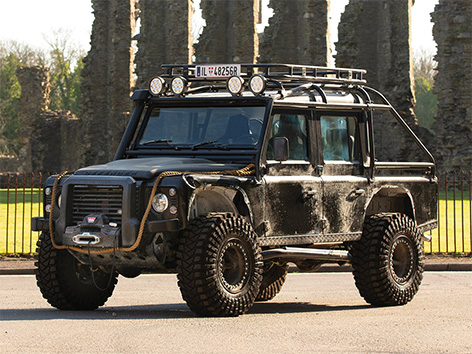 The vehicle, chassis number SALLDHSP8FA462376, was fitted with specialist hydraulics to ensure it flipped at precisely the right moment upon collision with the aircraft piloted by James Bond. It did, leaving the chassis bent with just 16 miles on the odometer. Though fully functional, the car is unsuitable to be driven on the road but is preserved exactly as the moment filming stopped.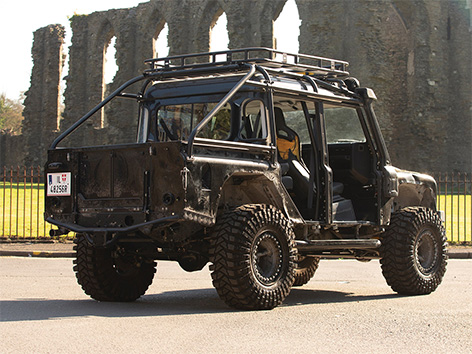 The car features in the chase sequence that went down a mountain in the Austrian Alps, near Sölden, involving a Britten-Norman BN-2 airplane and Land Rover Defenders and Range Rover Sport. The stunt coordinator was tasked with creating a vehicle that could survive being struck by a plane, subsequently rolled, but that also looked aggressive and sinister. Jaguar Land Rover's special operations team commissioned specialists Bowler to help. The firm was an obvious choice with a long history of developing Defenders for off-road motorsport and for defence clients, including the British Government.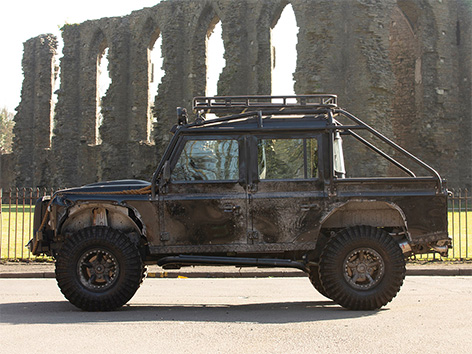 The firm transformed 10 regular Santorini Black crew-cab 110s into the SVX Concept, or SPECTRE Defender. The cars featured huge 37-inch tyres, heavy-duty roll cages plus toughened suspensions with rose joints and Bilstein rally dampers. A hydraulic handbrake was installed, and its lever repositioned. The engine was tuned to give 180 bhp and Recaro seats fitted. Three 'halo' cars with high finishes were created for close-up shots while the rest were destroyed.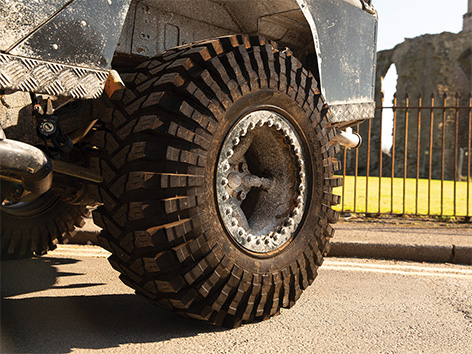 Movie cars like this rarely survive filming, but this example was spared. Defender production ended in January 2016, making this among the last of this iconic model. This car is therefore a must for Land Rover devotees or Bond memorabilia collectors.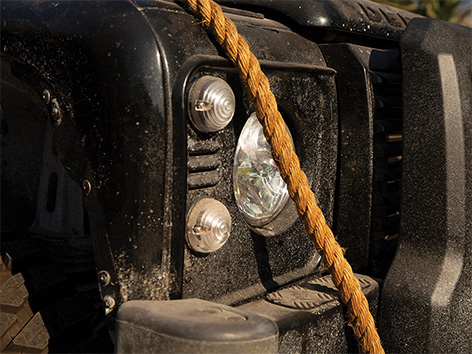 Last year, on July 13th 2018, another 2014 Land Rover Defender SVX used during the filming of SPECTRE was auctioned during the 2018 Bonhams Goodwood Festival of Speed auction, where it was sold to British chef and tv personality Gordon Ramsay for £325,000 (€370,000 / $430,000). At that same auction, SPYSCAPE bought the Aston Martin DB5 from GoldenEye for £2mn.
The Land Rover SVX Defender, lot number 123, offered in Essen without reserve and an expected price of €175.000 - €225.000.
Over 150 diverse automobile lots will be offered in Essen, Germany, when the two-day auction takes place on 11–12 April 2019. The new RM Sotheby's sale will form part of the 31st Techno-Classica Essen show in 2019 (10–14 April).
More information on the RM Sotheby's website.
All photos by Tom Gidden ©2019 Courtesy of RM Sotheby's
Subscribe to the Bond Lifestyle EYES ONLY newsletter