James Bond's Lotus Esprit submarine car from The Spy Who Loved Me sells for £550.000 at the RM Auctions London auction
09 September, 2013
James Bond's Lotus Esprit submarine car from The Spy Who Loved Me was hammered off for £550.000 (€655.875 / $863.500) at the RM Auctions London auction on Monday 9 September 2013.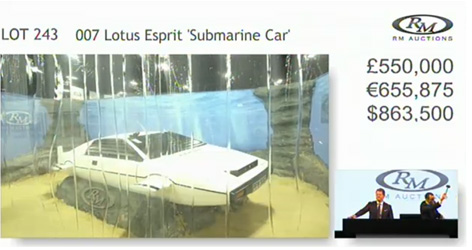 Screenshot from the live online broadcast © RM Auctions
The famous car was expected to fetch a price of £650,000 - £950,000. This was the first time the car was offered for sale. The Lotus Esprit, lot 243, was introduced by Bond-inspired music and footage of The Spy Who Loved Me, and beautifully displayed in the auction building. The auction was broadcast live online via the RM Auctions website.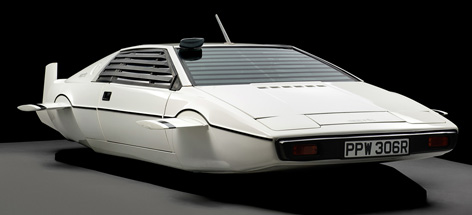 The car was one of 6 Lotus Esprits used for the filming of the The Spy Who Loved Me (1977) and it was the one and only fully enclosed shell used to film the functional Submarine Car in the under water scenes. The car was recently discovered and restored. Read more about the amazing story of lost and found here.
The winner of the Bond Lifestyle contest where people could guess the final sale price of the Lotus will be announced soon on the contest page and on Facebook.com/BondLifestyle.
Subscribe to the Bond Lifestyle EYES ONLY newsletter