James Bond Wore the Quartz Revolution
03 June, 2015
James Bond Wore the Quartz Revolution - a brand new exhibit which opens today June 3, 2015 at the National Watch & Clock Museum in Columbia, PA - will challenge what visitors think they know. Displays will feature important wristwatches from the commercial history as it unfolded, all worn by the James Bond character in the EON Productions movies of the period.
Bond watch expert Dell Deaton (JamesBondWatches.com) will curate the latest addition to expanded Museum displays to enhance the vital contributions of wristwatches to societies.
At the center of this exhibit are examples of all 12 quartz James Bond wristwatches representing screen-correct models of those featured in EON productions movies premiered from 1973 through 1995.
It is believed that this is the first time ever that all real-world Bond quartz watches have been shown side-by-side and running. Moreover, these watches optimally reflect key challenges, solutions, and innovations of the Quartz Revolution in their own rights: They just happen to have been James Bond choices as well.
Some of Bond's Quartz watches are highlighted below.
James Bond wore a Hamilton Pulsar The Time Computer P2 model 2900 in Live and Let Die, EON Productions (1973).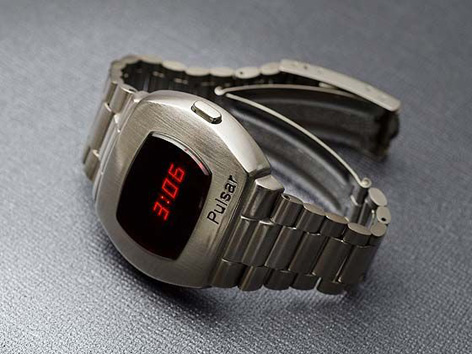 Hamilton Pulsar - photo © Dell Deaton
This was the first quartz Bond-watch and in many ways marked the practical start to the Quartz Revolution as a whole. By this time, key makers from Japan, Switzerland, and the United States were all offering competitive alternatives to consumers. Product placement in this James Bond movie emphasized the importance of having wristwatches that were extremely accurate and encouraged a minute-by-minute timekeeping standard.
Albert R. Broccoli chose a Seiko Quartz LC model DK001, 0674-5009 as the new James Bond watch for The Spy Who Loved Me (1977).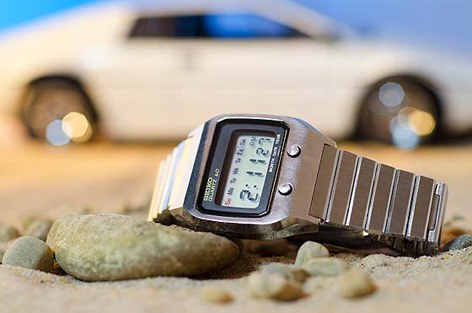 Seiko Quartz LC - photo © Dell Deaton
This was Mr. Broccoli's first movie as sole-head of EON. Significantly, watchmaker use of "field effect modulation" for liquid-crystal diode (LCD) screen output proved most advantagous for constantly displaying time, to-the-second, and maximizing power consumption efficiency. This watch also marked the first time that James Bond would wear a watch that provided date indication.
The Living Daylights (1987) returned to Ian Fleming's original vision of James Bond as stealth commando. The TAG Heuer Night Diver reference 980.031 thoroughly focused on support of this image, with quartz-tech for wristwatches by then effectively a given.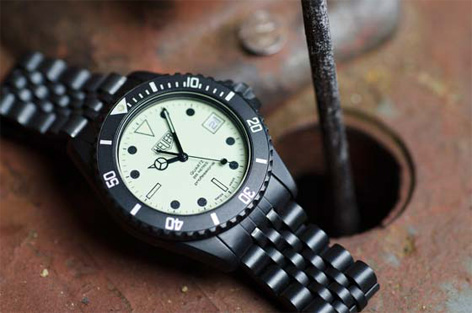 TAG Heuer Night Diver - photo © Dell Deaton
Jack Heuer later wrote in his autobiography that the 980 series was what had returned his company to profitability coming out of the Quartz Revolution. In addition to Agent 007, at least four other characters in The Living Daylights wore the same watch model - a record number.
GoldenEye (1995) was the last James Bond movie produced before the death of Albert R. Broccoli. In total, then, 11 out of his 12 Bond-watch choices as head of EON Productions had been quartz.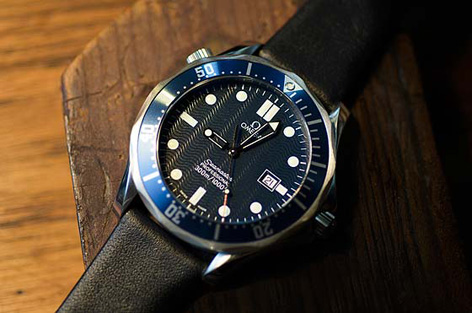 Omega Seamaster - photo © Dell Deaton
This Omega reference 2541.80 Seamaster model may be a perfect metaphore for the Quartz Revolution: It's simply another "choice" along side the mechanical 2531.80 James Bond Seamaster, without compromise. This is the last confirmed quartz movie-Bond watch, although by then less than 7% of all wristwatches relied upon balance-wheel escapements.
"We hope to correct myths arguing that the Quartz Revolution was nothing more than about making watches cheaper," says Deaton. "Or that an understanding of this 'revolution' requires no more than understanding how Quartz oscillators work as a time-basis.
"This exhibit seeks to explain why this revolution happened when it happened and shows how it continues to remain invaluable to contemporary society - at the very least, to reopen the discussion and move beyond cliché."
Watch the exhibit video below:
"The most important outcome of the Quartz Revolution was that it delivered a vast leap in one's personal, mobile ability to control his own timekeeping. It was the culmination of a centuries-old pursuit, and it was delivered at exactly the period in history when consumers were ready for it and demanding it. None of this was simple or obvious as it was happening," Deaton continues.
"The Quartz Revolution is essentially a consumer-driven story. That's something too easily missed when you exclusively focus on the watch companies, betting on winners and losers who anted up for the battles as they played out in the 1970s, '80s, and then finally settling down in the 1990s."
"By focusing on the fictional 'James Bond' character, we create a proxy for the consumer that can stand as a brand on equal footing with those of watchmakers. Thus, we can tell this story from its necessary, original perspective. I also think that makes it more globally objective as well."
"We're excited once again to explore an important aspect of wristwatch development through the story of James Bond," says Museum Director Noel Poirier. "The Bond story is universally understood and relatable for our visitors and allows us to explore the significant influence of the quartz revolution in an engaging way."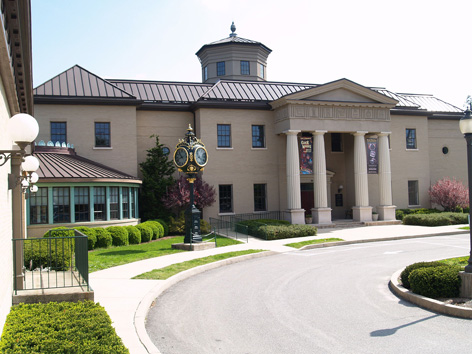 National Watch & Clock Museum, Columbia, PA - photo from Wikipedia
For museum information including opening times, visit the National Watch & Clock Museum website at www.museumoftime.org, and read more on the exhibit at www.nawcc.org.
All wristwatch images in this article © 2015 JamesBondWatches.com and Dell Deaton
Subscribe to the Bond Lifestyle EYES ONLY newsletter