James Bond props & costumes coming up for auction on October 16th
27 September, 2014
Prop Store will hold its first ever live auction event produced in partnership with Vue Entertainment. Over 375 original film and television props and costumes, including many rare items from the James Bond film series, will go under the hammer on October 16th 2014 at Vue's flagship cinema in Westfield, London.

The public will be able to get up close and personal with some of the most valuable and iconic pieces on offer throughout a free two week exhibition at Vue Westfield from 1st October.
Below you can find a selection of James Bond items included in the auction.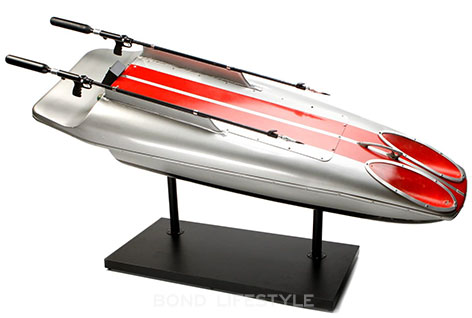 145. SPECTRE Underwater Tow Sled - THUNDERBALL (1965)
£20,000-30,000
Click here for more info
Click here for showcase video of this item

161. James Bond's (Pierce Brosnan) Full-size Q-Boat - THE WORLD IS NOT ENOUGH (1999)
£8,000-10,000
Click here for more info
149. Francisco Scaramanga's (Christopher Lee) Shirt - THE MAN WITH THE GOLDEN GUN (1974)
£5,000-7,000
Click here for more info
Click here for showcase video of this item
148. James Bond's (Roger Moore) Safari Shirt - THE MAN WITH THE GOLDEN GUN (1974)
£3,000-5,000
Click here for more info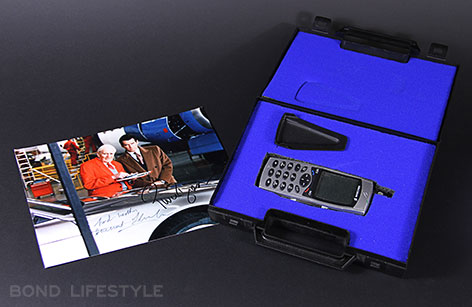 160. James Bond's (Pierce Brosnan) Ericsson Gadget Phone - TOMORROW NEVER DIES (1997)
£5,000-7,000
Click here for more info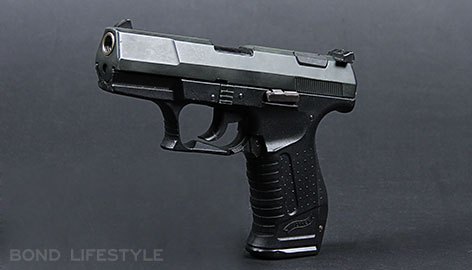 165. James Bond's (Pierce Brosnan) Walther P99 Pistol - DIE ANOTHER DAY (2002)
£5,000-7,000
Click here for more info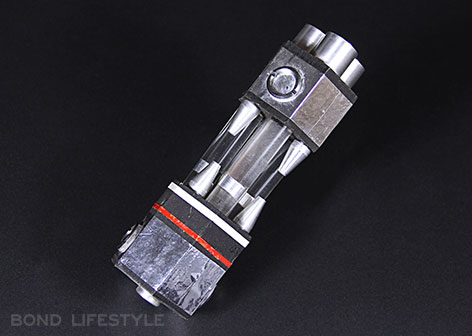 170. Toxin Vial - MOONRAKER (1979)
£2,500-3,500
Click here for more info
147. Sir James Bond's (David Niven) Jacket - CASINO ROYALE (1967)
£2,000-3,000
Click here for more info

146. Japanese Secret Serviceman's Stunt Carbine - YOU ONLY LIVE TWICE (1967)
£1,500-2,500
Click here for more info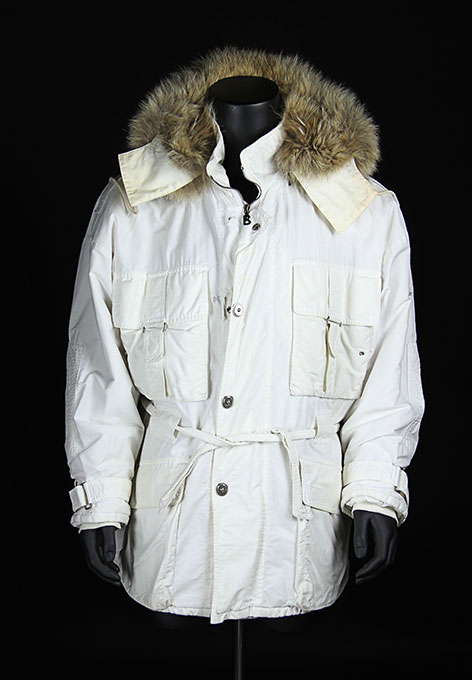 155. James Bond's (Roger Moore) Ski Jacket - A VIEW TO A KILL (1985)
£3,000-5,000
Click here for more info
156. James Bond's (Roger Moore) Suede Jacket - A VIEW TO A KILL (1985)
£3,000-5,000
Click here for more info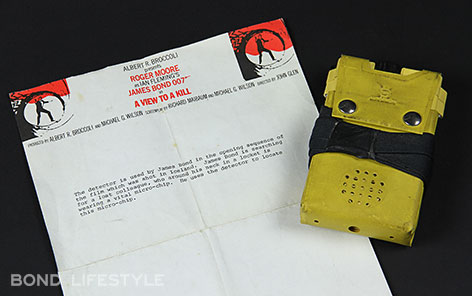 157. James Bond's (Roger Moore) Tracking Device - A VIEW TO A KILL (1985)
£1,500-2,500
Click here for more info
Click here for showcase video of this item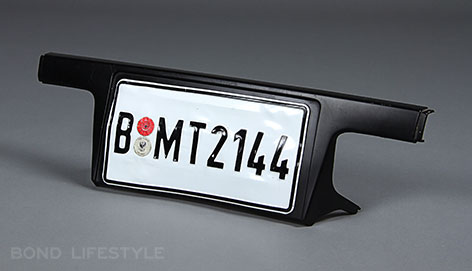 159. James Bond's (Pierce Brosnan) BMW License Plate & Bumper Segment - TOMORROW NEVER DIES (1997)
£1,000-1,500
Click here for more info
142. Original Contact Sheet Set – DR NO (1962)
£800-1,200
Click here for more info
143. Original Contact Sheet Set – DR NO (1962)
£800-1,200
Click here for more info
144. US Three-Sheet Poster – THUNDERBALL (1965)
£1,500-2,000
Click here for more info
150. James Bond's (Roger Moore) Dark Blue Shirt - FOR YOUR EYES ONLY (1981)
£800-1,200
Click here for more info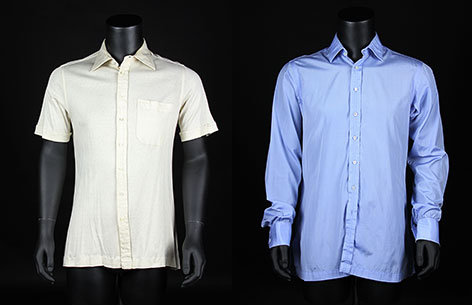 151. James Bond's (Roger Moore) Short-Sleeve Shirt - FOR YOUR EYES ONLY (1981)
£1,200-1,500
Click here for more info
152. James Bond's (Roger Moore) Light Blue Shirt - FOR YOUR EYES ONLY (1981)
£800-1,200
Click here for more info
153. James Bond's (Roger Moore) Military Shirt - OCTOPUSSY (1983)
£800-1,200
Click here for more info
154. Kamal Khan's (Louis Jourdan) Brown Shirt – OCTOPUSSY (1983)
£500-700
Click here for more info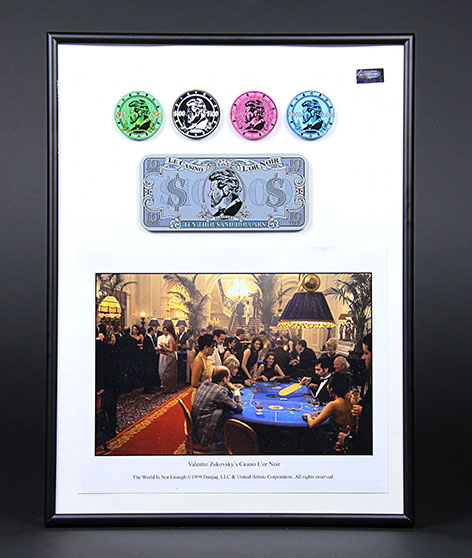 162. Casino L'or Noire Chips - THE WORLD IS NOT ENOUGH (1999)
£800-1,000
Click here for more info
166. SFX Aston Martin Manual - DIE ANOTHER DAY (2002)
£1,500-2,000
Click here for more info
158. Printed Pre-Title Sequence Storyboards - LICENCE TO KILL (1989)
£400-600
Click here for more info
164. General Moon's (Kenneth Tsang) Jacket - DIE ANOTHER DAY (2002)
£600-800
Click here for more info
163. 10 North Korean Army Uniforms - DIE ANOTHER DAY (2002)
£200-300
Click here for more info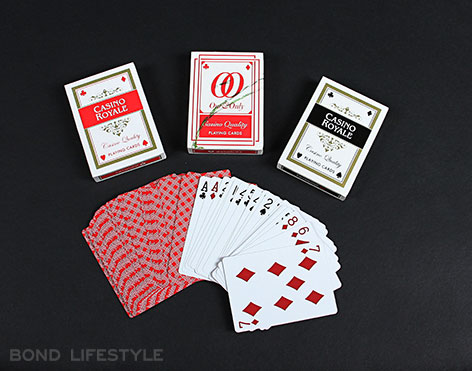 167. Three Casino Playing Card Packs - CASINO ROYALE (2006)
£300-500
Click here for more info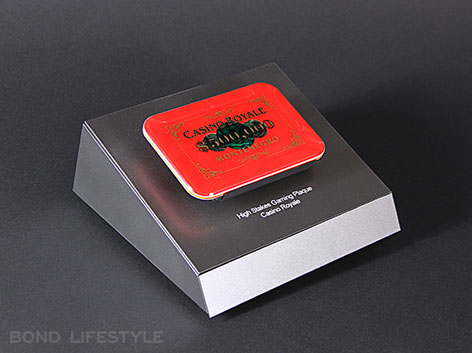 168. $500,000 Casino Chip - CASINO ROYALE (2006)
£600-800
Click here for more info
169. Quad, One-Sheet and German Posters - MOONRAKER (1979)
£350-450
Click here for more info
171. Drax Insignia Design, Sticker & Control Panel Design - MOONRAKER (1979)
£600-800
Click here for more info
172. Signed Drax Space Station Printed Art & Set Photos - MOONRAKER (1979)
£200-400
Click here for more info
173. Hand-Drawn Pencil Drax Space Suit Design - MOONRAKER (1979)
£500-700
Click here for more info
174. Hand-Coloured Printed Space Suit Design - MOONRAKER (1979)
£300-500
Click here for more info
175. Hand-Drawn Drax Worker Pen & Ink Design - MOONRAKER (1979)
£200-400
Click here for more info
176. Drax Space Station Blueprints - MOONRAKER (1979)
£300-500
Click here for more info
177. Hand-Coloured Printed Space Suit Design & Hand-drawn Combat Pack Drawing - MOONRAKER (1979)
£300-500
Click here for more info
178. Set Photos & Contact Sheet - MOONRAKER (1979)
£80-100
Click here for more info
179. Signed Drax Space Station Cross Section Study - MOONRAKER (1979)
£200-400
Click here for more info
180. Collage Artwork of Rocket Flying Towards Camera - MOONRAKER (1979)
£300-500
Click here for more info
More information on propstore.com/liveauction
Subscribe to the Bond Lifestyle EYES ONLY newsletter