Designs on Bond event at Pinewood celebrates production designer Peter Lamont
04 October, 2016
On Sunday 25 September, BondStars returned to Pinewood Studios with a new event, 'Designs On Bond', celebrating the career of production designer Peter Lamont. Bond Lifestyle was one of the lucky guests to attend this wonderful day on holy ground.
Guest of honour was Peter Lamont, the art director and production designer of 18 Bond films and blockbusters like Aliens, True Lies and Titanic.
Bond fans from all over the world arrived from 9 am onwards and were greeted with a goodie bag by organisers Andy Boyle and Sue Whatley.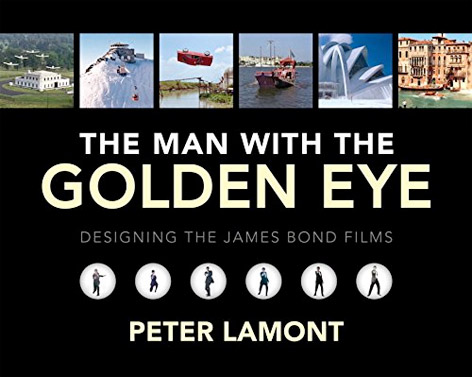 The goodie bag included a pre-publication copy of Peter Lamont's new book The Man With The Golden Eye - The Autobiography of James Bond Designer Peter Lamont (available for pre-order on Amazon.co.uk or Amazon.com) and a special 12 page commemorative event programme (available at Bondstars.com).
While meeting fellow Bond friends, drinking tea and coffee, fans wandered through rooms in the Pinewood Studios that were set up with memorabilia stands and tables with Bond celebrities were selling pictures and autographs.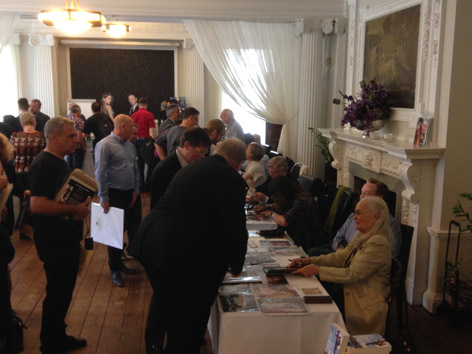 Autograph sessions and memorabilia stands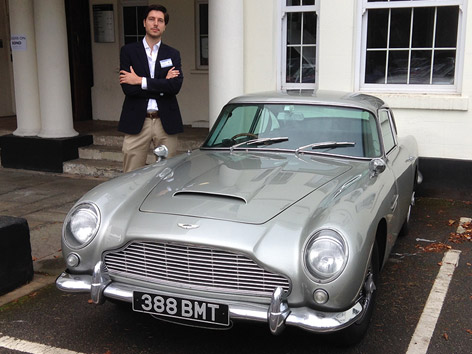 One of the Bond fans came to Pinewood in his silver-birch Aston Martin DB5 and parked it at the entrance
At 10.30, everybody took a seat in the grand dining hall of the Pinewood building for Q&As on stage conducted by Gareth Owen (agent/pa to Sir Roger Moore). The first people to be interviewed were Chris Corbould (special effects coordinator for 11 Bond films and the recent Star Wars, Batman and Superman films), stunt coordinator Vic Armstrong and art director Alan Tomkins.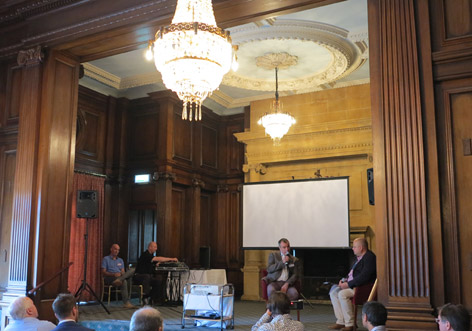 Chris Corbould interviewed by Gareth Owen
After the Q&As, a documentary was screened, showing the career of the celebrated VIP guest of the day, Peter Lamont.
The documentary was followed by a break with more autograph signing sessions. All guests could have their book signed for free by Peter Lamont.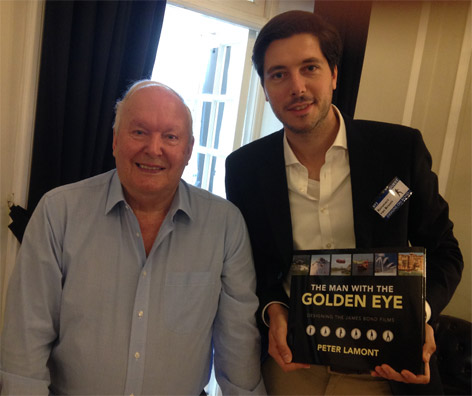 Peter Lamont (left) signed his new book The Man With The Golden Eye
The atmosphere was very relaxed, with the lovely weather luring many people outside into the gardens where so many (Bond) movies and series have been filmed.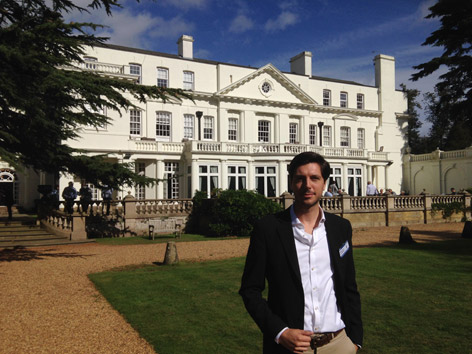 This facade of the Pinewood building can be seen in many British films (Carry On, James Bond)
While wondering around on the compound, one could run into one of the VIP stars at any moment. The famous guests included John Glen (Director of 5 Bond films), Deborah Moore (daughter of Sir Roger), Maryam d'Abo (Bond Girl The Living Daylights), Shirley Eaton and Margaret Nolan (Goldfinger), Caroline Munro (The Spy Who Loved Me) and Madeline Smith (Live and Let Die), Alan Tomkins (art director on 5 Bond films), Terry Madden (Assistant Director on 13 Bond films), Chris Corbould (Special / Visual effects supervisor), Vic Armstrong (2nd Unit Director and stunt performer / supervisor) and Terry Bamber (Assistant Director / Production manager 2nd Unit).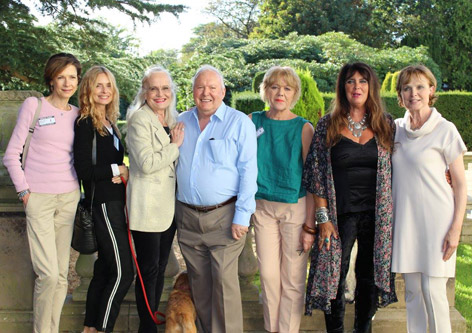 Deborah Moore, Maryam d'Abo, Shirley Eaton, Peter Lamont, Margaret Nolan, Caroline Munro and Madeline Smith
photo by Matthew Field
After the lunch buffet, Peter Lamont himself came on stage for a Q&A. He brought with him the Oscar that he won for the 1997 movie Titanic. Lamont was introduced by John Glen, who worked as a editor and director on eight Bond films.
Peter Lamont then received the Cinema Retro Lifetime Achievement Award by editors Lee Pfeiffer and Dave Worrall.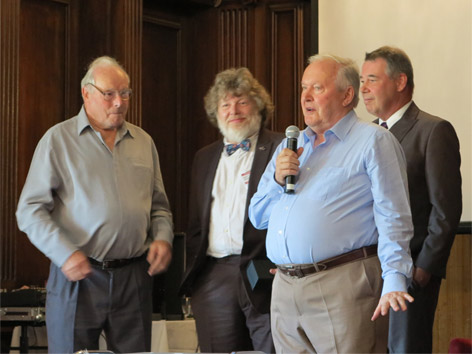 John Glen, Dave Worrall, Peter Lamont and Lee Pfeiffer
Screenwriter duo Neal Purvis and Robert Wade made an appearance and read letters from guests that couldn't attend the event due to other last-minute engagements, including producers Barbara Broccoli and Michael G Wilson, director Martin Campbell (GoldenEye and Casino Royale) and director Michael Apted (The World Is Not Enough). Monty Norman, composer of the Bond theme song, had fallen ill the night before so also wasn't able to attend.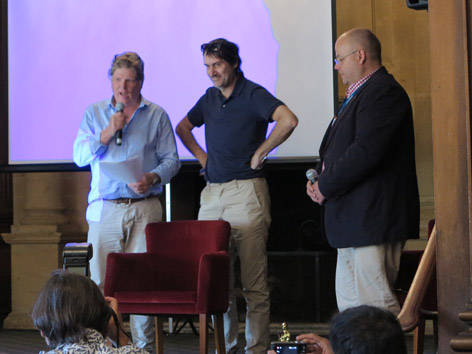 Screenwriter duo Neal Purvis and Robert Wade and Gareth Owen reading messages from people that couldn't attend
An impressive selection of guests that couldn't attend had made videos to wish Peter Lamont a great day, including a heartfelt and funny video message from Sir Roger Moore himself (who worked with Lamont on all his Bond films) and a very nice video message from director James Cameron (with who Peter Lamont won an Oscar for the production design of Titanic).
Sir Roger Moore and director James Cameron left a very nice video message for Peter Lamont
This session on stage was followed by coffee and tea, more signing sessions and memorabilia shopping, and an impromptu tour of the Pinewood gardens by Dave Worrall, in which many (Bond) films and tv series have been filmed.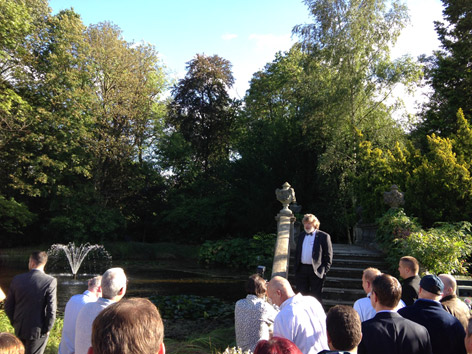 Dave Worrall's tour of the Pinewood Studios gardens
The grand finale of the day was a music show of the James Bond tribute band Q The Music. The impressive ensemble of musicians performed songs from the movies that Peter Lamont worked on, including Goldfinger and On her Majesty's opening song and All The Time In The World.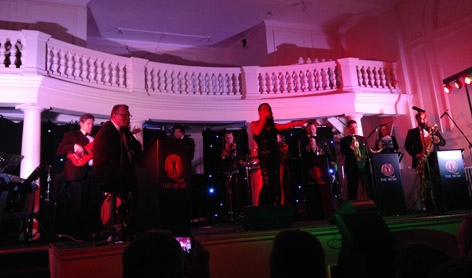 A great performance by Q the Music Show
The show really worked towards a highlight at the end with powerful versions of You Know My Name (from Casino Royale), and Quantum's Another Way To Die. A great performance of Writing's On The Wall (SPECTRE's themesong) proved that the song is as good, if not better, when performed by a woman. Be sure to check out Q The Music's live and webstream performance coming in November to hear these songs for yourself.
For the final song, Peter Lamont was brought up to the stage, and the band sang "Nobody Does It Better" for the great production designer. A fitting end for a fantastic day at Pinewood.
Many thanks to BondStars for organising such a well-deserved and enjoyable tribute to one of the Bond family's most valuable members.
Photos by Bond Lifestyle
For more photos visit the Bondstars website or Facebook page
For a recent article about Pinewood Studios visit the Turnbull & Asser blog
Subscribe to the Bond Lifestyle EYES ONLY newsletter