Bond 24 title and cast announcement on December 4, 2014
02 December, 2014
On Thursday 4th December at 11:00am GMT (3:00am PST; 6:00am EST) Albert R. Broccoli's EON Productions, Metro-Goldwyn-Mayer Studios and Sony Pictures Entertainment will present a live announcement and photo call from the 007 Stage at Pinewood Studios. The title and cast of the 24th Bond film will be revealed, marking the start of principal photography on Monday 8th December.
See the link to the video stream further down in this article.
Earlier today, on the 007 Facebook and Twitter pages, teaser images were released showing the countdown to December 4th.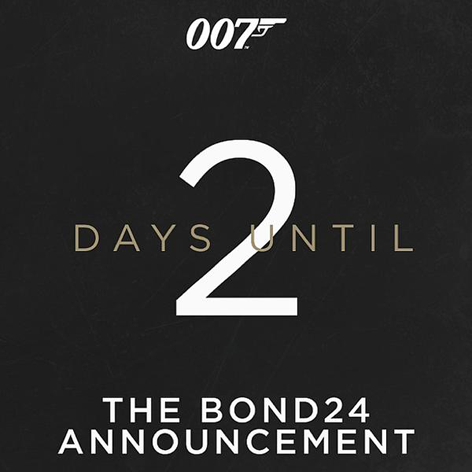 Bond 24 is scheduled to start filming next week, on Monday December 8th. Filming will continue in 2015 in Austria (from January 8 - 15 and February 9 - 12, in Obertilliach and the ski resort of Sölden), Rome (February 19 - March 12), Morocco and the Pinewood Studios in the UK.
The announcement on Thursday will include the title of the film and an official cast list, and you can follow  the Bond 24 live stream from Pinewood Studios on YouTube on Thursday morning 11am GMT (3:00am PST; 6:00am EST), December 4th, 2014, via this link https://www.youtube.com/watch?v=2khljj3VKAw or on 007.com
You can also follow updates on the 007 Facebook page and the 007 Twitter page.
Thanks to EON Productions, Metro-Goldwyn-Mayer Studios and Sony Pictures Entertainment and Bond fans Morten Steingrimsen, Mark O'Connell
Subscribe to the Bond Lifestyle EYES ONLY newsletter