007 fans want Bond back behind the wheel of a British made motor
10 November, 2005
Brits are urging movie makers to put 007 back behind the wheel of a British manufactured car in the next Bond flick, after the Aston Martin DB5 from Goldfinger came out top in a Virgin Cars poll of favourite ever Bond motors.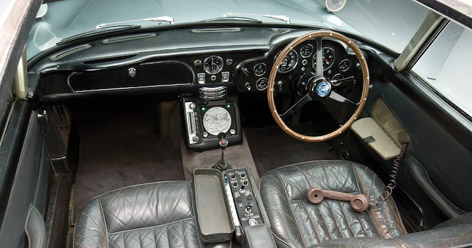 With Bond driving a string of German-made BMWs in recent years, Brits are fed-up with 007 saving the world in foreign cars and want to see him return to the hot seat of a suped-up British TVR, Aston Martin or Morgan, according to Virgin Cars, the UK's largest direct car retailer. Aston Martin proved to be the top manufacturer amongst Bond fans, with the DB5 in pole position with 45% of the vote, whilst the V12 Vanquish from Die Another Day received 33% in the poll conducted online at Virgin.com.
The lack of elaborate gadgets and surprise features inside foreign manufactured cars in recent Bond Movies has left fans yearning for a retro-return to the Aston Martin DB5 which featured a rear bullet-proof screen, passenger ejector seat and oil slick ejector back in 1964.
Proving British is best, the Virgin Cars poll of top five Bond movie cars is:
1. Aston Martin DB5 from 'Goldfinger' (1964) 45%
The Aston Martin DB5 featured retractable rear bullet proof screen, radar scanner, passenger ejector seat and oil slick ejector.
2. Aston Martin V12 Vanquish from 'Die Another Day' (2002) 33%
Familiar to more recent movie goers, this model featured grille mounted rockets, machine guns, sensing guns concealed under the bonnet and spike tires to combat the ice.
3. Lotus Esprit from 'The Spy who Loved Me' (1977) 11%
British manufactured back in 1977 and a legendary Bond motor, the Lotus Esprit transformed into a submarine and featured torpedoes, underwater smokes screen, surface-to-air missiles and depth charges.
4. BMW 750iL from 'Tomorrow Never Dies' (1997) 7%
This weapon-packed super motor came 4th in the Virgin Cars poll - staying firm in the memory because of the scene in which Bond drives the car using a remote controlled cell phone.
5. Aston Martin V8 Vantage from 'The Living Daylights' (1987) 4%
With Timothy Dalton behind the wheel of an Aston Martin in the last of his films, this Bond super-car featured laser guns inside the wheels, spiked tires and out-rigger skis.
Subscribe to the Bond Lifestyle EYES ONLY newsletter