#29 Bond Lifestyle Ford Mustang signed by Tania Mallet Contest
Celebrating the 50th anniversary of Goldfinger (which premiered in London on September 17th, 1964), Bond Lifestyle is offering as the main contest prize a scale Ford Mustang model from the James Bond Car Collection (nr. 30), signed by actress and model Tania Mallet, who played Bond Girl Tilly Masterson in the movie Goldfinger.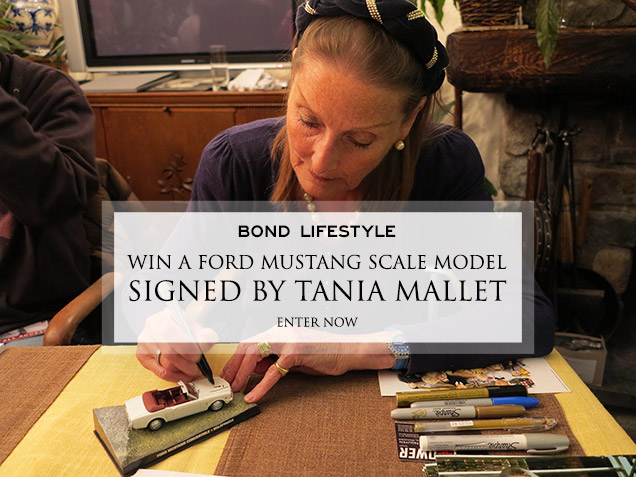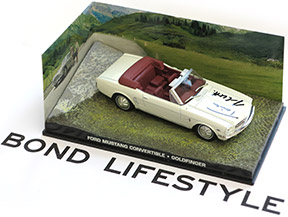 The car was personally signed by Tania Mallet at the Goldfinger Reloaded event in Switzerland on September 13, 2014, in Hotel Bergidyll, the same hotel where the Bond cast and crew stayed (including Sean Connery and Tania Mallet) while filming in Switzerland in 1964.
Answer the trivia question before 23:59 CET September 30th, 2014 for your chance to win this unique prize!
Read more about the Ford Mustang in Goldfinger, or read more about the Goldfinger Reloaded event.
This contest has ended.
The question was: What is the license plate registration number of the cream colored Ford Mustang driven by Tania Mallet in the movie Goldfinger?
The answer was: MLO 973B
From the contestants with the correct answer, one winner was selected at random and his name is Lee Shelsher from the UK. Congratulations!
Follow Bond Lifestyle on Facebook to stay up to date about future contests.