Ford Mustang convertible
1964 Ford Mustang convertible, similar to the one seen in Goldfinger
The cream white Ford Mustang convertible in Goldfinger
photo © United Artists, Danjaq LLC
The cream white Ford Mustang convertible in Goldfinger
photo © United Artists, Danjaq LLC
The blue Ford Mustang convertible in Thunderball
photo © United Artists, Danjaq LLC
Two Bond Girls drive a first generation Ford Mustang convertible in the Bond film series: Tilly Masterson drives a white Ford Mustang convertible in Goldfinger (1964) and Fiona Volpe drives a blue Ford Mustang convertible in Thunderball (1965).
In the movie Goldfinger, James Bond (Sean Connery) in his Aston Martin DB5 encounters Tilly Masterson (Tania Mallet) in a 1964 Ford Mustang convertible on the Furka Pass in the Swiss mountains, while chasing Goldfinger's Rolls-Royce. Bond slashes the tires of the Mustang to force a meeting. He brings Masterson to a nearby gas station so she can get help. Tilly Masterson's Mustang is cream white, with a red leather interior and red top, and has a British license plate MLO 973B. The car was prepareed by Alan Mann Racing.
In 1964, the year Goldfinger was filmed and released, the Mustang was actually a brand new model. Introduced by Ford in April of that year the car from that year is also known as the 1964½ model. Since then it has become one of the most successful and well-known Ford models, currently still produced in its sixth generation.
In 2009, car magazine Octane re-enacted the Goldfinger chase with a Ford Mustang, Aston Martin DB5, Rolls-Royce Phantom, and Bond Girl Tania Mallet. The fantastic photoshoot by Tom Salt can be found on the Octane website and Facebook page, including some great photos of Tania Mallet at the gas station with the DB5.
In the movie Thunderball, James Bond hitchhikes after being stranded on the beach in the Bahamas, and is picked up by the voluptuous villainess Fiona Volpe (Luciana Paluzzi) in a 1965 Ford Mustang convertible. Bond is taken for a very fast ride to his hotel. The Mustang has a blue body with white top and a license plate that reads 205. Bond sees the car one more time when he visits Largo's 'Palmyra' villa.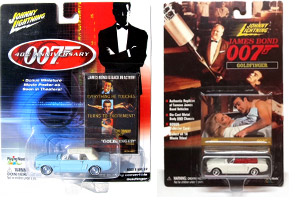 Model cars of the Ford Mustangs are made by Corgi, Johnny Lightning and the cars are part of the James Bond Car Collection, magazine issues 30 (Goldfinger version) and 35 (Thunderball version). Below you can see the Goldfinger model signed by Tania Mallet (who played Tilly Masterson, the Bond Girl that drives the car). This model was offered in a contest on Bond Lifestyle, read more about the contest now!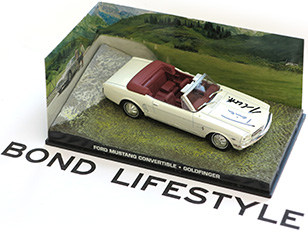 The white Mustang was part of a Carrera slot car race set released in 2004, and came in the box together with an Aston Martin DB5 model and 5,40m long racetrack. The blue Mustang was also available from Carrera, but not part of a set. Find the Carrera James Bond cars on eBay.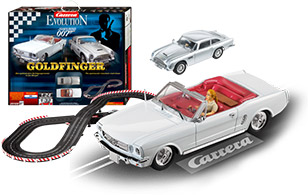 Another Ford Mustang can be seen in Diamonds Are Forever (1971) when Bond and Tiffany Case drive around Las Vegas in a red Ford Mustang Mach 1 Fastback.
---
Subscribe to the Bond Lifestyle EYES ONLY newsletter