Bond Lifestyle Holiday Gift Guide 2015
Welcome to the 2015 Bond Lifestyle Holiday Gift Guide.
Looking for gift ideas for yourself or your loved ones? Here are Bond Lifestyle's hand picked suggestions, including some top gift ideas for the Bond Girls!
Quicklinks
Clothing & Accessories - Toys & Collectibles - Drinks - Books - Extravagant Gifts
Gifts for her - Browse films

Discount Coupons and Holiday Offers
Take advantage of these special offers for the 2015 holiday season.

Omega Seamaster Aqua Terra 150M James Bond Limited Edition
10% off at Fraser Hart
How to get it: enter coupon code JBLIFESTYLE10 during checkout 
Visit Fraser Hart website or read more about the Omega Seamaster Aqua Terra 150M
 

David Deyong DiamonDust Silver Earrings
5% off the DiamonDust Silver Earrings
How to get it: enter coupon code BONDLIFESTYLE5 during checkout
Visit David Deyong website or read more about the David Deyong Earrings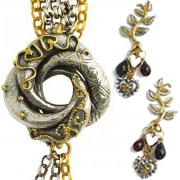 Sophie Harley
5% off the Algerian Love Knot Necklace
How to get it: enter coupon code bondlifestyle during checkout
Visit Sophie Harley website or read more about the Algerian Love Knot
 

John Smedley
10% off at JohnSmedley.com
How to get it: enter coupon code JANUARY10 during checkout
Visit John Smedley website or read more about the John Smedley Bobby
 
Clothing & Accessories
This year's film fashion is marked by the return of the turtle neck sweater. Both Steve McQueen and Roger Moore made the turtle neck popular in the 1970s, but in movies The Man From U.N.C.L.E. and SPECTRE the main heroes once again look classic spy cool in their slim fit turtle neck sweaters.
Add a pair of sunglasses, gloves and boots and you're ready for action.
Click on an image for more information
Toys, Collectibles, Merchandise
Suggestions for must-have items for any Bond collection. The most precious, the one ring to rule them all, is the official replica of the SPECTRE octopus ring. Or give Seven, the latest 007 Fragrance with a completely new design and scent. Available as eau de toilette, an extra Intense version, aftershave or deodorant. Several gift packs available in some stores.
Or create your own car chase with the Scalextric SPECTRE 1:32 scale race set.
Some of the nicer accessories on the official 007 Shop are the SPECTRE keychains. The 007 shop is also worth a visit for many other collectibles.
Drinks
Bond is know to likes his drinks, alhough he doesn't get to consume as much in SPECTRE. Here are some drink related gift ideas, from the special Bollinger and Belvedere SPECTRE editions, to the Cumbria Crystal tumbler seen in Casino Royale and Downton Abbey, or Q's Wild & Wolf mug from SkyFall.
Books
This year some great new Bond books have been released. Blood, Sweat and Bond, by celebrity photographer Rankin, is the official behind the scenes photo book of SPECTRE. Bond connoisseurs Ajay Chowdhury and Matthew Field have created a new Bond bible with their 700 page Some Kind of Hero, a must-have for any Bond fan. EON Archive Director Meg Simmonds has gathered beautiful Bond art in her latest book Bond by Design. Or why not read the first James Bond novel Casino Royale by Ian Fleming, to find out how it all started? The Folio Society has just released a stunning edition of this famous book, with slipcase and illustrations.
Extravagant Gifts
Gifts for the man who has everything! If you are looking for something more expensive, more lavish than all of the above, maybe these suggestions are for you. What about an Omega James Bond Limited Edition Seamaster Aqua Terra for £4,630, a silver Martini set by Grant Macdonald for £7,000, or a 1/3 scale Aston Martin with working gadgets for £28,000?
Gifts for her
Find perfect luxury gifts for the Bond girl in your life. The Persol 3092SM is curently the most popular item. For an elegant gift, the Ghost Salma dress is hard to beat. Complete the outfit with David Deyong DiamonDust earrings (5% off with coupon code). The ultimate Bond girl gift is the Algerian Love Knot necklace (£2280) and earrings (£390) by Sophie Harley, worn by Vesper in Casino Royale and seen again in Quantum of Solace.
Browse films
Find more ideas by browsing the products in the most recent films.