Turnbull & Asser Casino Royale dress shirt
Turnbull & Asser white cotton dress shirt, as worn by Bond in Casino Royale
photo © Turnbull & Asser
The Turnbull & Asser 'Bond' collar, and double cuffs.
photo © Turnbull & Asser
Worn by Daniel Craig in Casino Royale, this Turnbull & Asser dress shirt is equal parts a formal wear essential and secret agent-attire. Using a classic silhouette, the shirt has been designed with a unique collar, specifically designed by Turnbull & Asser, which is featured in the film. The shirt is worn by Bond with his Brioni tuxedo during the poker game.
The shirt was offered in 2006, during the release of the film, as part of the Limited Edition Evening Shirt and Tie set.
The Casino Royale dress shirt is made from 100% Cotton (Poplin 2 Fold 110), and is available online at turnbullandasser.co.uk for £245 (UK), €295 (EU) or $425 (USA and Canada).


Black Friday / Cyber Monday 2018 offers
From Thursday 22nd November at 7pm - Midnight Monday 26th November – savings of up to 20% at the Turnbull & Asser website!
Spend up to £250 and receive a 10% discount (auto-applied)
Spend over £250 and receive a 20% discount (auto-applied)
In the USA there is even a 25% discount (auto-applied)
Terms: excludes bespoke, made-to-measure and personalised products
There's also FREE UK delivery on all orders with offer code: FREESHIPAW18
You can use the 20% OFF deal for example for the Legends: James Bond tie collection. This trio of ties are official replicas of original designs worn by Pierce Brosnan during in Tomorrow Never Dies (1997), The World Is Not Enough (1999) and Die Another Day (2002).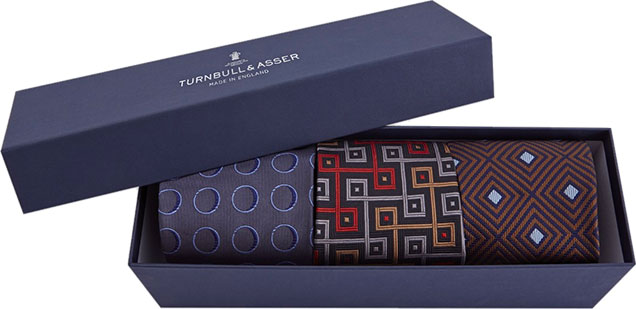 The bow tie has been re-released by Turnbull & Asser and is available separately. 
With the Turnbull & Asser shirt, Bond wears the very sought-after and extremely rare S.T. Dupont 5244 cufflinks, a Brioni tuxedo, white Albert Thurston braces and John Lobb shoes.
---