SPECTRE Octopus Ring
James Bond SPECTRE From Russia With Love Ring Limited Edition Prop Replica by Factory Entertainment
photo © Factory Entertainment
The SPECTRE ring in the movie From Russia With Love
photo © Danjaq LLC, UA
James Bond SPECTRE Thunderball Ring Limited Edition Prop Replica by Factory Entertainment
photo © Factory Entertainment
The SPECTRE ring worn by Largo in the movie Thunderball
photo © Danjaq LLC, UA
The iconic SPECTRE ring was first seen in From Russia with Love in 1963, worn by members of the evil Special Executive for Counter-intelligence, Terrorism, Revenge and Extortion.
The original SPECTRE ring in From Russia With Love was gold with a black and a large embossed logo of an octopus.
In Thunderball the ring was also gold, but had a slightly different octopus debossed in silver/white.
Factory Entertainment, a company that made many James Bond props, produced replicas of the From Russia With Love (currently hard to find) and the Thunderball ring which can now be found at Entertainment Earth or on Amazon ($249.99).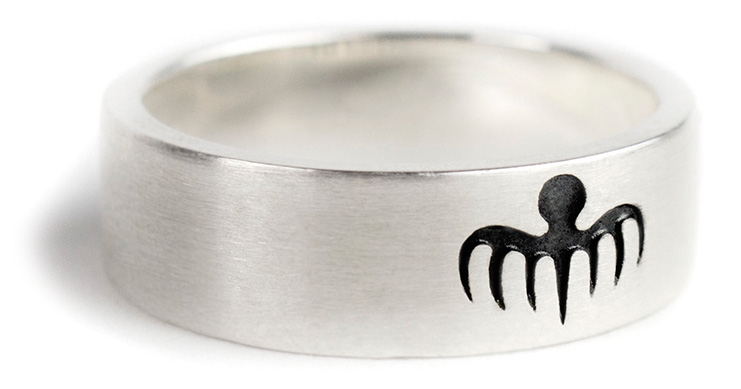 Updated model for SPECTRE (2015)
The original ring design was updated for the 2015 movie SPECTRE. In the movie, the ring is worn by members of SPECTRE, including Marco Sciarra (Alessandro Cremona). Bond takes the ring from Sciarra and it plays a significant part in the story from then on. A gold version of the ring, the 'Blofeld' model, was relaased in 2020 and can be purchased at Sideshow.
---
Subscribe to the Bond Lifestyle EYES ONLY newsletter