Jaxon & James Hats Victorian Top Hat
Jaxon Hats Victorian Top Hat (with feather removed)
photo © Jaxon Hats
Jaxon Hats Victorian Top Hat inside
photo © Jaxon Hats
Bond fan Nico Knüpfer (richmenstoys) made a nice replica suit and tie with hand painted bones, selfmade skull and walking stick, and wearing a real Jaxon & James Victorian Top Hat
photo © Nico Knüpfer
James Bond wears a Jaxon & James Hats Victorian Top Hat as part of his disguise at the Day of the Dead festival in Mexico during the opening sequence of SPECTRE (2015).
The Victorian Top Hat is made of 100% wool, and has an approx. 1.5" (4cm) wide grosgrain ribbon hatband ending in a bow, a leather sweatband and removable side feather (the feather is not used by Bond).
The hat comes in many sizes, and James Bond wears size 7 ⅝" (61 cm) but if you're getting this hat, make sure to get the right size for you if you want to wear it.
Get the hat for £54 / €77 at Village Hats or for $78 at Village Hats USA.

SPECTRE Auction
A screen-used hat, worn by Daniel Craig, will be auctioned between 16 - 23 February during the online Christie's James Bond SPECTRE auction (read more about the auction here) as part of the Mexico costume.
The full costume on auction includes a black frock coat with white hand painted bones (size IT38), Skull mask with elastic fastening, black leather gloves (size M), the black Jaxon Victorian top hat (size 7 ⅝" (61 cm) and the Skull cane.
This is one of three Day of the Dead Costumes, Designed by Costume designer Jany Temime and mask designer Robert Allsopp, worn by Daniel Craig (the other two are retained by EON) in the pre-title sequence of SPECTRE.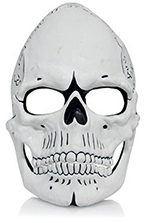 Complete the look
If you want to complete the Mexico look with the skull mask, you 3D-print your own mask, or find similar masks on eBay.
---