James Bond: No Time to Die score by Hans Zimmer
James Bond - No Time To Die Soundtrack Vinyl Disc
photo © Danjaq LLC, MGM, Decca Rcords
James Bond - No Time To Die Soundtrack Limited Edition Picture Vinyl Disc
photo © Danjaq LLC, MGM, Decca Rcords
James Bond - No Time To Die Soundtrack Limited Edition Picture Vinyl Disc Nomi
photo © Danjaq LLC, MGM, Decca Rcords
James Bond: No Time to Die Soundtrack on Gold Vinyl Disc
photo © Danjaq LLC, MGM, Decca Rcords
James Bond: No Time to Die Soundtrack on a gold Cassette Tape
photo © Danjaq LLC, MGM, Decca Rcords
James Bond: No Time to Die Soundtrack on Audio CD
photo © Danjaq LLC, MGM, Decca Rcords
The No Time To Die score from Hans Zimmer promises high drama, glamour and, of course, the famous Bond "suspense" motif. The soundtrack includes Billie Eilish's electrifying title track 'No Time To Die'.
Joining Zimmer on scoring the soundtrack is Johnny Marr, who is also the featured guitarist on the album, with additional music by composer and score producer Steve Mazzaro. Marr, who since co-founding The Smiths has enjoyed a glittering international career working as a session musician and solo artist, is a long-time collaborator with Zimmer.
The score is available in a range of special editions, from vinyl records to CDs and even a golden cassette tape!
The vinyls are available in two Limited Edition double-sided picture disc designs, one with Bond/Safin and one with Nomi/Madeleine with the black and white poster artwork and different characters from the film.
The standard Vinyl Disc, Golden Vinyl Disc and Audio CD are available on Amazon (US / UK / EU).

The Limited Edition picture discs can be found at Decca and Zavvi.com.
Full tracklisting for the No Time To Die soundtrack
1. Gun Barrel
2. Matera
3. Message From an Old Friend
4. Square Escape
5. Someone Was Here
6. Not What I Expected
7. What Have You Done?
8. Shouldn't We Get To Know Each Other First
9. Cuba Chase
10. Back to MI6
11. Good To Have You Back
12. Lovely To See You Again
13. Home
14. Norway Chase
15. Gearing Up
16. Poison Garden
17. The Factory
18. I'll Be Right Back
19. Opening The Doors
20. Final Ascent
21. No Time To Die
Advertisement
Need a record player?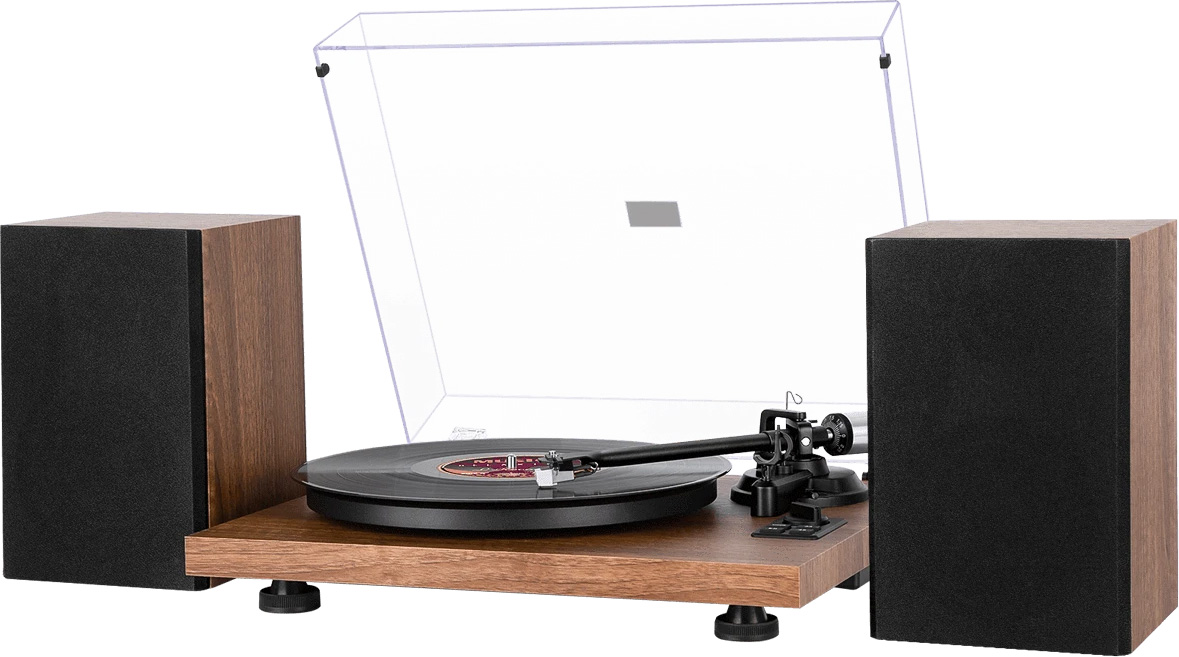 Check out the H004 turntable by 1byoneaudio with bluetooth connection and a high quality Audio-Technica AT3600L MM cartridge.
See the turntable in action in this Bond Lifestyle Live video.
See all record players at 1byoneaudio or read more about the H004 (and make sure to use the pre-Black Friday $60 OFF discount code PREBF2021 for the H004).

---