Interstuhl KINETICis5 and MOVYis3 chairs
Interstuhl KINETICis5 and MOVYis3 chairs
photo © Bond Lifestyle
Interstuhl KINETICis5 705k stool
photo © Bond Lifestyle
Interstuhl MOVYis3 16M0 Conference Chair
photo © Bond Lifestyle
The futuristic lair of Franz Oberhauser in the Moroccan desert in SPECTRE features several Interstuhl chairs.

Interstuhl KINETICis5 705k stool
Oberhauser's IT personnel sits on white Interstuhl KINETICis5 705k stools. These swivel chairs can be seen in the background, when Franz Oberhauser shows James Bond and Madeleine Swann what he is capable of and when he says he is the architect of all Bond's pain.
The futuristic desing of the stool fits perfectly with the clean and modern office of Oberhauser. In total, almost 60 chairs were delivered to the set, which are all used and visble in the scene in the computer room of the lair, where the employees sit in two rows on each side of the room.
The KINETICis5 705k stool is available with white or orange coloured seat. In the film the chair is white.
Read more about the KINETICis5 on Interstuhl.com
Interstuhl MOVYis3 16M0 Conference Chair
In a later scene in the film, Madeleine Swann (Léa Seydoux) sits on a white Interstuhl MOVYis3 16M0 conference swivel chair while watching Bond being tortured. This is another futuristic looking Interstuhl design chair.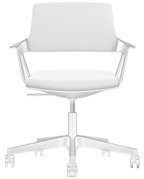 The production designers modified the chair quite a bit: they made the base, wheels and seat white (see photoshopped image on the right). The standard Interstuhl color options include orange and black, but not completely white.
Like every other Interstuhl chair, its shape, function and ergonomics are all geared towards providing a really good sitting experience. This office swivel chair raises synchronous mechanism to a premium level - this is what Interstuhl calls the Body Float effect. The feeling is one of floating and weightlessness. The design is light, dynamic, pure.
The MOVYis3 was designed by Andreas Krob & Joachim Brüske B4K, who also designed the Interstuhl AirPad series, which was seen in SkyFall.
Read more about the MOVYis3 on Interstuhl.com
Interstuhl chairs can also be seen in M's office in both Quantum of Solace (Silver Chair) and SkyFall (AirPad 3C42 and 5C30).
---