Dents Unlined Leather Gloves
In the Shanghai airport scene and London roof scene in SkyFall (2012), James Bond (Daniel Craig) wears a pair of black Dents Unlined Leather Gloves.
Dents' product code contains a familiar number: 5-1007
These gloves are available at Dents UK for £79 or Dents USA for $155, make sure to get the right size for you (and use the discount below to get 20% off!).

20% OFF
Enter the copon code JBL20 to receive 20% off the Dents Leather Driving Gloves at official Dents UK or Dents USA website.
Valid until 31 December 2018.

Also available on Mason & Sons or Stuarts London (UK).
In the London rooftop scene, Bond wears the Dents gloves together with his Tom Ford overcoat and scarf and Crockett & Jones Highbury shoes.
SPECTRE
James Bond wears a pair of Dents Leather Driving Gloves in SPECTRE as well.
SUPER CONTEST 2013
In December 2013 Bond Lifestyle organised the new Bond Lifestyle Super Contest where the main prize was a framed pair of Dents gloves and photo signed by Daniel Craig, or more Dents prizes.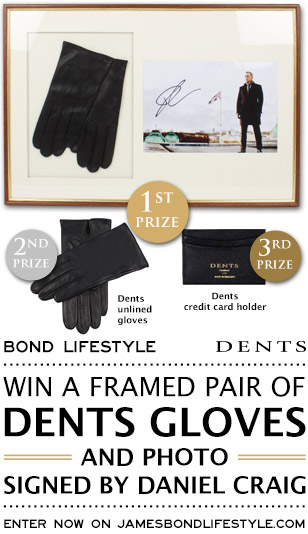 Thanks to Nico Knüpfer, David Zaritsky & AJB007.co.uk for the alert
---