When you purchase through links on this site, we may earn an affiliate commission. Here's how it works.
Advertisement

Connolly x Finamore shirt
James Bond wears a Connolly x Finamore shirt in No Time To Die
photo © Danjaq LLC, MGM, United Artists
Connolly x Finamore shir
photo © Connolly
Connolly x Finamore shirt, with original collar and tag (not the 007 Collection version)
photo © Connolly
Connolly x Finamore shirt sleeve and side details
photo © Connolly
Daniel Craig as James Bond wears a Connolly x Finamore shirt in the movie No Time To Die (2021).
Is not yet known in which scene the shirt will be worn. It looks like the shirt is part of an outfit with the Massimo Alba Duster Coat, when Bond drives in the Aston Martin V8 Vantage to / in Norway.
The shirt is a collaboration between Connolly and Finamore, a heritage Neapolitan shirt maker.
The shirt features a cut away collar, open placket, curved cuff, hand-sewn buttons, hand finished arm hole, and "Mouche" finish at the bottom of the side seams. Fabric: 70% cotton 30% linen.
When it became clear that the shirt would appear in the film, Connolly offered a limited edition order of 50 shirts (£295) in September 2020, which sold out almost instantly.
In September 2021, the shirt became available once again for £330 as part of the 007 x Connolly Collection.
Available online at Connolly London for £330


James Bond also wears a jacket from Connolly in the same film, read more about this blue Giubbino jacket here.
007 Collection
Connolly has released a 007 Collection with 007 branded wallets, gloves, driving goggles and more - check it out here.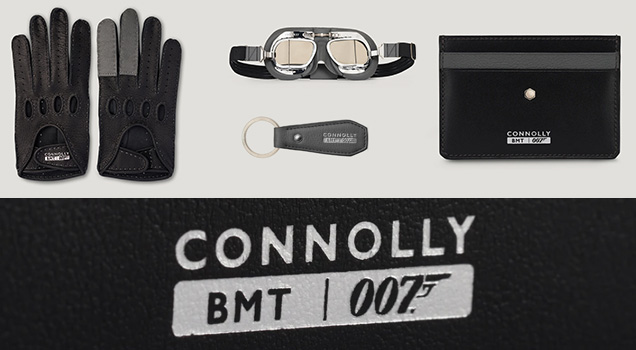 Connolly was founded in London in 1878 as a small family business of saddlers and shoe smiths. It evolved to become the best-known supplier of highly finished leather for the automobile industry. Its portfolio of distinguished clients includes Bentley, Aston Martin, Jaguar, Ferrari and Rolls-Royce - whom Connolly was the exclusive leather supplier for over 100 years. You can visit the new store at No.4 Clifford Street in London.
---