When you purchase through links on this site, we may earn an affiliate commission. Here's how it works.
Advertisement

Breitling Navitimer 806
A 1967 Navitimer 806, very similar to the one seen in Thunderball, with black dial, white subdials, black leather strap with black stitching.
photo © WatchClub London
The Breitling Navitimer in Thunderball, held by Domino.
photo © United Artists, Danjaq LLC
The 1960s Navitimer 806 was available with Twin Jet logo (left) or Aircraft Owners and Pilots Association AOPA logo (right). We can't see which logo is on Derval's watch.
In the movie Thunderball (1965), two Breitling watches are prominently used. The first Breitling in the film is a Breitling Navitimer, reference 806, which changes hands several times in the film. The watch is originally owned by François Derval, a French NATO pilot deployed to fly aboard an Avro Vulcan loaded with two atomic bombs for a training mission. Captain Derval is killed by Angelo, a SPECTRE henchman surgically altered to match Derval's appearance. Angelo straps on Derval's watch to complete his Derval outfit. Angelo takes Derval's place on the NATO flight, sabotaging the plane and sinking it near the Bahamas, but he is then killed by Emilio Largo (SPECTRE No. 2) for trying to extort more money than offered to him. When James Bond (Sean Connery) finds the plane, he takes the watch from Angelo's dead body (note that the watch in the underwater scene is not the Breitling even though it's supposed to be the Navitimer). Bond later gives it, along with Derval's ID tag, to Domino to prove Derval has been killed by Largo. Domino puts the watch and ID tag in her bag and that's the last we see of it.
The Breitling Navitimer was (and still is) a pilot's watch, which makes it a good choice for Derval's character. The Navitimer 806 seen in Thunderball is a mid-1960s model, 4th generation of the 806 with Venus 178 movement and different bezel from the previous generations. The watch in the film has a black dial, steel case, three white subdials (at the left, right and bottom) and a black leather strap with black stitching. The Navitimer 806 was available with 'Twin Jet' emblem (pictured on the left) to indicate that it was sold through the Breitling distribution. During the 1950s and 1960s, the Navitimer was also offered by the Aircraft Owners and Pilots Association, with the AOPA logo on the dial in stead of the twin jet logo. Unfortunately it's impossible to see which logo the movie watch has.
On eBay you can find a small selection of vintage Breitling Navitimer 806. The latest Navitimer model still looks similar to the first models, see it on Breitling.com.
In the novel Thunderball, Ian Fleming describes NATO airman Petacchi (a similar character in the story as Derval) to have a preference for "flashy, exciting, expensive" things, including "a solid gold Rolex Oyster Perpetual Chronometer on a flexible gold bracelet".
The second Breitling watch in Thunderball is given to Bond by Q and works as a geiger counter. This watch is a heavily modified Breitling Top Time.
Affordable alternatives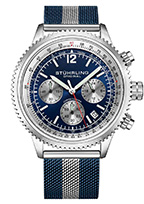 The Stuhrling Monaco is a good affordable alternative for the Navitimer. The Monaco is available with blue and black dials, and in 44mm (ref 4015) or 42mm (3976).
Buy 44mm on Stuhrling ($120)
Buy 42mm on Stuhrling ($145)

If you are looking for an alternative to this Breitling 806 Navitimer but still want a British connection, the Rotary GS03448/04 Chronospeed might be a good option. Although a Swiss brand, Rotary watches became very well known and still are popular in the United Kingdom after a major deal in 1940 when Rotary became the official supplier of watches of the British Army, putting a Rotary watch in almost every household in the 1940s. The Rotary GS03448/04 Chronospeed with black dial, white subdials and black leather strap looks very similar to the Navitimer from Thunderball. This watch is not produced anymore but can easily be found on eBay for less than £60 ($100).
Photo of vintage Breitling courtesy of WatchClub London.
---