Blackwell Black & Gold Rum
James Bond in his Jamaican home, with a bottle of Blackwell Run on the table.
photo © Danjaq, Universal, MGM, United Artists
Blackwell Black & Gold Rum
photo © Danjaq, Universal, MGM, United Artists
Founder Chris Blackwell has a lot of Bond connections, pictured here surrounded by his Blackwell Rum 007 edition, Bond and Fleming books and images
photo © Blackwell
A bottle of Blackwell Black & Gold Rum can be spotted in Bond's Jamaican house in a promotional photo from the No Time To Die set - hopefully we will be able to see the bottle in the film and perhaps we see him even drink it.
Blackwell Rum is owned by Chris Blackwell, a legend on Jamaica, best known for discovering Bob Marley and also the owner of Ian Fleming's former residence GoldenEye, now a holiday resort, where Fleming wrote the Bond novels. The same location was also used for the No Time To Die movie announcement in 2019.
Chris Blackwell worked on the first James Bond movie Dr No, as well as the latest film No Time To Die: "James Bond has been a big part of my life, from my childhood lunches with Ian Fleming at GoldenEye to being a location scout on the first movie, Dr. No (1962). It was a pleasure working alongside the No Time To Die production team in Jamaica providing our iconic rum for the set in James Bond's house, which has made this very special relationship come full circle. This is a rum that celebrates Jamaica, my friendships, and also my family legacy."
The Fine Jamaican Rum is inspired by Chris Blackwell family's time-honored recipe, and distilled and blended by J.Wray and Nephew. This aged, rich and fragrant dark gold rum is filled with the warmth and sensuality of Jamaica.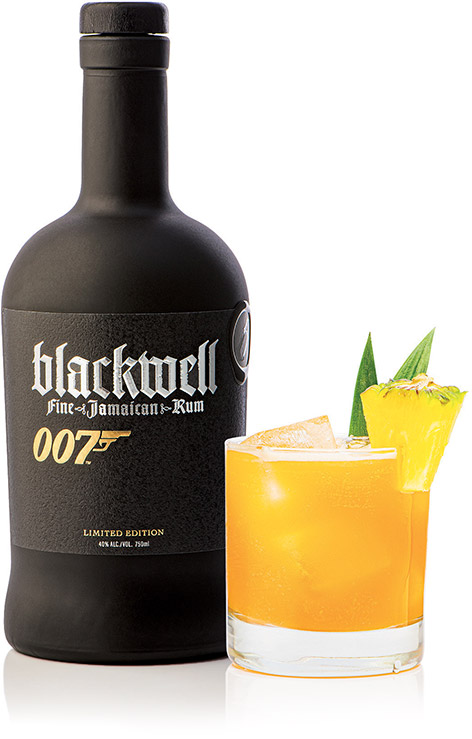 A regular bottle of Blackwell Rum is available for $29.99 / £25 / €28.90 at the Blackwell Rum online shop or at The Whisky Exchange (UK, Europe, USA).
Blackwell 007 Limited Ediiton Rum
In 2020, Blackwell Rum partnered with the 007 film franchise to offer a special 007 Limited Edition release of the Blackwell Fine Jamaican Rum. The 750ml Limited Edition bottle is available since November 2020 for $39.99 at the Blackwell Rum online shop.
The limited-edition Rum features an 007 logo and augmented reality experience available via a QR code on the bottle, where Chris Blackwell comes to life to share life stories, music selections, cocktail recipes and more.
Visit blackwellrum.com for more about the brand.
Blackwell Rum has also appeared in the 2012 American comedy series Anger Management with Charlie Sheen.
---