1929 Isotta Fraschini Tipo 8A Castagna Roadster
1929 Isotta Fraschini Tipo 8A Castagna Roadster
photo © Bonhams
The car can only very briefly been spotted in the distance when Bond lands in a helicopter at Drax's estate
photo © United Artists / Danjaq / EON
Foto of the Isotta Fraschini with 1 DRAX licence plate in the 1979 James Bond Moonraker Special
photo © EON / scan by Bond Lifestyle
1 DRAX licence plate was auctioned by Christie's in 2006
photo © Christie's
Foto of the rear of the Isotta Fraschini with 1 DRAX licence plate in the 1979 James Bond Moonraker Special
photo © EON / scan by Bond Lifestyle
In the 1979 movie Moonraker, the car of Hugo Drax at his chateau in California is the unique 1929 Isotta Fraschini Tipo 8A Castagna Roadster.
This extremely rare car can only be seen in the background when James Bond (Roger Moore) and Corinne Dufour (Corinne Clery) land in the helicopter on the grounds of the castle. The car is parked next to the Hispano-Suiza that will later bring Bond to the airport and a Rolls-Royce (either a Silver Shadow or Silver Wraith).
Probably, the producers wanted a bigger role for the Isotta Fraschini, because set photos show it with a personalised plate made for Hugo Drax. The Californian (his French castle is supposed to be in California) licence plate reads 1 DRAX.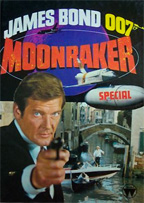 The 1979 James Bond 007 Moonraker Special book features two great photos of the car, one on page 10 showing the licence plate and another picture of the back of the car, also with the licence plate, on page 18.
This licence plate sold for £840 ($1,660) at Christie's Film and Entertainment auction on 5 December 2006 London, South Kensington (contact Bond Lifestyle if you know who currently owns this licence plate).
About the Isotta Fraschini Tipo 8A Castagna Roadster
Only two of these cars were ever built with this body style, and this particular car, chassis no 1485, was on display at an exhibition in New York in 1929, before finding its way to France, where Moonraker was filmed in 1979. In France, the car was owned by Michel Seydoux, one of France's premier collectors, film producer and the granduncle of SPECTRE Bond Girl Léa Seydoux.
The car was fully restored and in 2008 won the Best of Class award at the Paleis 't Loo Concours in The Netherlands. In 2009 the car featured on a Bonhams auction on 7 February 2009, although it didn't sell that day. Currently the car is in a private collection in The Netherlands and for sale by the owner, visit the seller's website ClassicCars-ForSale.com for more information.
About Isotta Fraschini
Isotta Fraschini, founded in 1900 in Milan, is an Italian brand historically known for the production of cars which were among the most luxurious and prestigious ever built. The company still exists but makes engines for marine and aviation use.
Château de Vaux-le-Vicomte
Drax's castle, set in California, was actually filmed at the Château de Vaux-le-Vicomte, about 55 kilometres (34 miles) southeast of Paris, for the exteriors and Grand Salon scene.
Thanks to Robert Scheidemann for the alert
---