VisitBritain launches Bond is GREAT campaign
11 October, 2015
Bond is back in SPECTRE and VisitBritain is once again utilising 007's iconic international profile to show the world what makes Britain GREAT. The new campaign will feature exclusive behind the scenes film footage, 360 degree photos of filming locations and a competition with great prizes.
Three new Bond is GREAT images are also being released featuring James Bond, an Aston Martin outside Blenheim Palace as well as a scene from SPECTRE with James Bond in Whitehall.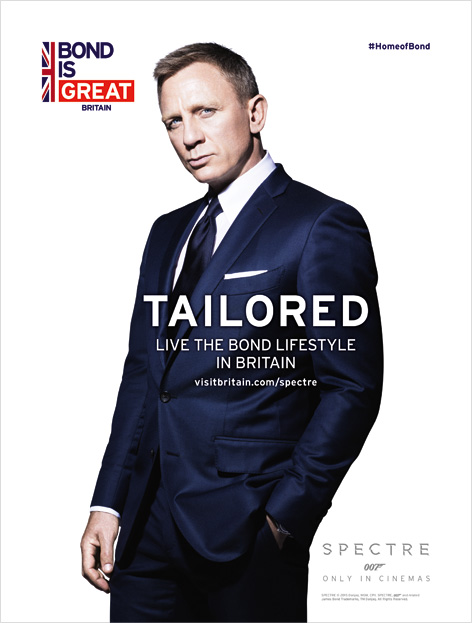 Daniel Craig stars in the 2015 Bond is GREAT campaign
To leverage the global fascination with James Bond and the international exposure the film affords to potential visitors to Britain, VisitBritain launched a global Bond is GREAT Britain film tourism campaign in partnership with Sony Pictures Entertainment and Metro-Goldwyn-Mayer Studios.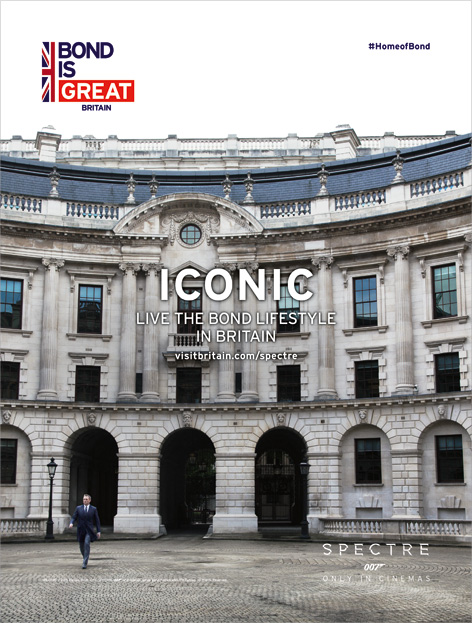 Bond is GREAT campaign: Daniel Craig as James Bond walking in the courtyard of a Whitehall government office building
The Bond is GREAT campaign is kicking off across more than 60 countries to encourage 007 fans to choose Britain - the home of Bond - for their next holiday.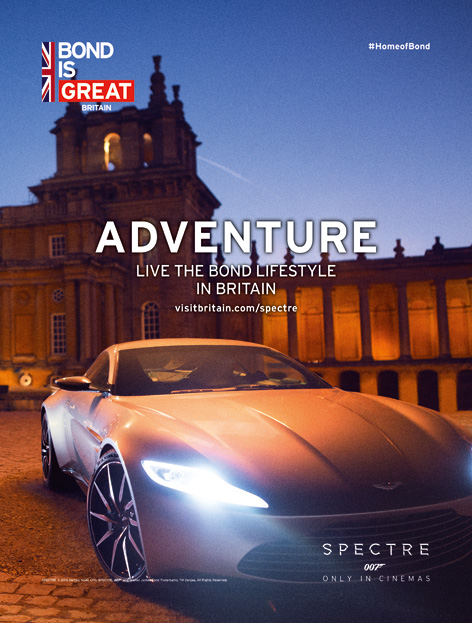 Bond is GREAT campaign: Aston Martin DB10 at Blenheim Palace
As the official national tourism partner for the theatrical release of SPECTRE, VisitBritain's global campaign is using a mix of outdoor billboards, print, digital and social media. This includes exclusive 'behind the scenes' footage from SPECTRE. Watch the video on the dedicated campaign page VisitBritain.com/spectre.
Other highlights include the release of four new 360 images of key filming locations in SPECTRE including Blenheim Palace, Camden, Westminster Bridge and City Hall to be promoted internationally through VisitBritain's extensive social media channels.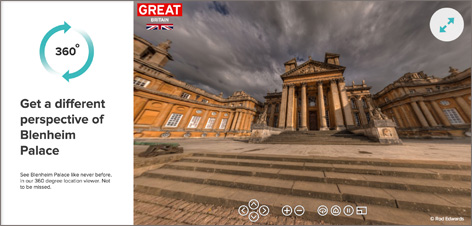 The immersive 360-degree experiences will give overseas visitors a virtual opportunity to step inside some of the iconic British locations showcased in SPECTRE with the first, of Blenheim Palace, released on VisitBritain.com/spectre. The new images build on the series of hugely popular 360 degree images of some of the UK's best loved landscapes and historical attractions launched earlier this year by VisitBritain.
2012 Campaign
It is not the first time that VisitBritain works with the Bond franchise to motivate and inspire even more international visitors to come to Britain. Its 2012 Bond is GREAT campaign around the theatrical release of SkyFall resulted in international promotional coverage reaching 653 million people around the world as well as £3.5 million worth of exposure for the Britain brand and partners.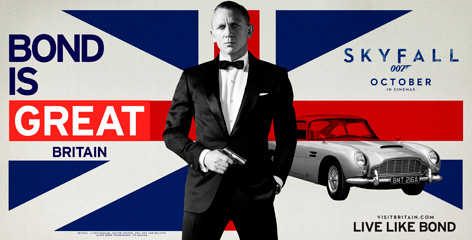 The promotional image for the 2012 Bond is GREAT campaign
The campaign positively affected travel with 16% of people who recalled the Bond is GREAT campaign having booked a trip to Britain and 35% of those who recalled the advert saying they strongly intend to visit Britain in the next three years. SkyFall also helped boost visitor numbers to Glencoe in Scotland after being used as a filming location with visits up 41.7% on 2012.
The promotional video for the 2012 Bond is GREAT campaign
Enter the competition
As part of this year's Bond is GREAT campaign, 007 fans from around the world will also have the chance to enter an exclusive online competition at visitbritain.com/spectre to live the Bond lifestyle in Britain - the prize includes a chauffeur driven Aston Martin, private visit to Madame Tussauds and a stay at one of the exclusive Radisson Blu Edwardian Hotels. There's also a 'Bond is GREAT' advert featuring clips from previous Bond movies and exclusive SPECTRE footage on VisitBritain's YouTube site and uploaded on to VisitBritain.com/spectre.
The mini site VisitBritain.com/spectre is definitely worth a visit for more images, videos and tips on how to live the Bond lifestyle in London.