Designing 007: Fifty Years of Bond Style in Moscow, Russia
16 June, 2014
After London, Toronto, Shanghai and Melbourne, the Designing 007 Exhibition is currently on display at the Multimedia Art Museum Moscow (MAMM) in Russia from 11 June 2014 to 7 September 2014.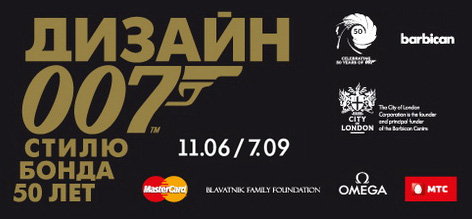 Celebrating the craft behind the world's most iconic movie brand, Designing 007: Fifty Years of Bond Style takes visitors on an immersive journey through a dozen themed rooms and environments, from Dr No (1962) to SkyFall (2012).
Featuring over 500 unforgettable objects: Roger Moore's white tuxedo from Octopussy and the spacesuit from Moonraker; Scaramanga's Golden Gun from The Man With The Golden Gun, Jaws' fearsome teeth which first appeared in The Spy Who Loved Me; gadgets from Q Branch including the attaché case given to Bond in From Russia With Love; Omega Seamaster watches from Tomorrow Never Dies (1997) and The World Is Not Enough (1999) with built-in special features; and the 1964 silver Aston Martin DB5 from GoldenEye which famously returned to the screen in SkyFall.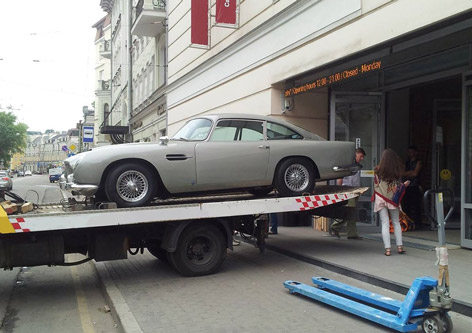 The Aston Martin DB5 enters MAMM
Designing 007: Fifty Years of Bond Style is the result of collaboration between the Barbican Centre, London, and the Bond production company, EON Productions. It is a unique exhibition, guest-curated by fashion historian Bronwyn Cosgrave and Oscar®-winning costume designer Lindy Hemming and is designed by Ab Rogers who all had unprecedented access to EON's production archive.
Multimedia Art Museum, Moscow
Ostozhenka st., 16, Moscow
+7 (495) 637-1100
Open from 12:00 - 21:00 every day, Monday closed
More information on the MAMM website: russian | english
See more photos of the exhibition in Melbourne here.
The exhibition will move one more time later this year to Rotterdam, The Netherlands where it will be open in the Kunsthal from 11 October 2014 - 8 February 2015.
Subscribe to the Bond Lifestyle EYES ONLY newsletter