Barton Perreira Goldfinger and B Fourteen 007 Legacy Collection sunglasses
11 March, 2022
Barton Perreira have unveiled two new 007 sunglasses inspired by Bond films to celebrate James Bond's 60th anniversary.
Earlier this year, Barton released sunglasses inspired by eyewear worn by Bond in Thunderball and a pair worn by Zorin in A View To A Kill in their new Barton Perreira x 007 Legacy Collection.
Goldfinger
The first pair is very loosely based on a pair of Persol 828 sunglasses worn by Sean Connery behind the scenes in Switzerland while shooting the famous car chase scene in the mountains. These sunglasses are not seen in the film itself, but a similar pair was on display at an exhibition in Switzerland.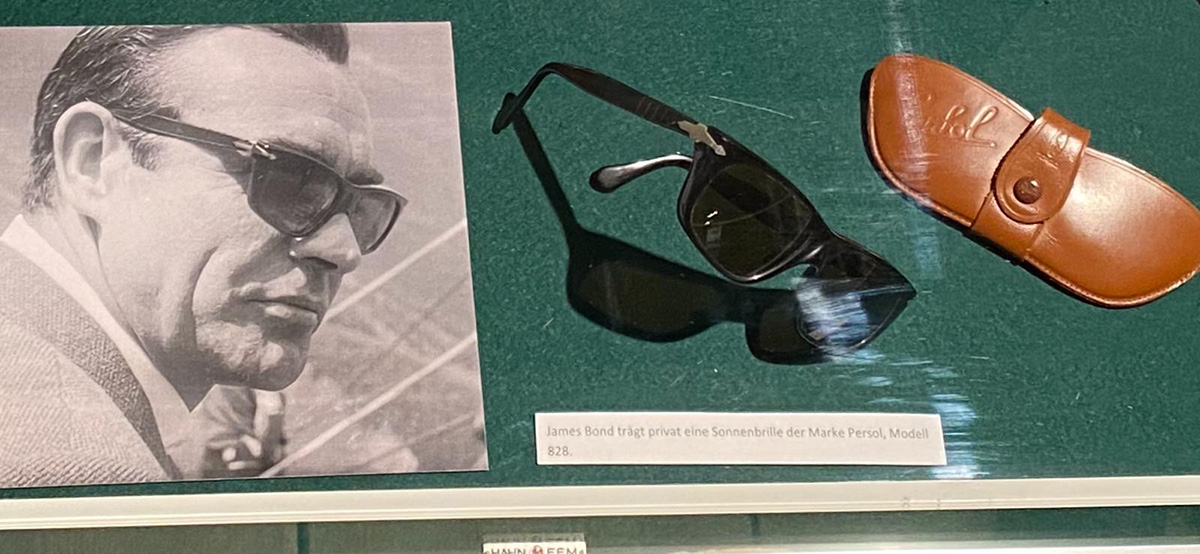 Persol 828 sunglasses on display at the James Bond in Ursern - On the tracks of Goldfinger Exhibition in Switzerland.
The Barton Perreira limited-edition sport wrap silhouette features polarised lenses with the 007 breath logo also seen on the Thunderball sunglasses (if you breath on the lens, the logo appears, see it in this video). The temple tips are inscribed with the vintage 007 plaque.

Each pair of Goldfinger glasses comes in a Barton Perreira x 007 Legacy Collection case and cloth.
Available at men's store UNCRATE, or the 007 Store or the 007 Store USA or soon at Barton Perreira for £405 / $550.

A View To A Kill - B Fourteen
This aviator frame, named "B Fourteen" (referring to the 14th Bond film, A View To A Kill), is inspired by a frame worn by James Bond in the 1985 film A View To A Kill.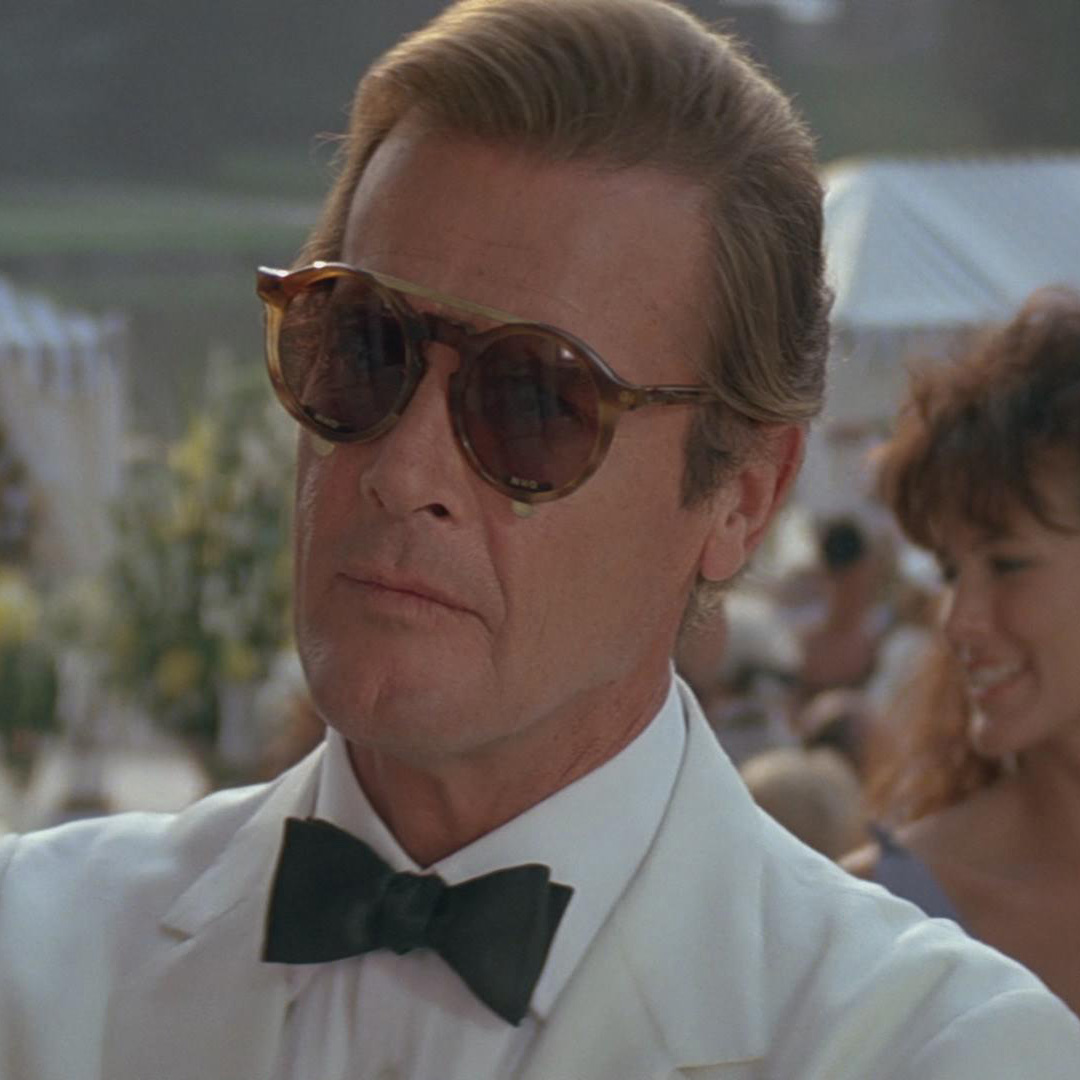 Roger Moore as James Bond in A View To A Kill
The glasses in the film have a gadget function: they can be turned to polarized lenses to see through a window at the party at Château de Chantilly.

Barton Perreira B-Fourteen sunglasses
The Barton Perreira sunglasses are handcrafted in lightweight Japanese acetate with a titanium top bar. The lenses feature the 007 breath logo and temples are finished with the 007 plaque; comes with a Barton Perreira x 007 Legacy Collection case and cloth.
Available for pre-order at the 007 Store or the 007 Store USA or soon at Barton Perreira for £445 / $615.
About Barton Perreira
Founded in 2007 by Bill Barton and Patty Perreira, Barton Perreira set out to make the finest eyewear in the world. The company innovates through impeccable craftsmanship and design without compromise. Each pair of Barton Perreira glasses is made in Japan. The rigorous six-to-eight-week manufacturing process focuses on perfecting every detail, from the frame's foundation to its deep glossy finish. This meticulous process results in beautiful eyewear with an emphasis on finish, feel, and fit. Unlike most designers who focus on the object first and foremost, Patty Perreira creates for the face, bringing an unprecedented level of customisation to every angle.
James Bond wears Barton Perreira Joe and Barton Perreira Norton sunglasses in the movie No Time To Die.
Subscribe to the Bond Lifestyle EYES ONLY newsletter