007.com opens official James Bond webshop
01 October, 2014
The official 007.com website has opened a webshop with a fantastic selection of collectibles, from a DB5 keychain to a 1:3 scale model car of the Aston Martin DB5.
The 007 webstore has the following sections: Accessories, Bond In Motion items, CD's & DVD's, Clothing, Collectibles, Exclusive, Grooming, Posters & Artwork, Publishing, Toys & Games and Virtual Gift Cards.

In the Accessories section you can buy Globe-Trotter cases and wallets (the same brand seen in SkyFall).
The Clothing section includes James Bond and Bond IN Motion t-shirts, hoodies and caps.
In Collectibles you can find Prop Replica items made by Factory Entertainment, including the Goldfinger tracking device, Thunderball Breather set, Moonraker Laser Gun, Q-pin and SPECTRE ring. 

Some interesting new items are a DB5 keyring and DB5 licence plate keyring.

A very exclusive item in the store is the limited edition 1:3 scale Aston Martin DB5, the same style model that was used in SkyFall.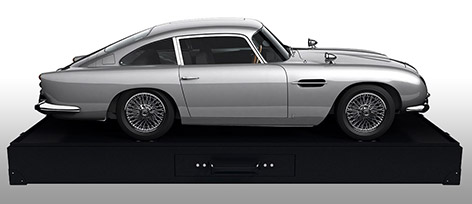 The car has been refined with functioning Goldfinger gadgets, including remote controlled model machine guns, operational model bullet proof shield, revolving number plates, gear stick with ejector button and removable ejector seat roof panel. With just 100 DB5 models in existence they are set to become highly collectable. The model is displayed on a rolling road in a purpose built case, designed by Globe-Trotter.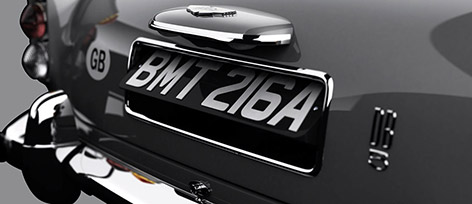 This amazing model can now be ordered for £28,000 excl. VAT.
In Grooming you can find all the 007 Fragrance products including the eau de toilette, shower gel and deodorant.
In the Publishing section you can find books (the Encyclopedia and the Taschen James Bond Archives) and catalogues of Bond In Motion and Designing 007.
In the Toys & Games you can find the Toy State model R/C cars, Scalextric set and Cartamundi poker sets.

You can also buy a Virtual Gift Card to let the Bond fan in your life find his or her own perfect Bond gift.
Visit the 007 Shop at www.shop.007.com
Thanks to Jelle Vis for the alert
Subscribe to the Bond Lifestyle EYES ONLY newsletter