#56 Bond Lifestyle Contest: Win the book Lair: Radical Homes and Hideouts of Movie Villains
Bond Lifestyle offers you the chance to win one of two copies of Lair: Radical Homes and Hideouts of Movie Villains! Answer the trivia question before midnight on 27 December 2019 to enter.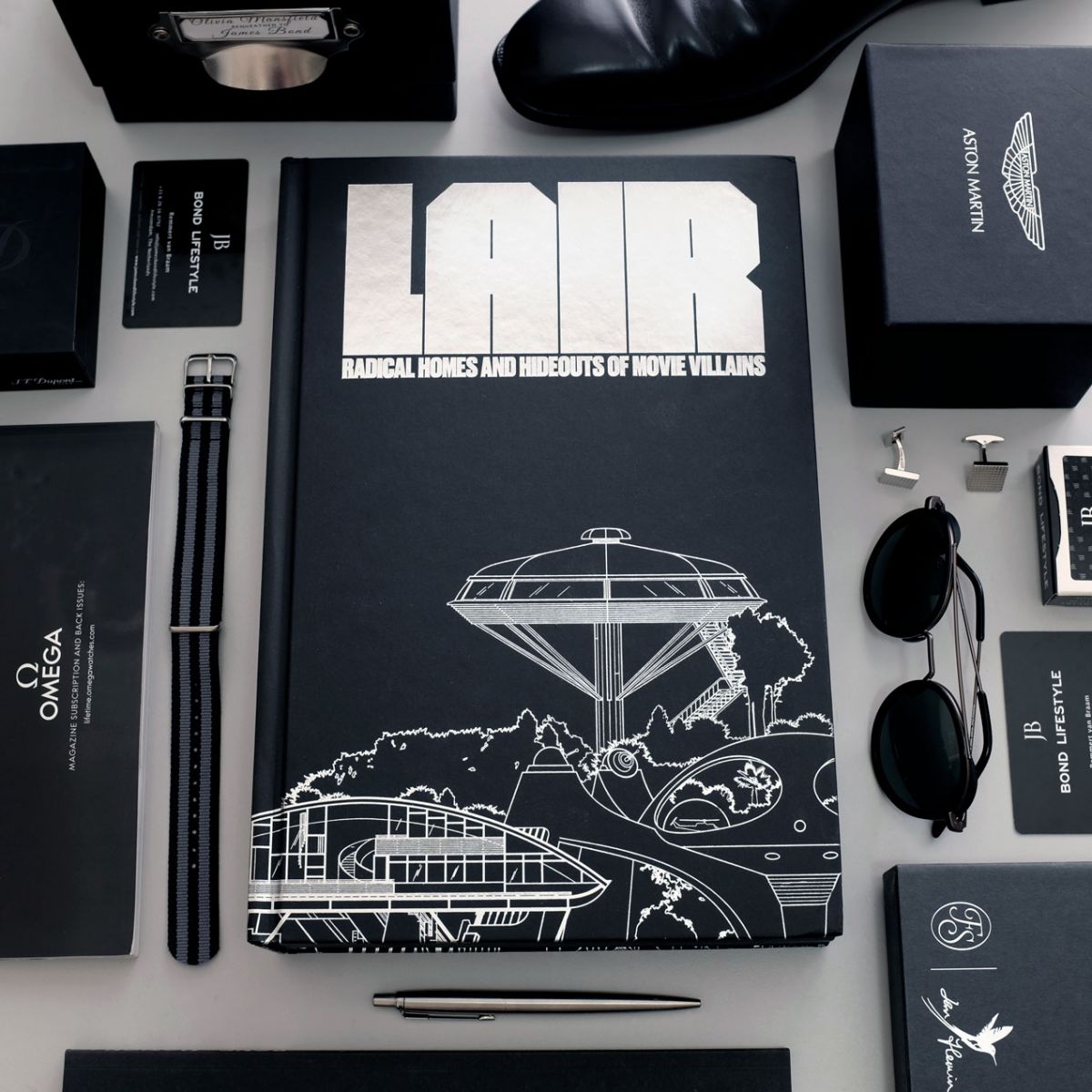 LAIR: Radical Homes and Hideouts of Movie Villains, the first title in Tra Publishing's Design + Film series, celebrates and considers several iconic villain's lairs from recent film history. The book explores the architectural design of these structures through architectural illustrations and renderings, photographs, essays, film analyses, interviews, and more.
It is quite a special book for Bond collectors and people interested in architecture.
The 296-page hardcover measures 9.2" x 13" (23.3cm x 33cm). This large book is unique in its design as it is made from black, matte and heavy pages, with a silver print ('foil' print). Not just the cover, but every single page is silver on black.
Lair features villains' homes from fifteen films, including the James Bond films You Only Live Twice, Diamonds Are Forever, The Man With The Golden Gun and The Spy Who Loved Me. Other films include Ex Machina, Dr. Strangelove, The Incredibles, Blade Runner 2049, Star Wars: Episode IV - A New Hope and The Ghost Writer.
It also features an interview by Sir Christopher Frayling with Sir Ken Adam (1921 - 2016), one of the most famous and prolific James Bond production designers.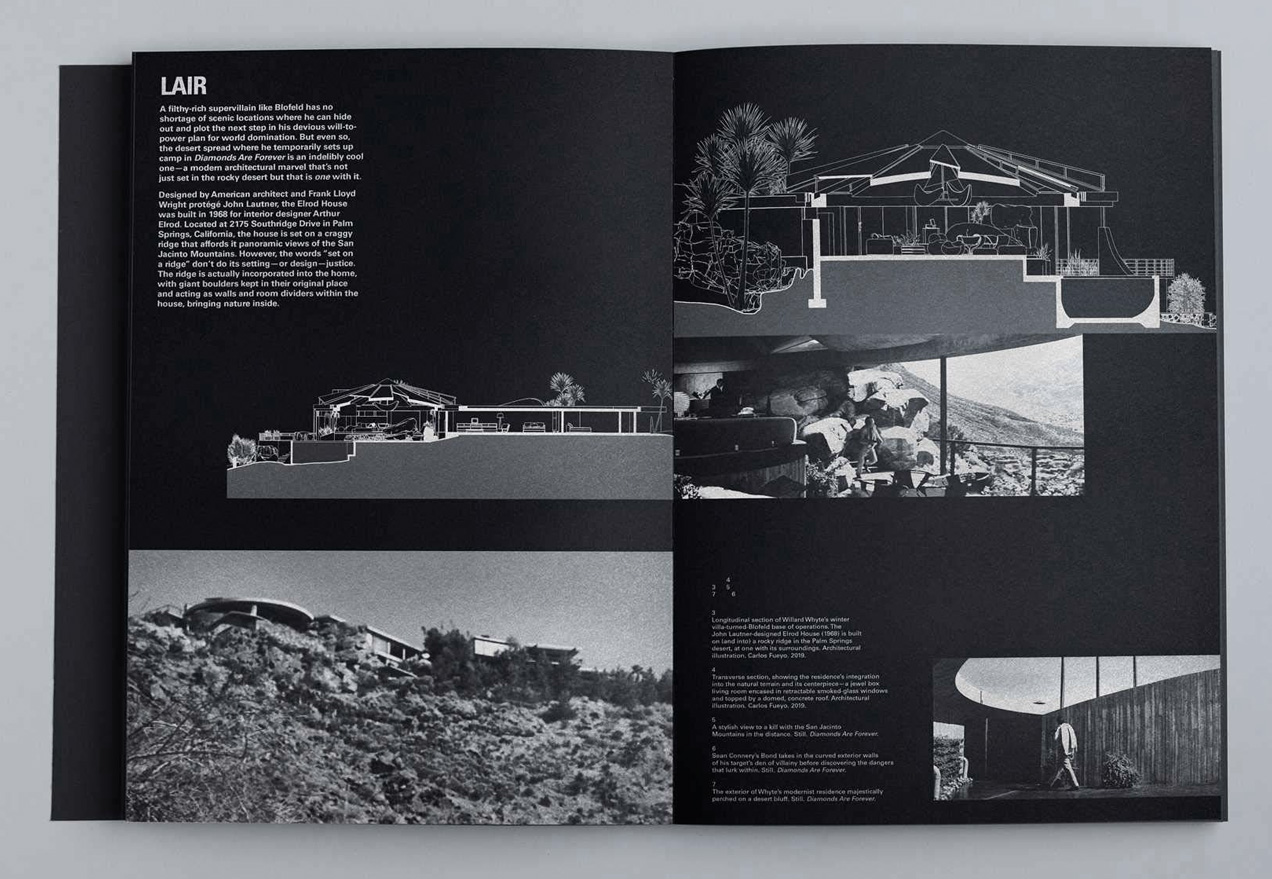 Pictured here: Elrod House from Diamonds Are Forever.
The book contains photos and illustrations, all printed in silver foil on heavy black paper.
The book is available at Amazon, or read more about the book here.
Bond Lifestyle is giving away 2 copies of the book to lucky winners, so answer the trivia question below before midnight (CET) on 27 December 2019 for your chance to win.
Terms & Conditions
Entry is open to participants from all over the world.
2 winners will each win one copy of the book Lair: Radical Homes and Hideouts of Movie Villains.
The prizes are as stated, are not transferable to another individual and no cash or other alternatives will be offered.
No purchase necessary to enter or win.
The winners will be drawn at random from all correct entries received by the closing date stated within the promotional material.
Reasonable efforts will be made to contact the winner. If the winner cannot be contacted, or is unable to comply with these terms and conditions, Bond Lifestyle reserves the right to offer the prizes to the next eligible entrant drawn at random.
Failure to respond and/or provide an address for delivery, or failure to meet the eligibility requirements may result in forfeiture of the prize.
Prizes are subject to availability. In the event of a prize being unavailable, Bond Lifestyle and Prop Store reserve the right to offer an alternative prize of equal or greater value.
The winner agrees to the use of their name and disclosure of country of residence relating to any post-winning publicity.
The winner is responsible for expenses and arrangements not specifically included in the prizes, including any import taxes or duties.
GDPR: By entering the contest you consent to having Bond Lifestyle store your submitted information so Bond Lifestyle can contact you in case you're the winner of the contest. General Data Protection Regulation (GDPR) is an EU regulation on data protection and privacy (read more)
This contest is closed.
The trivia question was: "Which of the following actors did NOT play Ernst Stavro Blofeld in a James Bond film?"
These were the multiple choice answers and the perecentage that selected the answer:
Charles Gray 0,6%
Mads Mikkelsen 97,3%
Donald Pleasence 0,4%
Telly Savalas 0,4%
Christoph Waltz 1,3%
The correct answer was Mads Mikkelsen. He played Le Chiffre in Casino Royale (2006). Most people got it right, next time there will be a more difficult question! Stay tuned.
The winners of this contest are Francois Jean-Michel from France and Mark Rutledge from Canada. Congratulations!
Stay tuned for new contests.