#31 Bond Lifestyle Contest - Win John Smedley sweaters, Duralex glasses and a Cartamundi poker set
Enter the new Bond Lifestyle Contest to win prizes that you can add to your Bond collection.
Answer the trivia question before November 30th 2014, 23:59pm CET for your chance to win!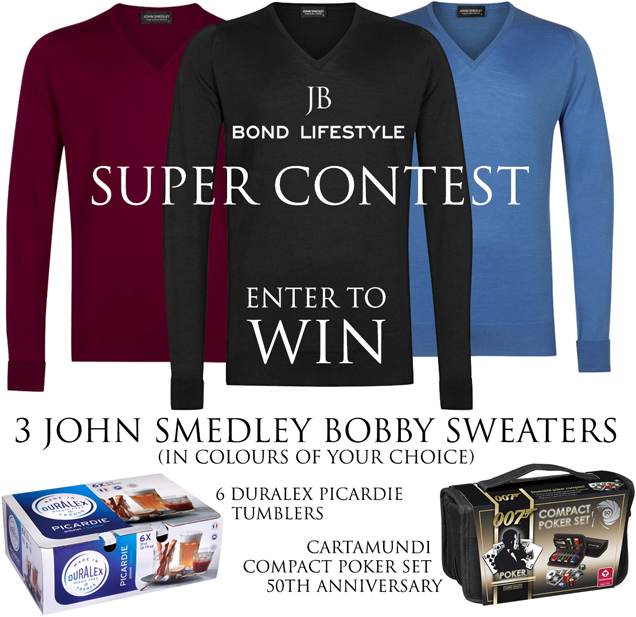 Prizes
The first prize winner gets three John Smedley Bobby v-neck pullovers in the size and colour of his or her choice*! The John Smedley Bobby in Black was worn by Bond in SkyFall (read more). The Bobby is available on the official John Smedley website for $230 (USA) or £135 (UK) or €170 (Germany/rest of Europe).
* color and size combinations are subject to availability
The second prize is a set of 6 Duralex glasses (31ml). This famous glass can be seen in SkyFall (read more) and many other films. 
The third prize is a Cartamundi James Bond 50th Anniversary Compact Poker set. The set was released in 2012 to celebrate 50 years of James Bond films and contains 150 professional quality casino chips and 1 deck of James Bond 50th Anniversary playing cards. Read more about the Cartamundi 50th anniversary items.
Answer the question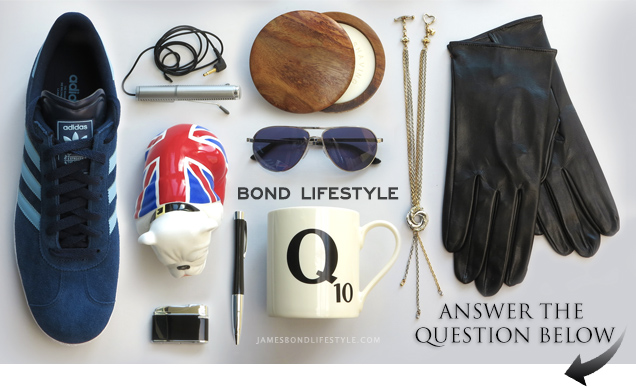 Which item in the photo above does not appear in the movie SkyFall?
These were the options (percentage of people that chose this answer)
Adidas Gazelle II shoes (2%)
Sony ECM-Z60 microphone (3%)
Royal Doulton Bulldog statue (0.5%)
Pierre Cardin lighter (3%)
Shaving bowl (1.5%)
Tom Ford sunglasses (1%)
Parker pen (1.5%)
Wild & Wolf Q mug (3%)
Sophie Harley Algerian Loveknot necklace (84%)
Dents gloves (0.5%)
The correct answer was the Sophie Harley Algerian Loveknot necklace: this necklace was used in Casino Royale and Quantum of Solace (read more), but not in SkyFall.
Winners
The winner of the three John Smedley Bobby sweaters is Denny Sanders, from Illinois, USA.
The winner of the Cartamundi Poker Set is Carl Starling from the UK.
The winner of the set Duralex Picardie glasses is Patrick Verberght from Belgium.
Congratulations to all the winners! Enter the new contest now.