#28 Bond Lifestyle Sunspel Riviera Long Sleeve Polo Shirt Contest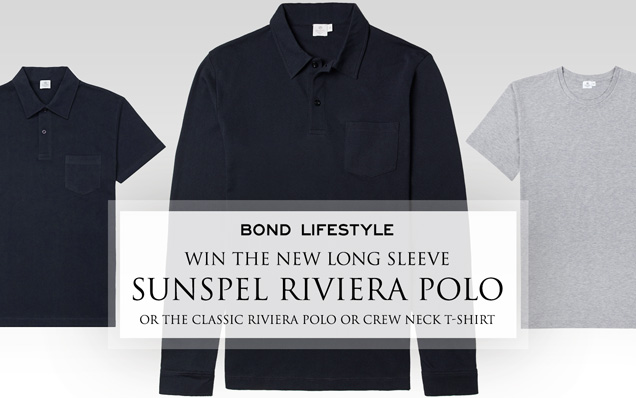 Celebrating the launch of the brand new long sleeve version of the popular Sunspel Riviera Polo, Bond Lifestyle offers you the chance to win Sunspel shirts in this contest. The Long Sleeve Riviera Polo is based on the polo shirt that was originally tailored for Daniel Craig for his role as James Bond in the movie Casino Royale, and is crafted from the same breathable cotton mesh and also features the breast pocket. The Long Sleeve Riviera Polo is now available on the Sunspel website for $190 / £120 / €145.
Prizes
Answer the trivia question before 23:59 CET August 8th 2014 for your chance to win one of the three prizes!

First prize: Sunspel Long Sleeve Polo Shirt
The first prize is a long sleeve version of the Riviera Polo shirt in the colour Navy.
Second Prize: Sunspel Riviera Polo Shirt
Created by Sunspel for Daniel Craig in Casino Royale, this original navy polo shirt ($128 / £80.00 / €96 at Sunspel.com) is one of most popular Bond items and still available.
Third Prize: Sunspel Riviera Crew-neck shirt
The third prize is a grey melange crew-neck shirt, the same model worn by Bond in Casino Royale.
Read more about the Sunspel shirts in Casino Royale
Trivia Question
Question: Who was the costume designer for the 2006 movie Casino Royale?
This contest is now closed.
Answer and winners
The four multiple choice answer options were: Jany Temime, Lindy Hemming, Jodie Lynn Tillen, Emma Porteus, who are all costume designers who worked on Bond films, but the designer that worked on Casino Royale was of course Lindy Hemming, as 99% of the contestants answered correctly. From these entries, 3 winners were chosen completely at random.
The winner of the 1st prize, the long sleeve Sunspel Riviera Polo, is Rob Pietre-Cambacedes from the United Kingdom.
The second prize, the classic Sunspel Riviera Polo shirt, goes to Steve Beverley in the USA.
Michael Sabino from the USA wins the third prize, a Sunspel Riviera crew neck t-shirt.
Congratulations to all the winners and thanks to everyone for entering the contest.
Stay tuned for the next contest!