#27 Bond Lifestyle Sue Vanner Signed Photo Contest
Enter this Bond Lifestyle contest for your chance to win a photo signed by Sue Vanner, who played the KBG Agent / Bond girl in the pre-title opening sequence of the movie The Spy Who Loved Me.
Sue Vanner also played roles in the movies Curse of the Black Cat (1977) and Return to Waterloo (1984). She has rarely appeared on fan events, so her autograph is quite rare.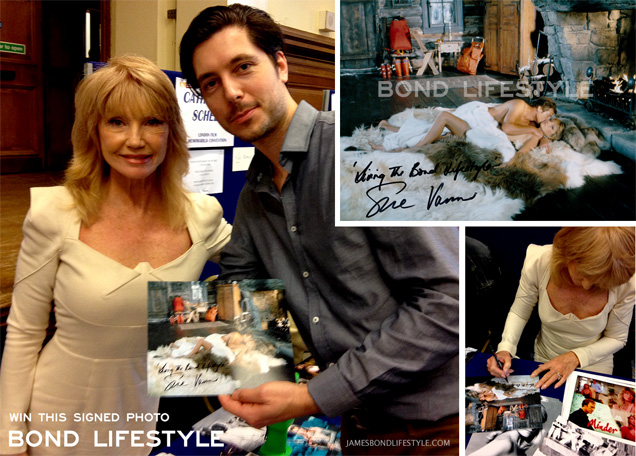 The photo was acquired by Remmert van Braam (Bond Lifestyle) and signed by Sue Vanner on Saturday 29 March 2014 at the London Film Memorabilia Convention at Central Hall Westminster. The photo measures 25,5cm x 20,5cm (9,8" x 7,8") and the text on the photo reads "Living the Bond Lifestyle! Sue Vanner".
Answer the trivia question below before Sunday 27 April 2014, 23h59pm CET for your chance to win this exclusive prize!
This contest is now closed.
The question was: "What is the exact and complete text of the message that James Bond receives on the ticker-tape from his Seiko watch while he is with the girl played by Sue Vanner in The Spy Who Loved Me?"
Answer: 007 TO REPORT HQ. IMMEDIATE M.
The winner of the signed photo is Mark Magyar from the UK. Congratulations!
More contests will start soon! Stay tuned!
Emailaddresses will only be used to contact the winner.