Bollinger 002 for 007
Limited Edition 002 for 007 Champagne Bollinger
photo © Champagne Bollinger
Bollinger La Grande Année 2002, The bottle, adorned in shiny black and hot stamped silver, is a collector's item in itself, an elegant celebration of the 50th anniversary of James Bond on screen
photo © Champagne Bollinger
The presentation box, in the shape of a Walther PPK silencer, opens by aligning the three figures 007 and by clicking on the gun logo button, revealing a bottle of Bollinger La Grande Année 2002
photo © Champagne Bollinger
To celebrate the 50th anniversary of 007's appearance on screen and the Bollinger / James Bond partnership, Champagne Bollinger launched a limited edition special presentation box. The box includes a bottle of Bollinger La Grande Année 2002. This is a limited box, currenly not available anymore and hard to find.
The presentation box, the design inspired by the shape of a Walther PPK silencer, opens by aligning the three figures 007 and by clicking on the gun logo button, revealing a bottle of Bollinger La Grande Année 2002, the most exceptional vintage in the last decade, according to Mathieu Kauffmann, Cellar Master at Champagne Bollinger.
The bottle, adorned in shiny black and hot stamped silver, is a collector's item in itself, an elegant celebration of the 50th anniversary of James Bond on screen. The guilloche pattern on the label and the cap is repeated on the box, a veiled reference to the grip of the pistol.
The Bollinger 002 for 007 presentation box used to be for sale at TheWhiskyExchange for £150 (currently sold out), and in specialist shops and wine merchants for £125 - £150 ($200 - $240 or €155 - €190).
 
FOR SALE
January 2023: an Australian Bond fan is offering his Bollinger 002 for 007 for sale for AUD420 (approx £240 / €270) or best offer. Shipping not included. Ships internationally, depending on local shipping laws (shipping to the United States is not possible). Send a message via the Bond Lifestyle contact form if you are interested or to make an offer.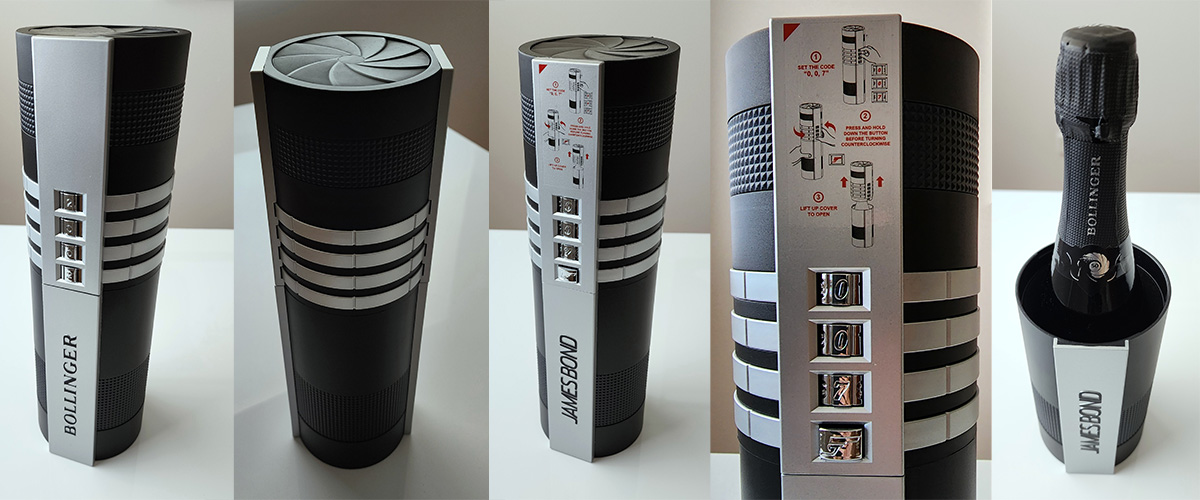 Read more about Champagne Bollinger in James Bond movies.
---
Subscribe to the Bond Lifestyle EYES ONLY newsletter