When you purchase through links on this site, we may earn an affiliate commission. Here's how it works.
Advertisement

Bond Lifestyle Holiday Gift Guide 2021
Looking for gift ideas for yourself or your loved ones? Here are Bond Lifestyle's hand picked suggestions, including some top gift ideas for the Bond Girls!
As usual I'd like to mention the affiliate disclosure that this page contains affiliate links, which means that if you buy something via one of the links or banners, I might receive a small commission, but the price is the same for you. I'm grateful for your support as it allows me to bring you more content and maintain the Bond Lifestyle website.


click on these QUICKLINKS or scroll down
Discount Coupons and Holiday Offers
Take advantage of these special offers:
End of the year Sales:
Orlebar Brown (up to 50% OFF, including some of the James Bond items)
Shop Orlebar Brown Sale - Shop Orlebar Brown James Bond Heritage Collection
Rogue Territory Jacket (35% OFF)
Shop at Uncrate (add to cart to see the sale price)

Sunspel (30% off the Riviera Polo)
Shop Sunspel Sale
 

Rogue Territory
35% off the RGT Jacket at Uncrate
How to get it: no code needed, discount applied in cart
Visit the Uncrate website or read more about the Rogue Territory jacket

Barbour Commander jacket
10% off the Commander at Aphrodite Clothing
How to get it: enter coupon code JBCJ10 during checkout
Visit the Aphrodite website or read more about the Barbour jacket

Sanders & Sanders Chukka Boots
15% off Sanders Chukka Boots at Stuart's Clothing
How to get it: enter coupon code BONDLIFE15 during checkout
Visit the Stuarts website or read more about Sanders Chukka boots

David Deyong DiamonDust Silver Earrings
5% off the DiamonDust Silver Earrings
How to get it: enter coupon code BONDLIFESTYLE5 during checkout
Visit David Deyong website or read more about the David Deyong Earrings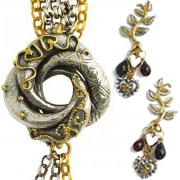 Sophie Harley Algerian Love Knot
5% off the Love Knot Necklace and Earrings
How to get it: enter coupon code bondlifestyle during checkout
Visit Sophie Harley website or read more about the Algerian Love Knot

Cumbria Crystal Grasmere tumbler
10% off the tumbler at David Shuttle
How to get it: enter coupon code BONDLIFESTYLE10 during checkout
Visit David Shuttle website or read more about the Cumbria Crystal tumbler

Slazenger Legends Golf Jumper
10% off the jumper at official Slazenger Heritage website
How to get it: enter coupon code JBLSH10 during checkout
Visit SlazengerHeritage.com or read more about the Slazenger jumper

SIS Training Gear
10% off any order at SIS Training Gear
How to get it: enter coupon code LIFESTYLE during checkout
Visit SIS Training Gear website or read more about the SIS Training Outfit

Aston Martin and Lotus Esprit Limited Edition Prints
10% off all orders at Limited100, including Aston Martin and Lotus Esprit photo prints
How to get it: enter coupon code BONDLIFE10 during checkout
Visit Limited100.co.uk or read more about the Aston Martin prints

Bob's Watches - Buy 100% Authentic Used Rolex Watches
Looking for a Bond Rolex watch? At Bob's Watches you can get $100 off orders over $2,000, $200 off orders over $4,000 and $400 off orders over $12,000 from Black Friday until Cyber Monday 2021.
Black Friday Rolex deals  |  Cyber Monday Rolex Deals  |  More about Rolex and Bond
Clothing
Commando outfit
The most popular outfit from No Time To Die is James Bond's Commando outfit, with the N.Peal Army sweater, Combat trousers and Braces and a white Rag & Bone Henley shirt. The Danner boots are unfortunately already sold out. Another detail in the outfit is the Carbon Tactics buckle.

The most popular item within the Commando outfit is the navy blue sweater, created by N.Peal.
Read more about the sweater or the Combat Trousers.

Connolly 007 Collection
A Connolly shirt and jacket are worn by James Bond in the movie No Time To Die. The brand also offers a range of other Bond inspired and branded accessories inluding driving goggles, gloves and wallets.

James Bond wears a Connolly Giubbino Jacket and a Connolly x Finamore Shirt which are now both part of the collection.
The Connolly x 007 collection is available at Connolly boutiques and on the Connolly website.
Turnbull & Asser 007 Collection
Turnbull & Asser, a brand long associated with James Bond, offers an official James Bond 007 Collection, which includes three new neckties from the Pierce Brosnan era, a new Die Another Day dress shirt and updated Dr. No cocktail cuff shirt.

The collection is available at Turnbull & Asser boutiques and online.

 Shop now at Turnbull & Asser UK

 Shop now at Turnbull & Asser USA


Some of the other popular clothes seen in the Bond films make a good Bond Lifestyle gift:
Click on an image or name for more information
Shoes
Practical footwear fit for a stylish agent - from the Crockett & Jones Molton Boots, suede Drake's or Sanders & Sanders boots to sturdy Danner Boots.
Click on an image or name for more information
Accessories
It's all in the details. Complete your outfit with these accessories.
Click on an image or name for more information
Bennett Winch SC Holdall
A stylish gift is the Bennett Winch SC Holdall bag as seen in No Time To Die. The character Paloma (Ana De Armas) hands James Bond his tuxedo in the Suit Carrier part of the SC Holdall, read more here.
The Bennett Winch The S.C Holdall is available at Bennett Winch for £695 / $1050 / €855.

Grooming & Fragrances
A fragrance is always a perfect gift.
Click on an image or name for more information
Q Style
In No Time To Die we can see Q's home, which provides us with some great gift ideas.
Click on an image or name for more information
Toys, Collectibles, Merchandise
Suggestions for must-have items for any Bond collection. It's also a great idea to visit the official 007 Store for 007 merchandise.
Aston Martin gifts
Aston Martin DB5 Limited Edition photo print
A great gift is the "Aston Martin DB5 at Bicester Heritage" or the "Aston Martin BMT-214A" by Paul Ward limited edition automotive prints, which are available exclusively at Limited100. Available in different sizes and with or without frames.
10% OFF
Use the exclusive discount code BONDLIFE10 to get 10% off all prints at Limited100 (limited to 1 use per customer).

Atelier Jalaper watch with piece of Aston Martin DB5
Atelier Jalaper, a new watch brand, released a watch collection with a piece of an authentic Aston Martin DB5 bonnet as part of the dial!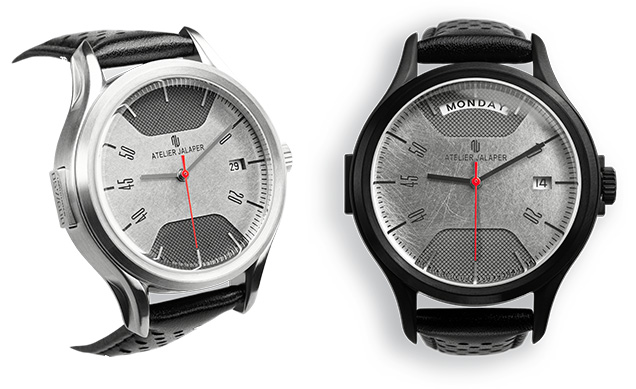 The watch is available in 4 variations, ranging in price from €800 - £1,150.
Free travel pouch
Mention code BONDLIFESTYLE during your order to receive a free Travel Pouch for your watch.
Read more about this unique watch at AtelierJalaper.com or watch the Bond Lifestyle video an interview with Simon Szleper, co-founder of the startup company.

Lego and Playmobil Aston Martin DB5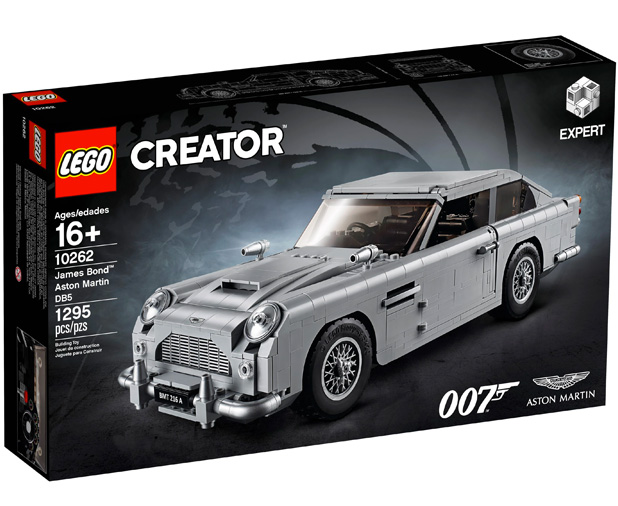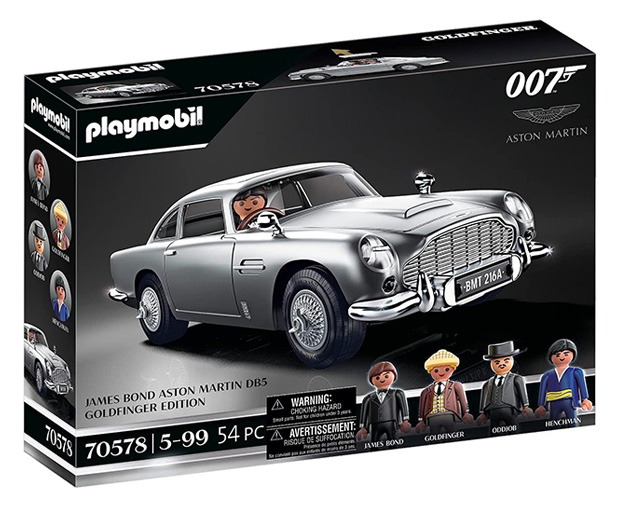 There are curently two good DB5 models for (big) kids: the LEGO Creator Expert 10262 James Bond Aston Martin DB5 and the Playmobil James Bond Aston Martin DB5.
Both feature lots of gadgets including revolving number plates, rear-window bulletproof screen, wheel-mounted tyre scythes. And of course a working passenger ejector seat!
The LEGO DB5 set is available for in select LEGO stores, and online at Amazon (USA, UK and Germany/EU).


The Playmobil DB5 can be found on Amazon (USA, UK and Germany/EU).

Books
Books are always a great gift. If you have never read an Ian Fleming James Bond novel, it's about time that you do! Why not start with the first Bond novel, and one of the best: Casino Royale.
Extravagant Gifts
Gifts for the man who has everything! If you are looking for something more expensive, more lavish than all of the above, maybe these suggestions are for you. What about an Asprey book set, signed by Sean Connery for $12,007? Or treat yourself to an Rolex Submariner watch?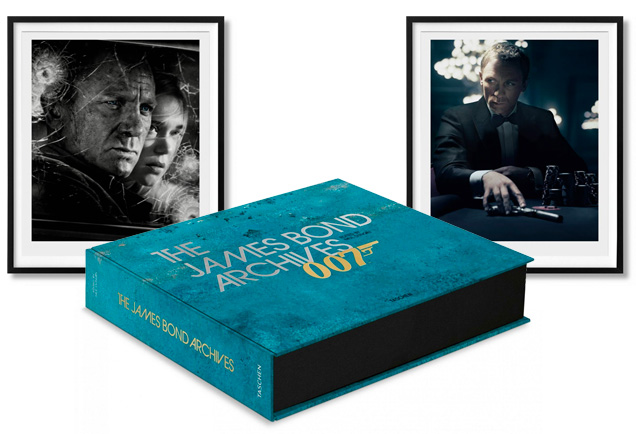 Limited Edition TASCHEN James Bond Archives
Signed by Daniel Craig + Art Print
Available now on Taschen.com for $2,000 / £ 1,750 / € 1,750
UNCRATE Supply
UNCRATE Supply offers 20% OFF during the Black Friday week / Cyber Monday promotion now. Exceptions include luxury watches, Leica products, and some furniture and artwork. UNCRATE offers great men's lifestyle gifts including many Bond related items, including the Barton Perreira sunglasses, Vuarnet sunglasses and RGT jacket and the full collection of James Bond socks.
Worldwide shipping available
Click on an image or name to shop at UNCRATE
Gifts for her
Find perfect luxury gifts for the Bond girl in your life. The N.Peal Brown T-Shirt is currently the most popular item. For an elegant gift, the Ghost Salma dress is hard to beat. A leather Chloé Marcie Saddle bag will definitely make any girl happy. Complete the outfit with David Deyong DiamonDust earrings (5% off with coupon code). The ultimate Bond girl gift is the Algerian Love Knot necklace (£2280) and earrings (£390) by Sophie Harley, worn by Vesper in Casino Royale and seen again in Quantum of Solace.
Click on an image or name for more information
Sophie Harley Love Knot Necklace and Earrings
£420 - £2400
5% off with code
Browse films
Find more ideas by browsing the products in No Time To Die or one of the other recent films: